Request your upgrade today!
SpeedLine 7.3 R300 is now available for general release. This release includes many new features, as well as important updates for customers who use SpeedDine online ordering or Punchh loyalty.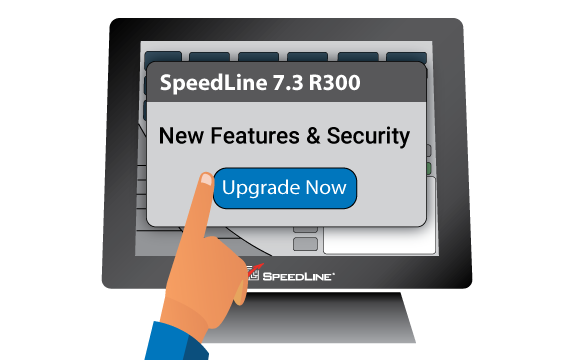 New Features and Updates
Security
This release includes security updates for SpeedDine (#20189 Changed: Removed OpenSSL installer). Customers who use SpeedDine must upgrade to this version within 30 days of the release date.
With the release of 7.3 Release 300, we have made a step forward on improving our security, while reducing complexity within our product. By removing OpenSSL from the SpeedLine system and using other internal solutions for our security, the speed of requests such as those used to communicate with SpeedDine is improved, while maintaining our high standards for security.
Punchh Loyalty Users: Upgrade by November 20th
Punchh made a change that required an update to our integration, so customers using Punchh must upgrade to SpeedLine 7.3 R300 before November 20, 2020 in order for Punchh to continue to work.
Under the Hood
Changes to several underlying development components means fewer upgrades, less dependency on external tools, and the latest technology for the development of new features.
Tracking and Efficiency
Caller ID log: log incoming calls for the day, so you can return a call that was missed while you were unable to answer the phone.
Deferred ticket prices and coupons based on required time, rather than entry time.
Search for tickets by the last four digits of the payment card number: find orders and investigate chargebacks more easily.
More printing options

for make ticket highlighting, labels, and authorization slips.

Email customer receipts from previous days.
Save Terminal employee messages to read later.
Track and report on orders from 3rd-party sources like Grubhub and DoorDash (both integrated and non-integrated), if supported by 3rd-party ordering channels.
Expanded Support for SpeedDine
Use a new "Advertised Price" field in Menu Designer coupons to show a custom price or price range on meal deal menu cards, instead of a fixed base price.

Set an alternate opening time for SpeedDine from Store Manager
>> Get more information about SpeedDine online ordering
More Information
Note: Premiere Support customers do not need to request the upgrade. SpeedLine Support will send you a notification of planned upgrade dates.