Request your upgrade today!
SpeedLine 7.3 R204 is now available for general release. This release includes many new features, and security updates for customers who use integrated payment card processing, or SpeedDine online ordering.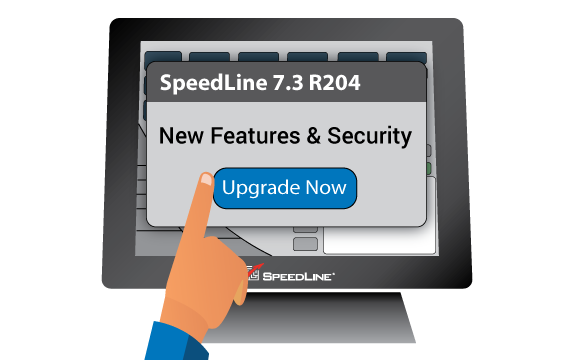 New Features and Updates
Support for New Features in SpeedDine
Control SpeedDine online ordering site hours and deferred ordering times from the store.

Items marked as out-of-stock at the store show as out-of-stock on SpeedDine ordering sites.



>> Get more information about SpeedDine online ordering
Pay@ The Door

Pay@ the Door support for bbPOS chipper


Pay@ the Door can process gift cards through Worldpay Express

"Store and Forward" to allows Pay@ the Door transactions even in areas with spotty cell reception.
>> Get more information about Pay@ the Door
Credit Card Processing
"None" tip option on Worldpay Express EMV PIN pads.
Quoted Times
Automatic adjustment of quoted times for large orders.
Reporting

Increased visibility of customer data on "heat map" reports.

Secondary numbers listed on Employee Phone report.

Comp reasons added to Day Report.

Run Worldpay (Vantiv) Express batch reports from Terminal.

Filter SpeedLink reports by in-store or online orders.

Expanded Punchh loyalty integration

Load a customer's loyalty account automatically based on phone number.

Offer rewards and points for online orders – win online customers back from 3rd parties.


Offer more reward types, including free delivery and Point Unlock Mode.
Security updates
This release includes security updates for Worldpay (formerly Vantiv), Monetra, and SpeedDine, and customers who use those products must upgrade to this version within 30 days of the release date.
More Information
Note: Premiere Support customers do not need to request the upgrade. SpeedLine Support will send you a notification of planned upgrade dates.