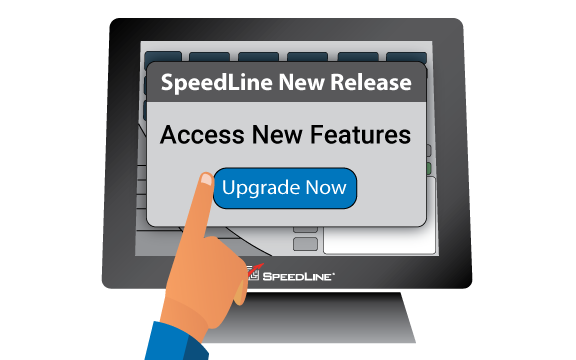 Request your upgrade today!
SpeedLine 7.3 R402 is now available for general release. This release includes new mobile pay options and other features and enhancements.
New Features and Updates in the 7.3 R400 Series
New Mobile Payment Options
SpeedLine Pay™. The SpeedLine Pay app (formerly Pay@ the Door) can now accept secure EMV payments for all order types, instead of just deliveries. Using the SpeedLine Pay app on a mobile device, an inexpensive bbPOS chip card reader, and Worldpay Express Core, you can now take payments at the door, curbside, or at the table.


At the Customer's Door: SpeedLine Pay saves you money each month in credit card processing costs and reduced chargeback liability for delivery orders. All your delivery orders get the lower card-present rate, and your customers appreciate the easy tipping, convenient tapping, and chip card security.
Curbside or on the Patio: Give your customers the convenience of making secure EMV payments from their vehicles, or at a patio table.
Dine-In: Avoid crowded line-ups and waits at the till by offering customers
the option to pay at the table.
Ingenico Link/2500 Mobile PIN Pad Integration.

A new integration with the Ingenico Link/2500 mobile EMV PIN pad means you can use SpeedLine on a Windows tablet to take orders and accept payments.




Take orders and payments curbside, on a patio, or at the table.
Take orders and accept payments in line-ups at the counter or in drive-thrus.
Accept payments with the mobile PIN pad whether using Monetra, Worldpay MercuryPay, or Worldpay Express Core card processing
Optionally, add an Epson TM-P80 mobile Bluetooth receipt printer.
Ease of Use
Allowance for Store Bank Net Balances Less Than Zero. Terminal deposit messaging now allows for stores that end the day with less cash than they started with (due to fewer cash payments for orders, and payout of cash tips). The new message suggests how to adjust the store bank so it meets the target opening amount for the next day.
Customer IP Address for Online Orders. Online orders can now send the customer's IP address with ticket information. The IP address will appear in the Terminal ticket activity for the online ticket, so stores can investigate fraud without contacting SpeedLine.
Easy Password Changes. The SL Password Maintenance utility wizard now has the ability to better detect stations, making monthly password changes faster and trouble-free.
New Features in SpeedDine
Regular deployments of SpeedDine online ordering bring new features online monthly. Here are a few recent additions:
Restrict deferred order ready times to prevent kitchen overload. Now deferred ordering hours can be entered in on SpeedDine Admin Hours of Operation page for regular days of the week, and not just "Special Days."
Show a quoted time range for orders, rather than a single quoted time. A

llow for variations, and set more realistic expectations with your customers.

Control tip options for each order type from the store, as well as at the company-wide level. New store settings in SpeedDine Admin let you override company-wide settings to set the order type tip options that work best for each store.
>> Get more information about SpeedDine online ordering
More Information
Note: Premiere Support customers do not need to request the upgrade. SpeedLine Support will send you a notification of planned upgrade dates.