Pay@ the Door is a delivery game-changer that lets you accept credit and gift card payments on the customer's doorstep while saving you money. Now it's available with the affordable bbPOS Chipper mobile EMV card reader.
Increase delivery profitability with EMV Pay@ the Door:
Pay lower card-present processing rates.
Eliminate fraudulent delivery chargebacks.
Ensure secure payments, and eliminate counterfeit card fraud, with EMV.
When you use Pay@ the Door, no payment card information is taken when the order is placed. Instead, drivers take payments at the door using the SpeedLine Pay@ the Door app on a mobile device like an iPhone or iPad, and a mobile EMV card reader. This not only makes the ordering process easier for your customers, it also eliminates the uncertainty of having to provide their credit card information over the phone or internet.
The small but powerful bbPOS Chipper™ mobile EMV card reader is an affordable way to accept card payments when using Pay@ the Door. Some key Chipper features: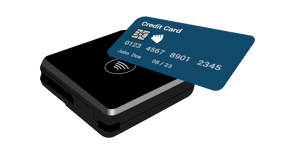 Accepts popular new forms of payments like tap, Apple Pay, and Android Pay.
End-to-end encryption ensures secure payments.
Ultra light and compact, and ships with a lanyard and sticky pad.
Sticks securely to the back of a mobile smartphone or tablet without leaving residue.
Rechargeable via USB cable.
Efficient Bluetooth Low Energy means a charge lasts longer.