Request your upgrade today!
SpeedLine 7.3 R300 is now available for general release. This release includes many new features, as well as important updates for customers who use SpeedDine online ordering or Punchh loyalty.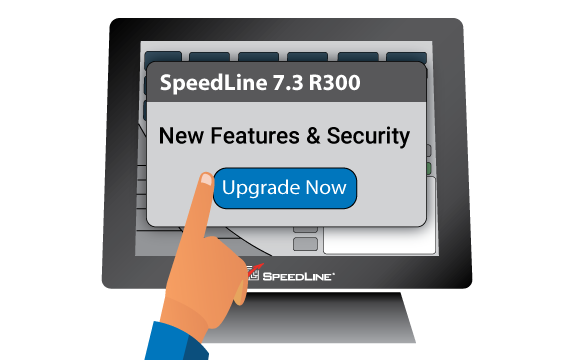 New Features and Updates
Security
This release includes security updates for SpeedDine (#20189 Changed: Removed OpenSSL installer). Customers who use SpeedDine must upgrade to this version within 30 days of the release date.
With the release of 7.3 Release 300, we have made a step forward on improving our security, while reducing complexity within our product. By removing OpenSSL from the SpeedLine system and using other internal solutions for our security, the speed of requests such as those used to communicate with SpeedDine is improved, while maintaining our high standards for security.
Punchh Loyalty Users: Upgrade by November 20th
Punchh made a change that required an update to our integration, so customers using Punchh must upgrade to SpeedLine 7.3 R300 before November 20, 2020 in order for Punchh to continue to work.
Under the Hood
Changes to several underlying development components means fewer upgrades, less dependency on external tools, and the latest technology for the development of new features.
Tracking and Efficiency
Caller ID log: log incoming calls for the day, so you can return a call that was missed while you were unable to answer the phone.
Deferred ticket prices and coupons based on required time, rather than entry time.
Search for tickets by the last four digits of the payment card number: find orders and investigate chargebacks more easily.
More printing options

for make ticket highlighting, labels, and authorization slips.

Email customer receipts from previous days.
Save Terminal employee messages to read later.
Track and report on orders from 3rd-party sources like Grubhub and DoorDash (both integrated and non-integrated), if supported by 3rd-party ordering channels.
Expanded Support for SpeedDine
Use a new "Advertised Price" field in Menu Designer coupons to show a custom price or price range on meal deal menu cards, instead of a fixed base price.

Set an alternate opening time for SpeedDine from Store Manager
>> Get more information about SpeedDine online ordering
More Information
Note: Premiere Support customers do not need to request the upgrade. SpeedLine Support will send you a notification of planned upgrade dates.
Technical Release Notes for 7.3 Release 300
#20093 New: Upgraded Monetra Uniterm to 9.8.0.
#19793 Fixed: House Account tenders would not be removed from a driver's bank when unassigned from the driver.
#1086 New: Caller ID log has been added to Terminal.
#20296 Fixed: Whozz Calling CallerID did not work when set to Serial via Ethernet.
#19837 Fixed: Improved stability of Store and Forward for triPOS transactions.
#19911 Enhanced: Improved the messaging on credit card partial approvals.
#19956 New: Tickets can now be searched by the last four digits of a payment card number.
#20080 Enhanced: Improved Terminal handling of multiple found payments on bank close.
#20098 Fixed: WorldPay Express card not present transactions now send market code for MOTO.
#20126 Changed: Installer alerts customers after triPOS software is upgraded to allow PIN pads time to complete upgrade.
#20140 Changed: Tip prompt is no longer sent to the IDTech EMV device, as it does not have a screen.
#20144 New: triPOS now retries reversals multiple times.
#20163 New: Updated Datacap dsiEMVUS version to 1.45.
#20216 Fixed: A card length error occurred when keying in gift card numbers while using Monetra with a secure card entry device connected.
#20246 New: Support for the Ingenico Lane/3000 PIN pad on all card processing integrations.
#20247 Fixed: Improved tip handling when triPOS returns an error within an approval response.
#20253 Enhanced: More control over the printing of payment card slips.
#20272 Fixed: Corrected an issue that could occur on systems with very large data files causing Terminal to become unresponsive during the Day End process.
#9432 Enhanced: Improved messaging around negative values during final deposits when the values go below the opening amount for the next day.
#20089 Fixed: Edited delivery charges were not preserved when deferring a ticket.
#20105 Enhanced: Deferred Pay@ the Door orders no longer print a QR code on the ticket that prints at entry.
#9909 Fixed: Store Manager reports updated to correct for deferred orders with a fixed activation time.
#17715 Enhanced: Employee messages can now be saved and read at a later time.
#11049 Fixed: In some situations, tips that had been paid would show on pay period reports.
#13142 New: Automatically look up Paytronix loyalty users by phone number when leaving the Terminal Customer screen.
#20159 Fixed: An invalid Punchh Location Key caused a generic technical difficulties error, instead of properly identifying the issue.
#20254 New: Added support for Int64 reward IDs from Punchh loyalty.
#19965 Fixed: The order type prompt before showing the customer record would not display in certain circumstances.
#19730 Fixed: Fingerprint sensors plugged in after Terminal load would cause the User button to gray out.
#19891 New: Version mismatch will prevent Terminal from running on non-primary stations.
#19924 Changed: Improved handling of Nearest Whole portion pricing method.
#19880 New: Added the ability to request the delivery zone KML information by the last edited date.
#20166 New: Added ability to have the Connect order provider set the price of items.
#20206 Fixed: Special days set in the store would incorrectly delete special days on SpeedDine.
#20024 Fixed: Tender All from the View Tickets screen now properly respects the limits set for cash drawers.
#20099 Fixed: Cash drawer would open too in the tender process early in some setups when an expected payment was on the ticket.
#11990 Enhanced: Deferred tickets now calculate prices and coupons based on required time.
#19899 New: Added the ability to track orders from remote sources.
#12290 New: Multiple items can be printed to a single label.
#12390 New: Option to invert or bold printing used on thermal printers to highlight changes, depending on hardware.
#13433 New: Added ability to email tickets from previous DayFiles.
#20297 Fixed: Could not connect to Delphi Drive-thru Order Confirmation Display.
#19985 Fixed: Gift card activation would prompt for Zip code on card present transactions.
#20079 Enhanced: Misconfiguration of tip settings on Worldpay Express now shows a warning.
#20273 Fixed: Weekly Schedule would not sort based on Job correctly.
#20242 Enhanced: Added messaging to prevent invalid Special Days being sent to SpeedDine.
#12901 New: LiveMaps delivery zone boundaries now accept decimal numbers for distance from the store.
#12997 Fixed: Timesheet report would not show meal breaks under some circumstances.
#19828 Fixed: Day Notes created before End Of Day would not show up in the Sales Forecast and SpeedLink.
#19915 Enhanced: Improved the SpeedLine Connect partial authorization informational message box.
#20212 Enhanced: Added the ability to set an alternate online ordering open time on a special day.
#12548 New: Windows Firewall rules for SpeedLink Reporter and Report Server.
#20317 Fixed: SpeedLink's ScriptLink Host server would not send files to stores running previous versions of ScriptLink.
#7122 Enhanced: SpeedLink customer export reports now show email opt-in status and customer email.
#20025 New: Upgraded NexusDB Server to version 4.50.20.
#20108 New: Added ability to set advertised price on coupons to communicate pricing to online ordering providers.
#20265 Changed: Print to Single Label setting caption changed to Shared Label (Side Items).
#20241 Changed: triPOS Direct upgraded to 5.19.
#20188 Changed: HASP driver upgraded to 8.11 to address an incompatibility with Windows 10 Version 2004.
#20143 New: SpeedLine Installer now suggests it be run from station #1 when it is not started on that station.
#20193 New: The SpeedLine installer disables the Cortana assistant in Windows 10.
#20189 Changed: Removed OpenSSL installer.