Microsoft will be ending support for Windows Embedded Standard 7 on October 13, 2020. Although SpeedLine has never sold computers with this operating system, it is supported for use with SpeedLine software, and we recognize that some of our customers may be running SpeedLine stations that use it.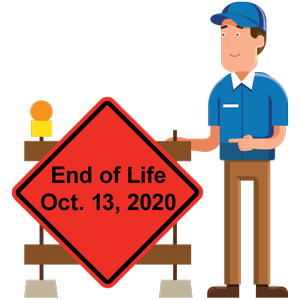 After October 13, any SpeedLine stations you have with this operating system will still work, and the SpeedLine software will still run on them. But with no new security updates and patches for Windows Embedded Standard 7 vulnerabilities, those stations will be exposed to security threats after Microsoft support ends, and any SpeedLine networks that have computers running this system will fail a PCI vulnerability scan.
Not sure why PCI is important? Brush up on Restaurant PCI Basics, and read the SpeedLine PA-DSS Implementation Guide for details (on the Store Manager Today tab, click Document Viewer).
Plan & Budget Now
To find out which operating system a station is running: click Start, right-click Computer, and click Properties. Or,
contact SpeedLine Support via email and arrange for a technician to connect remotely and verify the operating system on your stations.
If you have Posiflex terminals, keep in mind that they may be running Windows Embedded POSReady 7, which Microsoft will continue to support until Oct. 12, 2021
.
If you are running Windows Embedded Standard 7 on any SpeedLine stations:
Plan now to upgrade Windows to the latest operating system: Windows 10. Remember it's fine to mix hardware and operating systems on your SpeedLine stations, as long as they are all running the same version of SpeedLine.

Assess the age and condition of your hardware. Windows 10 will run on the same hardware as Windows Embedded Standard 7, but it may be more economical in the long term to replace aging stations with new, faster ones.
Contact SpeedLine Aftermarket Sales via email or at 1-888-400-9185

ext. 3605

to get a quote for replacement computers.
What You Need to Know Before You Upgrade
Before you upgrade, note that Windows 10 will make changes to the computer that may interfere with the SpeedLine POS software; to upgrade successfully, you will need to run a utility to reverse these incompatibilities. Be sure to contact SpeedLine Support before your planned Windows 10 upgrade for advice.
After you upgrade or purchase new hardware with Windows 10, keep Windows Updates turned on to stay up to date with security fixes, and keep your operating system PCI compliant.
In some cases, it may be possible to upgrade to Windows 10 from Windows Embedded Standard 7. Please check with your hardware vendor to find out if this applies to your computers.
Just a reminder that Windows 7 is no longer supported by Microsoft as of January 14, 2020. If you still have computers running Windows 7, consider replacing them, as they no longer receive Microsoft security updates, and will cause your network to fail a PCI scan.
Looking Ahead
Here are the Microsoft end-of-support dates for some other non-server Windows operating systems SpeedLine currently supports:
Windows Embedded POSReady 7: Oct. 12, 2021
Windows 8.1 Professional: Jan. 10, 2023

Windows 8.1 Embedded Industry Pro

: July 11, 2023