Request your upgrade today!
SpeedLine 7.3 R204 is now available for general release. This release includes many new features, and security updates for customers who use integrated payment card processing, or SpeedDine online ordering.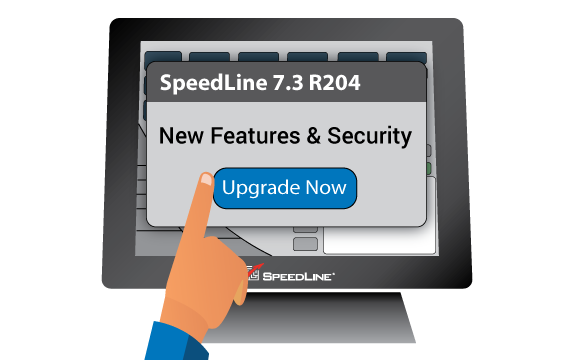 New Features and Updates
Support for New Features in SpeedDine
Control SpeedDine online ordering site hours and deferred ordering times from the store.

Items marked as out-of-stock at the store show as out-of-stock on SpeedDine ordering sites.



>> Get more information about SpeedDine online ordering
Pay@ The Door

Pay@ the Door support for bbPOS chipper


Pay@ the Door can process gift cards through Worldpay Express

"Store and Forward" to allows Pay@ the Door transactions even in areas with spotty cell reception.
>> Get more information about Pay@ the Door
Credit Card Processing
"None" tip option on Worldpay Express EMV PIN pads.
Quoted Times
Automatic adjustment of quoted times for large orders.
Reporting

Increased visibility of customer data on "heat map" reports.

Secondary numbers listed on Employee Phone report.

Comp reasons added to Day Report.

Run Worldpay (Vantiv) Express batch reports from Terminal.

Filter SpeedLink reports by in-store or online orders.

Expanded Punchh Loyalty Integration

Load a customer's loyalty account automatically based on phone number.

Offer rewards and points for online orders – win online customers back from 3rd parties.


Offer more reward types, including free delivery and Point Unlock Mode.
Security Updates
This release includes security updates for Worldpay (formerly Vantiv), Monetra, and SpeedDine, and customers who use those products must upgrade to this version within 30 days of the release date.
More Information
Note: Premiere Support customers do not need to request the upgrade. SpeedLine Support will send you a notification of planned upgrade dates.

Technical Release Notes for 7.3 Release 200 to 204
#20033 Fixed: Prepaid credit cards would ask for card number upon edit with Pay@ the Door enabled.
#19864 Fixed: In some configurations, items printed on tickets could change order from what was shown in Terminal.
#17220 Fixed: Employee mail sent from SpeedLink to all employees was not working.
#19712 Enhanced: Scheduled tasks are now created to run with highest privileges.
#20016 Fixed: Item void details would not show on the Day Report and in SpeedLink reports.
#19738 New: Tip option of "None" added to triPOS EMV PIN pad devices.
#13534 Enhanced: Added Zone KML Request message to enable online ordering partners to gather zone boundary KML data.
#20113 Fixed: Corrected an problem that could occur when multiple tickets with Punchh Loyalty redemptions were dispatched on the same delivery run.
#19611 Enhanced: Added In-Store Orders Only and SpeedLine Connect Orders Only filters to SpeedLink reports.
#20047 Fixed: Error when processing gift cards through triPOS Direct PIN pads.
#19999 New: Ability to restrict SpeedDine deferred order times and close SpeedDine stores through Special Days in Store Manager.
#19933 Enhanced: Improved bank close messaging and functionality for failed WorldPay Express authorizations.
#14135 Fixed: Including a day without a final deposit in a multi day report would prevent all deposit information from displaying.
#19722 Enhanced: Quoted times for an order can now be automatically increased based on a set ticket subtotal threshold.
#19663 Changed: Employee Time Sheet report now exports employee name and employee number to Excel data exports.
#19825 Fixed: Corrected an issue with using a Voice Auth when a ticket was locked on another station.
#19910 Fixed: Multiple auto-apply Price Groups could cause a modal error on SpeedLine Connect orders.
#20129 Fixed: Vantiv Express deferred orders could discard payment information if edited while deferred.
#19740 Fixed: Viewing employee job settings from scheduling could cause options to change for employees with alternate pay rates.
#14579 Fixed: SpeedLine Connect orders with failed authorizations were printing tickets even when set not to.
#5558 New: SpeedLine Connect Store Info Response message optionally includes out of stock items.
#2162 Enhanced: The Store Manager Employee Phone List report now includes secondary phone numbers.
#15894 Fixed: House account payments would not open the cash drawer.
#19839 Enhanced: Improved expected payment interactions when converting to payments to show tender screen on a tender type basis.
#20026 Fixed: The first order date for customers was not being set if their first order was an online order.
#19640 Fixed: Customer names without phone numbers were not passed to kitchen displays.
#20015 Enhanced: Fewer requests are sent to Punchh loyalty during dispatch when Punchh barcode printing is off.
#19785 Changed: Duplicate button below ticket display recaptioned to Dupl.
#16768 New: Employee ID added to Time Sheet Report.
#19515 New: Card processing reports for the Vantiv Express platform.
#4419 Enhanced: Added comp reasons to the Comped Tickets section of the Day Report.
#18379 Enhanced: Improved frequency and delivery of manager alert notifications.
#19633 Enhanced: Added more Store Manager settings to control the SpeedLine Connect service.
#19661 Enhanced: Customer Data Maps now have a toolbar button that increases the intensity of color coded data.
#19665 Fixed: Telemetry service would not stop in a timely manner during upgrades.
#19666 Enhanced: Pay@ the Door TicketID mismatches are now reported in Notable Activity.
#19674 Changed: Added text above credit card tender type settings to clarify that they do not affect EMV hardware prompts.
#19697 Enhanced: Track whether the QR code for a ticket was scanned to send transaction details to the Pay@ the Door app.
#19701 Changed: Windows XP is no longer supported for Monetra unattended installer and upgrader.
#19721 New: Connect ticket response messages now include coupon error structures.
#19737 Fixed: Using the mouse scroll wheel after running a Customer Data Map would reset the view to default.
#19743 Changed: SpeedLine will no longer Install on Windows XP, Upgrades will provide an alert at launch.
#19757 Fixed: Timeout during a gift card transaction would show the status of the attempted timeout reversal instead of the original transaction.
#19772 Enhanced: Automatically look up a customer's Punchh loyalty account and display it on the Full Review screen.
#19781 Changed: The Check Store ID setting for zones is always visible, and when selected, delivery zones default to the current Store ID.
#19792 Fixed: Vantiv Express card-present expected payments changed from sales to preauthorizations.
#19795 Changed: triPOS Direct upgraded to version 5.16.0.
#19806 New: Added the ability to redeem free delivery rewards with Punchh loyalty.
#19811 New: All Connect response messages now contain the StoreID and name of the station that responded to the message.
#19815 Changed: Monetra Tip Prompt settings have been removed from Store Manager as they are now set in the Monetra software.
#19820 New: SpeedLine Connect API updated to support Punchh Loyalty.
#19821 New: Punchh reward redemption information is now accepted through the Connect API.
#19843 New: SpeedLine log files in the Archived directory are now deleted during a major upgrade.
#19858 Fixed: Connect ticket price messages gave an error for order types with order discounts.
#19859 New: Menu button images for Caprese Salad and Bocconcini.
#19874 New: Added Responder Field to all Connect responses.
#19876 Fixed: During SpeedLink upgrade SQL updater could fail to add EmailOptIn columns.
#19884 Changed: Hand drawn delivery zones is now the default choice when creating new zone boundaries.
#19885 Fixed: Adding multiple delivery zone master entries consecutively could cause an error message.
#19895 New: Added context-sensitive help link for SpeedLine Connect Station Options tab.
#19900 Fixed: Gift cards through Vantiv Express would cause an error when used with SpeedDine.
#19907 New: Added context-sensitive help link for Order Types on Tender tab.
#19908 Changed: Upgraded dsiEMVUS to 1.36 and dsiPDCX to 1.62.
#19913 New: Deferred Order time is now included in messages sent to SpeedDine Connect sources.
#19918 New: Updated OpenSSL to 1.0.2t
#19936 Enhanced: Connect coupon error messages improved to show user friendly messages.
#19953 New: PUNCHHPOINTSREWARD coupon added to Punchh loyalty integration.
#19957 New: Non-EMV tap credit cards (MSD Contactless) are no longer accepted.
#19960 New: Upgraded Monetra UniTerm to version 9.5.3
#19983 New: Ingenico drivers updated to 3.15.
#19986 New: Upgraded Datacap dsiEMVUS to 1.38 and dsiPDCX to 1.64.
#19992 Fixed: Vantiv Express Store and Forward would not check the status of stored transactions on bank close.
#20010 New: The External ID from SpeedLine Connect sources is displayed on the Ticket Activity report.
#20017 Fixed: An error could occur when trying to add a new SpeedLine Connect source without any previously existing sources.
#20018 New: Upgraded OpenSSL to 1.0.2u.
#20038 Fixed: Modifiers listed as out of stock and sent from SpeedLine Connect with a modifier action other than maAdd would not respond as out of stock.
#20075 New: triPOS Direct software upgraded to 5.17.0.
#20107 New: Pay@ the Door transactions cannot be edited while dispatched.
#20111 New: Punchh certificates are now imported during upgrade.
#20117 Fixed: Access violations in Connect Service due to invalid settings.
#20122 Enhanced: Terminal now detects triPOS version and sets the triPOS config file to match the version detected.
#20123 Enhanced: Updated the triPOS upgrade process.