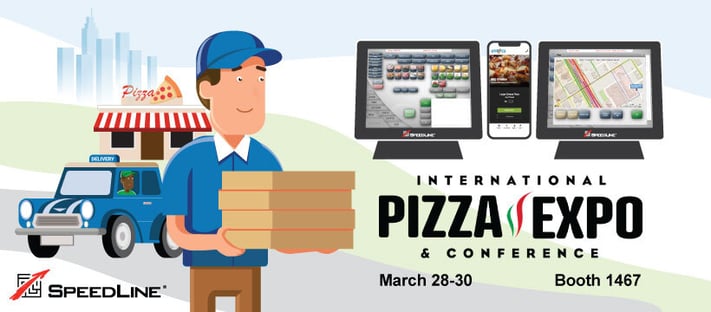 Visit Booth 1467 at Pizza Expo!
SpeedLine - Designed for Pizza. Built for Delivery
The leading provider of innovative solutions for pizza POS, SpeedLine provides technology solutions for pizza and delivery, quick service, and multi-concept restaurant chains - helping operators be more efficient and profitable.
POS Designed for Pizza
A pizza point of sale is designed differently—and for good reason. Pizza and delivery concepts have far more complex point of sale requirements than other quick service and dine-in restaurants.
Fits Your Business
Operational differences like create-your-own pizzas, half-and-half pizzas (even thirds or quarters), complicated coupons, and delivery dispatch require a more specialized point of sale. In partnership with pizzeria owners like you, unique tools for your business have been developed, such as:
---

Restaurant Delivery POS
SpeedLine LiveMaps™ improves delivery efficiency and controls costs for restaurants. Your drivers will perform better with instant maps and directions.

Online Ordering for Restaurants
SpeedDine is SpeedLine POS's online ordering software. Harnessing the power of cloud technology means that you will virtually never experience maintenance downtime—your website always works even during peak order volumes.

Cloud Reporting & Analytics
SpeedLine's new reporting and analytics solution allows you to view in-store reports from any device to help you understand what drives your business.
---
Request a SpeedLine POS Demo
Looking for a restaurant point of sale system purpose-built to streamline operations for your pizzeria or delivery concept?