Pizza Factory Case Study – Mary Jane Riva
Staying True to its Roots
For over 30 years, Pizza Factory has stayed true to its roots. A focus on hardworking owners and staff, family-friendly dining, and a high-quality product has made them who they are today. Pizza Factory takes pride in the smile that first bite of pizza gives their guests. They strive to make everyone feel as if they're eating at their hometown pizzeria.


From the Ground Up
In true Pizza Factory fashion, Mary Jane Riva, CEO of Pizza Factory since November 2012, began her Pizza Factory journey on the same path as many other hardworking owners. She got her start as a franchisee back in 1990 in Southern California and developed five stores in that area with her husband and a partner. With hard work, dedication, and a passion for the business, she became an area developer and was on the marketing team for the corporate office.
Then in 2012, the Pizza Factory Founders asked if Mary Jane and her husband would like to buy the company. Mary Jane's husband chose to play a supportive role rather than take part in the day-to-day operations of running the company. They took over as the new owners on November 2, 2012, and began making changes to the legacy brand with programs and procedures they envisioned throughout their time as a franchisee.


A POS System That Works for You
Even before becoming CEO of Pizza Factory, Mary Jane knew the importance of having a POS system that she could rely on to support her and the needs of her business. That's why she selected SpeedLine POS in 2006 and has been an advocate since. When asked why after all this time she continues to choose SpeedLine, Mary Jane responded, "The system in itself is so comprehensive for the pizza industry, the programs, and the things you can do with it, it is a business in itself. The marketing, all that kind of stuff, it's just so comprehensive."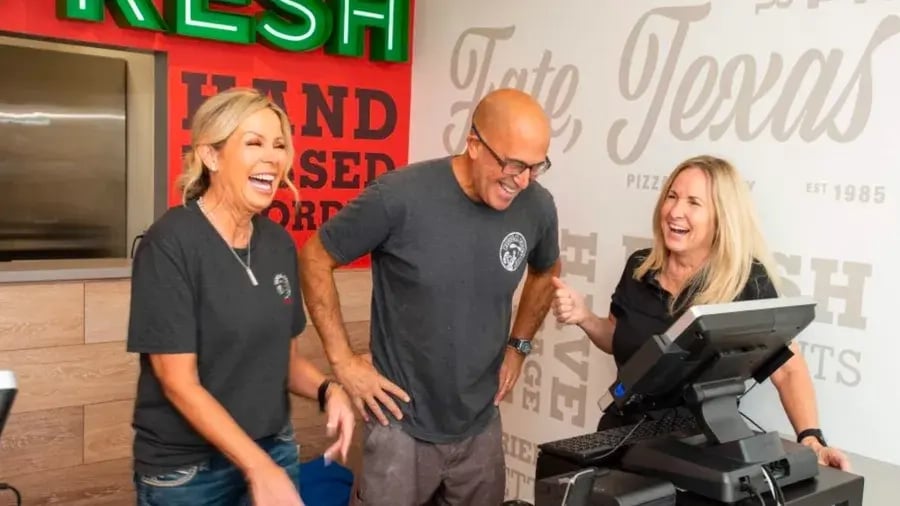 Support You Can Rely On
When it came time to decide which POS system to move forward with, SpeedLine was the obvious choice, Mary Jane recounts, "The biggest thing that when we became franchisors in 2012, and why we continued to grow with SpeedLine was because of their support. There's nothing more important than being able to have a partner that you're suggesting or telling your franchisees that they have to use and know that they're going to get the support that they need."
Having a support team that is there when you need it, ready to answer your questions, and willing to walk you through every step is key to a good POS, but it is also critical to the success of your business as it navigates the ever-changing technological landscape. "It's technology, it's going to change, it's always growing, it's always changing and SpeedLine has always been very receptive to those changes," says Mary Jane.
Usability for Everyone
Support is a key element, but it doesn't stop there with a POS fit for your business, when asked what her favorite features of SpeedLine are, Mary Jane said, "The things that I really like about it, is that not only is it easy for your teenagers to just jump in and start taking orders but the back end of it; the marketing, the stats that you can get." The biggest takeaway Mary Jane had when talking about using SpeedLine was, "If you're not using it for all those things that it comes with, then you might as well just have a cash register because this system has everything you need to really do a great job of growing your business and really growing it based off of real analytics."
To see more about what Mary Jane Riva, CEO of Pizza Factory has to say about her experience using SpeedLine, you can check out what she had to say while visiting our booth at Pizza Expo, here.