How Dion's Pizza Implemented SpeedLine
to Gather Richer Insights
Since 1978, Dion's Pizza has been serving pizzas, salads, and sandwiches to its loyal customers. With 28 locations in Texas, New Mexico, and Colorado, they aim to continue expanding throughout the Southwest and beyond. Ultimately, Dion's Pizza strives to offer simplicity and connection amidst the hustle and bustle of busy lives.
Since starting his journey with Dion's Pizza in 1996, Jeremy Cave has held many roles in the organization, from General Manager at a few locations to the organization's Training Manager, to his current role as Director of Technology.
The Decision

As their business continued to expand, the Dion's team realized their existing POS could no longer keep up with everything they wanted to do to care for their customers. Dion's knew they needed a new, scalable solution that would match their growth strategy. Changing to a new POS was a big decision for Dion's Pizza after knowing the ins and outs of their previous system, but they needed to find the right fit for them. Jeremy explained, "We sort of went with the idea that it had to be unanimous. So, we all had to say from our various perspectives. Whether that's Training, or Accounting, or IT, or Operations, everybody had to be on board and say … yes, this can do what we need it to do from our perspective."
The team tried many different systems to see if they would suit their needs and do what they wanted. After hearing about SpeedLine at Pizza Expo, a SpeedLine installer was soon onsite programming their menu and testing pricing. "From that point, we said, okay, cool. Let's give this a try. And we tried it in our first store, and the rest is kind of history.", says Jeremy.
Implementation
After successfully adding SpeedLine to a second, busier store, Dion's decided to move ahead with SpeedLine fully. They installed SpeedLine in the rest of their 27 stores over the span of a year and a half, and they did not have to close for a single day during any of the installs.
When asked how the implementation has been from a staff and usability perspective, Jeremy said, "The usability and ease of the system is great for our employees. So truly … you can go from zero training to figuring out how to take an order in five minutes."
Building on this concept, he goes on to explain how SpeedLine's support team worked with Dion's Pizza to seamlessly conduct its large-scale implementation. "So through [the implementation] really the only challenge that we've ever had that was large, they [SpeedLine] helped us through, and we fixed it and we've been fine since. So, there's a sense of partnership and caring that I think doesn't exist at hardly any companies at all today, but certainly not some of the point-of-sale companies that we've interacted with over the years."

Making the Difference
When asked about how adopting SpeedLine has impacted their restaurant's performance, Jeremy emphasized how the POS system's flexibility and speed have been a hit with employees and customers alike. Before switching to SpeedLine, Dion's was using handwritten tickets to have the granularity to convey the wants of their customers. Jeremy explained, "It was crucial for us that the system that we got would be able to do that for us. One of the huge wins with SpeedLine was going to a system that could print tickets for us that allowed us to still take care of people and communicate things that are not part of the 95% of the orders. So, we can take care of 95% of people fairly easily. And then there's also 5% that are very custom. And those customers are fantastic because if you can do what they want, they will come to you over and over and over and over."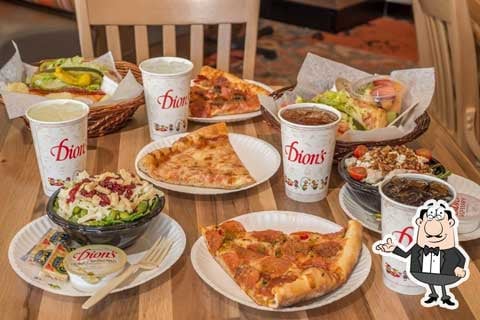 Until SpeedLine, Dion's had never integrated their online ordering site with their POS. "The integration of online ordering was huge, and for us the ability to have printed tickets was incredible," says Jeremy.
Jeremy also mentioned how important the information they have access to with SpeedLine is for running their business, "We do regularly use and really appreciate the amount of data that we can get out of it. So, I think database decision-making is obviously key. The amount of insight, because we have the full data, we have everything, every keystroke, every ticket, every item, everything allows you to parse that data into any format that you want. From simple questions like how many brownies did we sell last week, to being able to establish trends on specific items and then investigate those to see if something is dramatically up or if something is trending down, the granularity of that information is key."
In addition to the added functionality Dion's has with SpeedLine, Jeremy emphasized that "The reliability of the system, obviously, maybe is among the most important things that we need in a system, and SpeedLine does a really good job with that."
Since implementing SpeedLine across all stores, Jeremy said they have been very happy with their experience. "There's always the desire for … a custom system, because we're big enough to want very specific things that may make no sense to other people, and we are small enough that we can't quite pull that off yet. So, one of the things that has been significant for us with SpeedLine is that there are enough adjustments and tools present that we can make a system that is very fitted to us, sort of tailored to us, and we can get done essentially everything that we want to."
Support You Can Count On
We asked Jeremy what his favorite aspect of SpeedLine was, and he said: "If there was a feature or a thing, that is my personal favorite from where I sit, the ability to have SpeedLine help us dig into and solve problems is huge. I think the knowledge that the support [team] has is really incredible. The networks that you have to run in modern businesses have a lot of [shortcomings], and there's a lot of complexity. So, from where I sit, the ability for us to get full support, basically from open to close every day is huge. And I think that really helps us." SpeedLine's Customer Support Team is there to help, with live in-house support available toll-free, 365 days a year.
The Final Verdict
When asked if Dion's Pizza would recommend SpeedLine to other pizzeria owners, Jeremy reflected on their journey to find the right POS. "We looked at several [point of sales], pizza is a weird space, from a point of sale perspective. It's very demanding. You need some granular charging capabilities, and we can do that. So, I really would recommend that other places in the pizza space give SpeedLine a try. I don't think you're going to go back, and I don't think you're going to regret it."
A seasoned pizza restaurant veteran, Jeremy states, "I think much like I found a home at Dion's for my professional career, I think we found a good home for SpeedLine and for us from a point-of-sale perspective."
Interested in learning more about how SpeedLine helped Dion's Pizza achieve granularity with their order taking and their accessible data? Watch the full interview here.