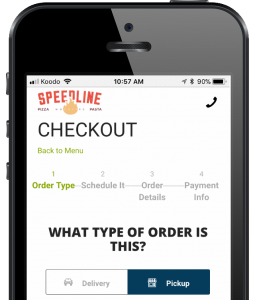 From the 2018 Pizza International Expo, SpeedLine is pleased to announce a new online ordering service for SpeedLine customers. SpeedDine offers fast, affordable, and convenient online ordering that integrates directly with the SpeedLine POS.

Fast and convenient ordering experience
One critical key to increasing online orders is speed. According to Google research, 53% of mobile users abandon sites that take longer than 3 seconds to load. If your online ordering site falls into that category, you could be losing more than half your potential customers.
That's a scary thought, as most online vendors are seeing a huge shift in web traffic from personal computers to mobile devices.

SpeedDine delivers a fast, responsive, simple-to-use order flow for your customers. The "mobile first" philosophy used in the design of the platform ensures your online ordering site is easy to navigate—whether your customer is ordering on a computer or a smartphone.
Live pricing
As a customer places an order on your SpeedDine site, the pricing updates live from the selected store. The POS stations at the store reach out to the cloud to retrieve order details and respond quickly with pricing information.
This is more secure than the traditional method of opening up a firewall port to send order information from the cloud to the store, which can also open up the possibility of intrusion or bottlenecks. And without open firewall ports, your risk of failing a PCI scan is much reduced.
Live pricing reduces other risks as well, eliminating price and coupon discrepancies. Any in-store coupons can be used on the online ordering site, as well as any time-based specials, like two-for-one happy hour. And since the order always matches the store pricing, you eliminate frustration and potential arguments at the time of customer pick-up or delivery.
Maintenance simplified
The biggest appeal of online ordering is that your employees don't need to be answering phones and taking orders. Meaning you save labor costs. With SpeedDine, you save on administration time as well.
SpeedDine is integrated directly with the SpeedLine platform. Pricing, coupons, and specials update automatically, since pricing is pulled directly from the POS stations in the store. And you gain new capabilities with each release of SpeedDine.
Interested in more information about SpeedDine?
---
Posted on Mon, Mar 19, 2018 @ 09:03 AM.
Updated on May 18, 2020 @ 6:09 PM PST.
Posted by Elizabeth Kelly

As the Marketing Specialist for SpeedLine Solutions Inc., Elizabeth is the Managing Editor for On Point: The Restaurant Technology Blog. Have an idea for an article? Send her a message!



| Author's website
---

---