Pizza & Delivery Restaurant Marketing Ebook
If you are happy with the customers you have, consider this: in the competitive restaurant industry, standing still is the fastest way to find yourself going backwards. To keep up with the competition, you need to retain your existing customers, and attract new ones.
Where do you start? You may already have a lot of the tools you need. Pizza and delivery restaurants have an edge over other businesses when it comes to marketing thanks to customer contact information. This, combined with the marketing tools in your point of sale, can make it easy to reach out to current and prospective customers.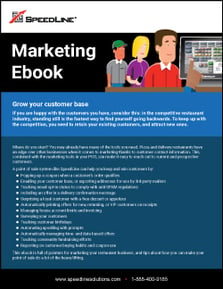 In this free guide, you'll find:
The basics of building a brand
How to design promotions
The keys to designing email and direct mail campaigns
Loyalty program foundations
How to leverage house accounts for marketing
How to use alternative pricing promotions
Ways increase sales with suggestive selling
The basics of building your brand online