There's a reason why pizza and delivery chains are driving the biggest changes in restaurant technology today.
Pizza and delivery are different—and a lot more complex at the point of sale. Read this guide to find out how to choose the best POS for your pizza or delivery restaurant.


---
Download the PDF to read more
---
Download the PDF to unlock:
Section 4: A Delivery-Specific Point of Sale
Section 5: Integrated Online Ordering
Section 6: Personalized Customer Service
Section 7: Employee Management
Section 8: Control of Food Costs
Section 9: Reporting
Section 10: Centralized Management for Multi-Units
Section 11: Customer Support
Section 12: Finding the Right Technology Fit for Your Business
Download the Guide

---
Section 1: Understanding the Critical Requirements of Pizza POS Can Help You Avoid a Costly Mistake
When they first opened, Mama's Pizza & Grill, a growing chain in Reading and Shillington, PA, handled everything by pen and paper, including deliveries. That soon became overwhelming for owner Ramon Collado and his staff. They purchased a point of sale system that could handle their orders, but not their deliveries.
"It was a good system, but a lot was missing," Ramon says. Like many restaurant owners, he was used to coping with tools that didn't quite work for his restaurant. He modified the point of sale so that it worked for him, "but it still didn't have the delivery mapping or reporting that I needed," he says.
What Mama's Pizza & Grill needed wasn't just a point of sale system for restaurants—they needed a POS built for pizza and delivery. He spoke with other pizzeria owners in his area, and decided to invest in a SpeedLine point of sale for its delivery-specific software. And that investment paid off.

Section 2: What Makes Pizza Point of Sale Different
As Ramon Collado found out, a general restaurant point of sale isn't a great fit for a pizzeria. Restaurant operators are often surprised to learn that pizza and delivery concepts have far more complex point of sale requirements than other quick service and dine-in restaurants.
The fortunate ones discover these differences while they are still in the POS software evaluation stage. But some unlucky operators realize too late that they have made a significant investment in a point of sale system that is unsuited to their business. That can be a frustrating and expensive mistake.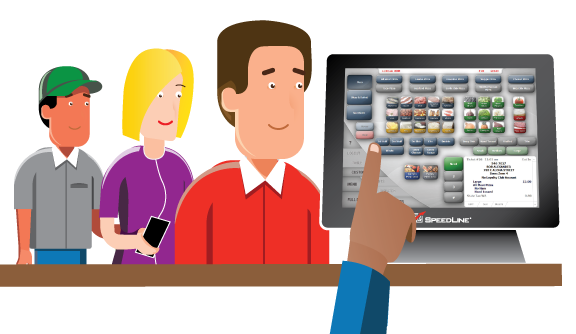 Section 3: A Menu Built for Your Pizzeria
SpeedLine menu screens are set up during installation planning to match the menu offerings and menu flow of your store. Menu button color, size, text, and style can be changed, and the arrangement of buttons on a panel can be customized to fit how your staff are trained to take orders. You control the number of screens and what's on them. Our customers appreciate SpeedLine's menu flexibility.
Everyone likes their pizza and sandwiches a certain way. Ramon Collado of Mama's Pizza & Grill wanted to make custom orders simple for his staff, even new employees. When they select a menu item, his SpeedLine POS displays red dots on each topping that comes on that menu item. Even new staff don't need help to answer customer questions about what the menu item includes. Staff can simply select or deselect toppings and the point of sale recalculates the price.
When staff enter an order, on-screen prompts remind employees to specify required options like crust type, cheese, size, or salad dressing. Prompts can also remind staff to offer upgrades like extra cheese or a dessert.
When David and Louise Kenney of Pizza Pirates, a 4-store chain in southern California, went looking to replace their antiquated POS system, menu flexibility was the deciding factor. At the time, their menu was less extensive than it is today, but they had plans for growth, and knew that a POS system purpose-built to handle the complexities of create-your-own pizzas, coupons, and delivery was the only way to go. Today, the Pizza Pirates menu boasts 60 specialty pizzas, and every imaginable topping: something their old point of sale system never would have been able to handle.