See how a growing pizza chain increased sales by 35%
Mama's Pizza & Grill is a growing restaurant chain in Reading and Shillington, PA that serves pizza, sandwiches, wings and more. Between their three locations, approximately 60-65% of their sales are delivery orders. Since installing a new point of sale system in 2015, owner Ramon Collado has seen an increase in sales of 35%. He credits that growth to his increased delivery efficiency and ease of order taking.
Finding the Right Fit
When they first opened in 2005, Mama's Pizza & Grill handled everything by pen and paper, including deliveries. That soon became overwhelming for Collado and his staff. They switched to a point of sale system that could handle their orders, but not their deliveries.
"It was a good system, but a lot was missing," Collado says. Like many restaurant owners, Collado was used to coping with tools that didn't quite work for his restaurant. He had modified the point of sale so that it worked for him, "but it still didn't have the delivery mapping or reporting that I needed," he says.
What Mama's Pizza & Grill needed wasn't just a point of sale system for restaurants—they needed a POS built for pizza and delivery. He spoke with other pizzeria owners in his area, and decided to invest in a SpeedLine POS for its delivery-specific software. And that investment paid off.
A Delivery-Specific Point of Sale
Mama's Pizza & Grill uses SpeedLine's LiveMaps for dispatching all their delivery orders. They display a map of their deliveries on a wall-mounted TV that's visible at all times, and have a station set up specifically to handle dispatching.
Just by glancing at the screen, staff can see where orders are going, what delivery zone each order belongs to, and the expected time for a driver to return. The delivery system makes it much easier for staff and, every order goes out on time. Even their newest employees know which deliveries should be sent out together on a run. Staff are trained and able to dispatch orders much faster with the system.
The insights Collado has learned from his delivery reporting have helped too. To help with scheduling, his restaurants use reports showing the time it takes to get an order out the door. They also use heat maps that highlight their most valuable neighborhoods and purchase trends. The reporting has helped Collado keep a close eye on his restaurants' performance.
Faster order taking, easier expediting, and more efficient dispatching shorten delivery wait times for their customers. Staff are able to quickly enter orders over the phone, and receive online orders directly to the point of sale. This decreases order entry times, and is a large part of getting the order to the customer faster.
Allowing for Customization
Everyone likes their pizza and sandwiches a certain way. Collado wanted to make customization simple for the staff, even new employees. When they select a menu item, his SpeedLine POS displays red dots on each topping that comes on that menu item. There is never a question as to what the menu item includes. His staff can then select or deselect toppings and the point of sale recalculates the price. The system enforces charges for extra toppings and drives add-on sales.
"We offer a lot of flexibility for our pizzas and sandwiches, and my POS makes sure the costs are always covered," Collado says.
When staff enter an order, on-screen prompts remind employees to specify required options. These options include cheese choices, size, or salad dressing. Prompts can also remind staff to offer other upgrades like extra cheese or sides of sauces.
"My POS is set up so perfectly, it's almost a training tool on its own," says Collado.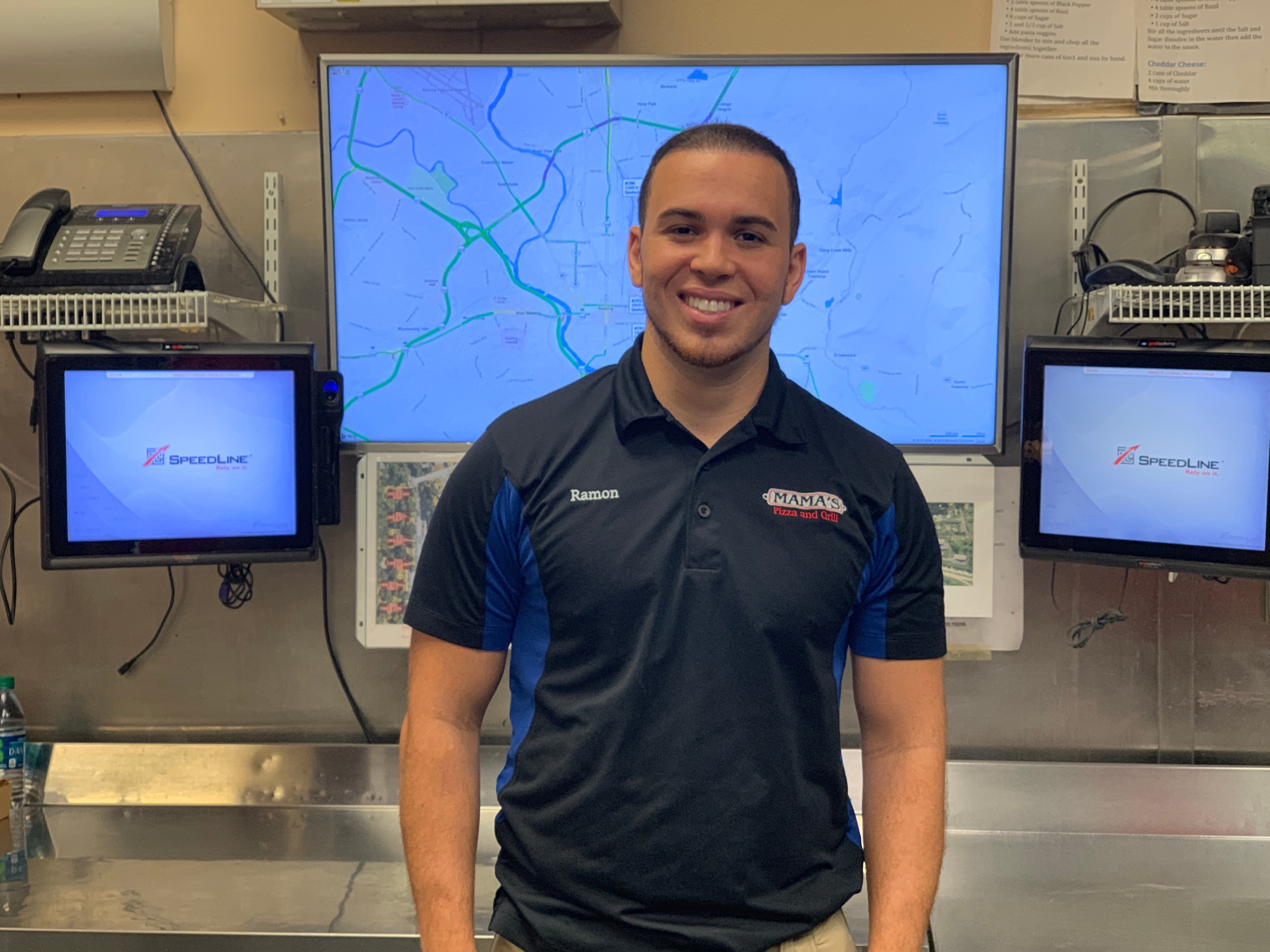 Delivering Personalization to Businesses
Nearby offices represent a large part of Mama's Pizza and Grill's business. Collado's team needed a way to identify individual customers within those businesses. "Caller ID can be a bit of a double edged sword," he says. "When a business number calls and you don't know the extension, who you think you are talking to may not actually be who you are talking to."
When someone calls in to place an order, it's important for Collado's team to know who they are actually speaking with. Some customers may have special requests, or have special arrangements with the restaurant.
They now use their SpeedLine point of sale for tracking business line extensions. When a business number calls in, the Caller ID system brings the record up on their point of sale. A prompt then appears for the extension number. This reminds the Mama's Pizza & Grill staff to confirm who is on the other end of the line, and make sure the order gets to the right person. If a customer has multiple numbers, like a cell and home phone, then both numbers are added to the one account in the point of sale.
Online Ordering
At first, Mama's Pizza & Grill used third-party online ordering sites that charged per order. After using it for a while, they realized that they needed a solution that:
exactly reflected their brand
integrated directly with their point of sale
had a reasonable monthly cost
avoided per order fees
In May of this year they went live with SpeedDine for their online ordering. Collado likes the control he has over his restaurant's branding with his own online ordering website. He now has a website that integrates directly with the point of sale, and he's not paying per-order charges.
15% of Mama's Pizza and Grill sales come from online orders, and Collado is expecting that number to continue increasing. "Online orders are more efficient for us in the store. More orders placed online means less time talking on the phone," he says. "I love that SpeedDine is directly integrated. It's basically an extension of our POS that everyone can access to place their orders."
"Business has picked up considerably since we installed SpeedLine. Our sales have increased 35%, and we are able to keep up with the same staff," Collado says. Mama's Pizza and Grill's three locations are thriving. The increased efficiency has meant their team can handle more orders, and serve their customers better.