The Engineer Who Loved Pizza
When Dennis Sheil bought a pizza restaurant in 2003, he didn't leave his day job. Neither did his partners.
Dennis, an engineer in the construction industry, owns a Pizza Factory franchise with his wife, sister, and brother-in-law. "All four of us work outside of the restaurant," Dennis says. "We have a full-time manager who handles the store's operations."
Because they can't be in the restaurant every day, Dennis and his partners rely on their SpeedLine POS to keep them informed: "Our SpeedLine POS gives us in-depth information to guide our decision-making," says Dennis.
For the Love of Good Pizza
How does an engineer suddenly become a pizza operator? "We loved the pizza so well, we bought the restaurant," Dennis jokes. Dennis and his family were devoted Pizza Factory customers first, before they became owners.
"My sister Susan and I discovered the restaurant when my parents decided to move from Iowa to live closer to us in California," Dennis recounts.
The Sheil parents were serious pizza fans: they had been buying pizza every Friday night for as long as Dennis could remember. "We were scouting my parents' new neighborhood to find them a pizza place and we had a meal at the local Pizza Factory," says Dennis. "Wow! Was it ever good pizza!"
So Pizza Factory became the new spot for the Sheils' Friday night pizza. "For the next three years, we started going there every weekend and we got to know the owners very well," Dennis says. "Occasionally, we would chat and discuss the pizza industry. One day, they asked us if we would be interested in owning their restaurant. We were very interested," Dennis adds. "We did our due diligence and investigated the opportunity. And we decided to jump into it."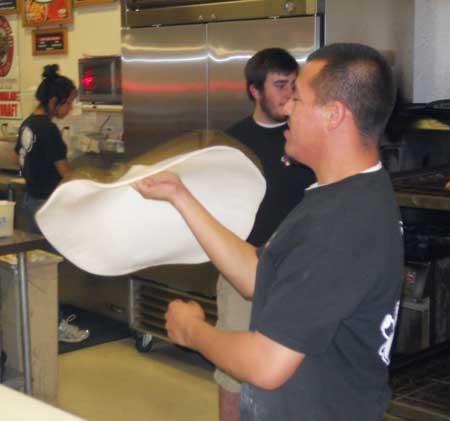 Strong Beginnings
The venture had a lot going for it: "When we bought it, the restaurant had been an established pizza business for 15 years," Dennis says, "and had a solid track record. It was located downtown, in a small community, and it was the only pizza place in town. That didn't hurt a bit!"
Dennis also had skills to match the challenge: Although new to the pizza business, he had an extensive management background, including an MBA in Business Administration and a Ph.D. in Project Management.
In addition, the product was solid: the 100-seat restaurant came equipped with a built-in salad bar and featured a winning pizza product, made with dough tossed on site, special sauce, fresh ingredients, and 100% mozzarella cheese. "It's the best pizza I have ever had," Dennis says. "One of the reasons for the restaurant's success is the fact that we have such a great, great product."
There was even a POS system in the restaurant when Dennis took over. Unfortunately, its limitations soon became apparent. "The system was antiquated, and it wasn't user-friendly," Dennis says, "so we decided to make a change."
The Difference the Right POS Makes
I did a lot of research and looked at every pizza POS in the market," Dennis recalls. "I went with SpeedLine because I found it was the most user-friendly and, from talking to users, had the best technical support. I loved the fact that it was pizza-specific, so I'm working with a system that designed for my business and with people that understand my needs."
In 2004, Dennis installed three SpeedLine POS stations: two for in-store orders and one fully dedicated to carry-out and delivery orders, which account for 40 percent of the store's business.
The customizable SpeedLine menu screens were a big plus to streamline order-taking in the store. "It's nice to be able to move buttons around on the screens and place them where they are convenient for order takers to find, and where they make sense and are logical," Dennis says. "We have one panel for pizza, one for pasta and salads, and one for sandwiches. We are always open to suggestions from our employees to improve order flow, and we have made a few changes to our menu screens based on their feedback."
But although ease of use was a top selling feature when Dennis chose SpeedLine, he points out that depth of information was also vital to the success of his operation—especially with all four partners working offsite.
"Our SpeedLine reports give us access to a lot of information," Dennis says. "With the sales and menu mix reporting tools in SpeedLine, we can see what items are selling and how many we sold in any time frame we select. This information helps us decide what we need to promote."
Grassroots Involvement
Beyond a great product and systems, Dennis and his team have found that being directly and richly involved in the community makes a huge difference. And not just on a business level: it's also a source of personal satisfaction. "Community events have really been a highlight for us," Dennis says.
Pizza Factory regularly supports school initiatives and sports groups. They also stand behind bigger yearly events, such as the Relay for Life. "We donate lots and lots of pizza for that every year," Dennis says. "We also provide pizza for all the meetings and support activities."
With a 20-year history of grassroots involvement, the restaurant has become more than just a business: it's a community hotspot. "I remember as a kid my family would go there on Friday nights," writes a customer on the restaurant's Facebook fan page. "You would run into so many people and just visit with them."
Because they are at the hub of their community, Dennis and his team feel a responsibility to customers and staff that goes beyond simply supporting worthy causes. When flooding devastated many homes in the area, they organized a fundraiser to relieve the victims.
More recently, one of Dennis' employees was involved in a tragic car accident. A drunk driver at the wheel of a pick-up truck ran a stop sign and hit the young man's car, killing his girlfriend and leaving him with brain trauma and severe injuries.
"Our town is a small town where everyone knows everyone else," says Dennis' sister, Susan. "The accident shook the whole town: people responded en masse to the blood drives and prayer vigils that were held for him."
"He had worked for us for two years and his mom and sister were also working for us at the time," Susan continues. "We wanted to do something so we planned a fundraiser to help with medical expenses."
All sales made the day of the fundraiser were donated to the family. Against all odds, the young victim had recovered enough to attend the event—a high point for everyone present.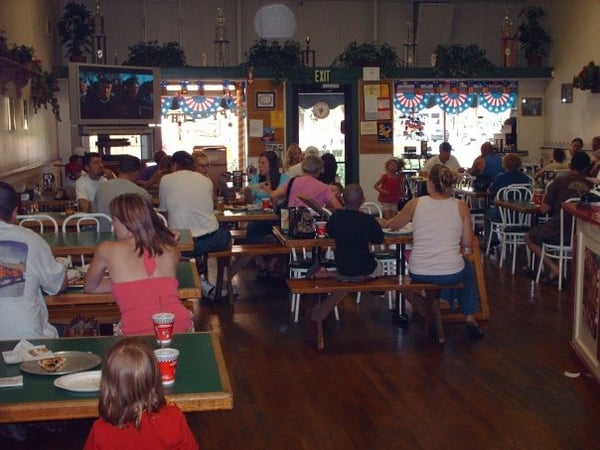 Marketing in a Small Town
While strong community ties are rewarding, there are some drawbacks to operating a restaurant in a small town. "There's not really an opportunity to generate new business, because we've already got it all," Dennis says. "It's a big downfall of being the only place in town."
So promotions is key: since there's a large gated retirement community in town, Dennis has a weekly promotion to attract these patrons. "Every other Monday, we have seniors' night," Dennis continues. "We always offer free soft drinks and a discount for seniors, but on seniors' night we have a special menu that's deeply discounted. And we always get a big crowd for that."
"We also have a pizza of the month special," Dennis adds. The unique SpeedLine sales reporting tools help them make decisions on what to promote: "Sometimes we take an item that's slow moving to help promote it. Other times, we just make something up and discount that for the month. And it's great too because with SpeedLine, we just create one button that says POM for Pizza of the Month: order takers hit that, and the pizza goes to the table."
Going Digital
Revving up his marketing to get people to visit more often and order more is on Dennis' agenda this year.
Promoting his online ordering menu is at the top of the list. In 2008, Dennis and his team added to their Web site an online ordering menu fully integrated with their SpeedLine POS. "Our online menu has not been as busy as we would like," Dennis admits, "but I attribute that to our lack of promotion. Until we let people know it's out there, we cannot expect them to use it."
Dennis also wants to start an email marketing program: "We started capturing email addresses," he says. "We want to keep track of email addresses in our SpeedLine system, so we can use our POS database to power up our email marketing."
Sending emails is markedly cheaper than using direct mail, and is also more immediate: "We hope that sending emails can help us boost business when things are slow," Dennis says. "We are going to send limited-time offers, such as 'order before we close today and get a free dessert.'"
We have not used our SpeedLine system to its full advantage yet," Denis points out. "That was another selling feature for us. We really liked all of the extra things the system could do, and now we're getting ready to use these features.""Another great thing about SpeedLine is the online training," Dennis continues. "We can just visit the SpeedLine customer site to view how-to videos and tutorials. And that's just a wonderful tool." SpeedLine videos and tutorials give step-by-step instructions on how to use SpeedLine, which is helpful for new customers who are learning to use the system or for long-term customers like Dennis, who want to tap into more advanced functionality.
"If you're looking at buying a POS right now," Dennis says, "I'd tell you to look closely at SpeedLine, and then look at everything else. Once you've seen it all, you'll come back to SpeedLine."
"I really do think that SpeedLine is the best out there," Dennis concludes. "Some franchisees use other POS systems, and when I hear about some issues or concerns, I think, 'well with SpeedLine you wouldn't have that problem!'"