The Future of Restaurant Delivery Service
Restaurant food delivery is a thriving aspect of food service that has recently exploded in growth, and is expected to continue to do so—but why? Well, people are now busier than ever and like to use services that make their life easier. Not to mention, the ongoing COVID-19 pandemic has caused customers to become more reliant on ordering meals online. According to BusinessWire, the global food delivery market is expected to hit $154.34 billion in 2023.
This means that adding delivery to your restaurant could make up a big percentage of your orders going forward.
"It's highly probable that this crisis will define winners and losers by their digital proficiency since consumers may prefer the contactless delivery protocol that digital ordering offers," David Portalatin, NPD food industry advisor and author of Eating Patterns in America, said in a statement. "Now that we're living in a world where the entire industry is an off-premise business, digital orders gain importance and provide an edge to those who already lead in that space."
The Costs of Providing Delivery
It's important to be aware of all costs associated with your delivery so you can confidently continue operations if it is self-sustaining, and make appropriate changes if it is not. While your competition's delivery fees may impact the amount you charge for your food delivery services, try to cover expenses – and, ideally turn a profit – by assessing all fixed and variable costs associated with delivery.
Fixed Costs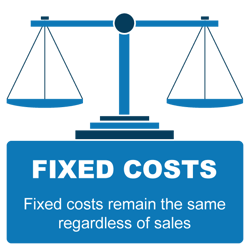 Fixed costs do not vary in relation to sales. A typical fixed cost is rent. For the most part, the cost of rent does not change from month to month in response to how many meals you serve. In the case of delivery, fixed costs include expenses such as auto insurance, delivery software fees, and worker's compensation. The following are common delivery fixed costs to take into consideration:
1. Insurance
When offering delivery in-house, insurance is necessary. Both general liability coverage and driver commercial coverage should be in place. For a full breakdown of insurance you need as a restaurant delivery service, refer to: Do Your Delivery Drivers Have The Right Insurance Coverage?
A few insurance policies that you likely have to factor into your delivery fixed costs include:
General Liability Coverage
Commercial Auto Insurance
Non-Owned Auto Insurance
Worker's Compensation
2. Advertising
Vehicle Signage
A delivery car can act as a moving billboard to advertise your business! If you own your own commercial vehicles for deliveries, you should think about branding them with your restaurant's logo and information. This should be calculated as part of your advertising budget.
If you don't own your delivery vehicles, consider car toppers or magnets.
Uniforms/Shirts
Since your delivery drivers represent your restaurant, outfit them in a uniform that showcases your brand. This can be a full outfit, just a shirt with your logo, or even just a branded hat. Take advantage of every marketing opportunity you can, but be aware of how quickly small expenses like this can add up.
3. Integrated Caller ID
Integrated Caller ID speeds service by eliminating the need to ask callers for their phone number and displays active orders quickly when a customer calls with an inquiry. This fixed cost is a must for many pizza delivery operators.
4. Delivery Software
Delivery management software streamlines restaurant delivery operations to help you increase your efficiency and grow your profits. LiveMaps by SpeedLine for example, helps you effectively control deliveries and drivers through visual expediting and dispatch. Delivery software can be structured as a monthly or annual subscription service or can be a part of a delivery specific POS.
5. Online Ordering Website
A custom branded website that showcases your delicious food, leads your customers through a simple ordering process, and has the ability to grow with your business, is a smart investment. If you don't already have your own online ordering system in place, consider trying SpeedDine.



Many online ordering services not only have a fixed fee, but they also charge a percentage per order as well. To save money, look for systems like SpeedDine that don't charge you per order.
6. Extra Kitchen Staff
If the demand for delivery orders increases, you might have to hire more staff in the kitchen to accommodate. You might even have to consider hiring someone dedicated to delivery dispatch. Keep in mind that each additional wage is a fixed cost to consider in your calculations.
7. Insulated Bags
Delivery bags make a huge difference to deliveries because they keep food at the right temperature and offer an opportunity to showcase your branding. Each delivery driver should be equipped with an insulated bag specifically designed to carry pizza and one designed to carry other food or drink orders with ease. Although this may seem like an investment, it is a fixed cost that will help your deliveries arrive safely.
"Pizza bags are really important, so [we] rotate them out as they start to get beat up a little bit." - Adam Shorter, Owner of Cosmo's Pizza


Variable Costs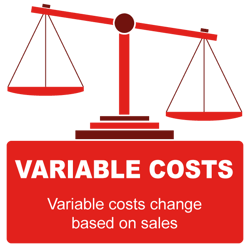 Variable costs are directly related to sales. For example, the use of disposable cutlery and napkins in delivery orders often varies due to an increase or decrease in sales. Other variable costs include food, mileage, and some labor costs.
Variable costs are controllable. Less expensive packaging can be purchased, portion sizes can be changed, and some drivers can have their hours reduced on short notice if it's a slow night.
1. Packaging
Proper tamper-proof packaging will help your food arrive intact, avoiding spills and messes. Depending on your restaurant, you can invest in biodegradable packaging, food-specific packaging, or cheap, standard, foam packaging. Whatever you choose, make sure that you are factoring in how much a variable expense like this will influence your bottom line.
"When it comes to packaging; they are a very expensive part of the [delivery] cost. You really have to figure that into the cost of your product if you want to keep a good, quality product going out to your customer." - Bill Siwicki, Owner of Pizza Works
Packaged Condiments
When preparing an order for delivery, there are often packaged condiments that are added. The more orders you deliver, the more packaged condiments will be used. Factor this into your calculation.
2. Vehicle Operation Costs (for company-owned vehicles)
Vehicle operation expenses can be easily forgotten when calculating delivery costs. Determine fuel and maintenance charges, yearly depreciation, registration, and any other miscellaneous charges, such as parking fees, incurred during an operating year.
Divide this total by the average number of deliveries your restaurant makes in a year to determine a base vehicle operating cost per delivery. This only accounts for routine deliveries, so be sure to charge extra fees for long-distance deliveries outside close delivery zones.
(Vehicle Depreciation + Fuel Expenses + Maintenance + Registration + Miscellaneous Fees)
÷
(Average # of deliveries made per year)
= base vehicle operating cost per delivery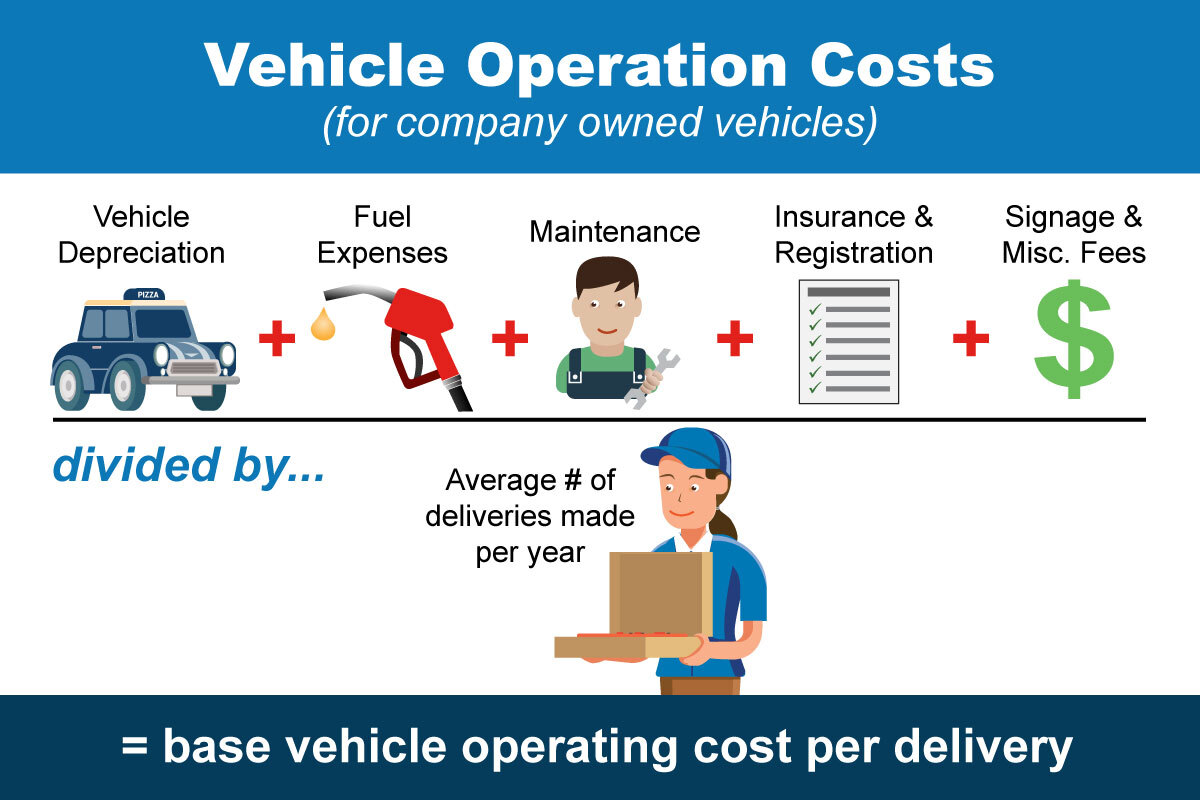 Vehicle Depreciation
Calculate your delivery vehicles' depreciation using this online calculator.
Fuel Expenses
As a restaurant, you are responsible for paying for your driver's fuel expenses while they are on the job. This variable expense will fluctuate and change based on how busy your delivery drivers are, and how well your routes are planned.



Using visual dispatch and delivery zones can help you assign drivers to deliver multiple orders in the same area, saving you both extra fuel costs and time. Another way to reduce this variable cost is to track delivery driver routes and make sure they are taking the most efficient route.
Vehicle Maintenance
While most delivery operators allocate space in their budget for insurance expenses and the ever-increasing price of gas, regular maintenance on company-owned vehicles is often overlooked. Budget for preventative vehicle care and catch issues early to save yourself on costly repairs in the future.
Miscellaneous Fees
There are many miscellaneous fees associated with delivery vehicles that you should be prepared for. Parking charges and tolls are just a few variable expenses that can arise during deliveries, so be sure to factor this into your cost of delivery equation.
3. Driver Wages
The wage that you pay delivery drivers should be fair, take into account your competition's rates, and still leave you with a healthy profit margin. Look up average pizza delivery driver wages by state to help you get a general sense of what you should be charging. For more information about delivery drivers, read Solving the Challenge of Hiring & Retaining Delivery Drivers.
4. Costs of Card Processing
Depending on how you take credit card payments, whether over the phone, online or at the door, you could face different processing fees. To avoid card-not-present charges, find an online ordering provider that keeps your restaurant out of PCI-scope, or equip your drivers with a system like SpeedLine Pay, which accepts card present payments upon delivery. Not sure about PCI and card-not-present charges? Read PCI & Security Best Practices.
The Delivery Equation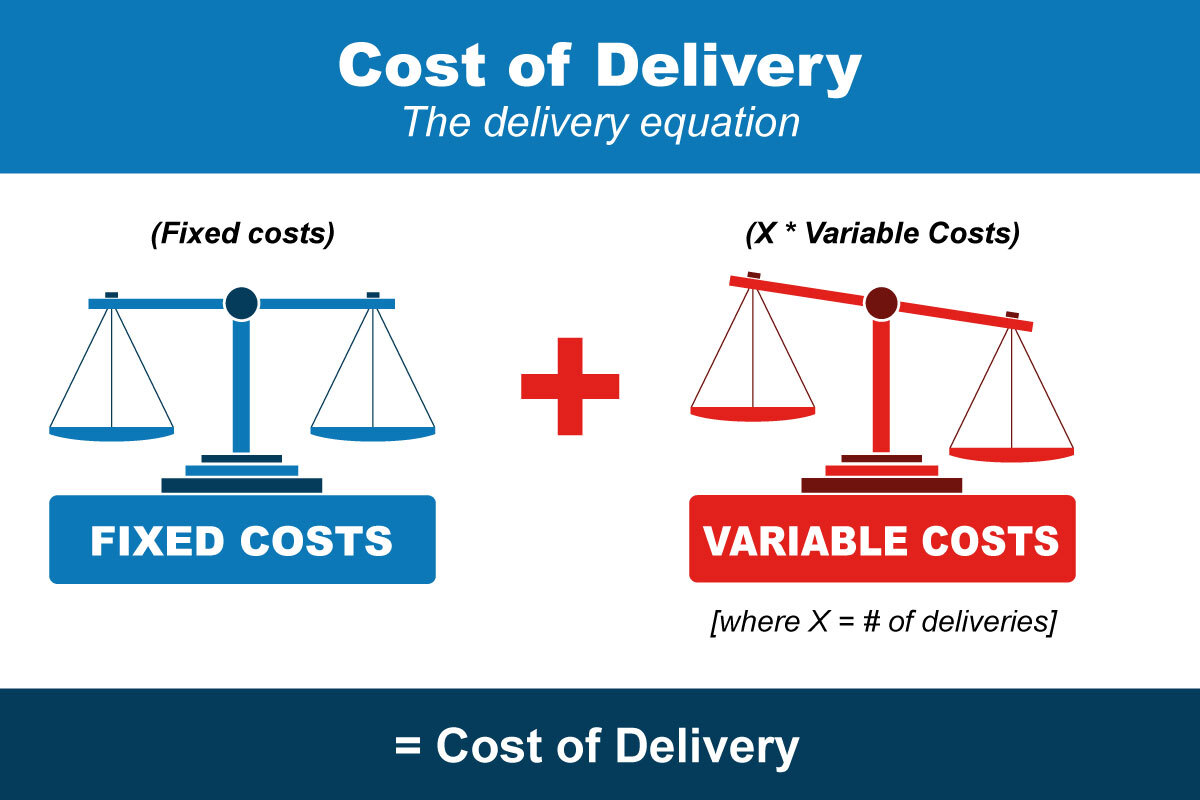 Once you've considered the associated costs that make up a delivery service, you'll be equipped to create a budget to control costs. A breakdown of all variable and fixed costs shows you where you can make changes to ensure your delivery is profitable.
(Fixed costs) + (# of Deliveries * Variable Costs) = Cost of Delivery
Using this information, make effective and strategic decisions for your restaurant with confidence.
---
Posted on Wed, Sep 16, 2020 @ 11:09 AM.
Updated on May 3, 2022 @ 10:30 PM PST.
---