Even before the pandemic, demand for food delivery drivers was increasing, and some restaurants were having difficulty attracting in-house drivers. Grant Cole, the Franchise Manager with Vern's Pizza in Saskatchewan, noticed a difference when third-party delivery companies began attracting drivers. With their restaurants reopening, they've had even more need to hire drivers, but have had difficulty attracting them:
"We've had some issues where staff aren't coming back. They're cautious about their personal concerns, and have no real incentive to come back. We've been understanding."
Hiring
So how do you attract top-quality delivery drivers to work for you, instead of another pizza place or a delivery service?
1. Do your research.
Just like when you do your market research, take a look at your competition. Think about the kind of person you want to hire as a driver, and then consider what other positions they might apply for.
What other restaurants are also hiring delivery drivers?
Which third-party delivery companies are the strongest in your area?
What non-driving jobs are within the same pay range?
Now, look closely at what your competition is offering their drivers. If you were searching for a delivery job, which companies would you apply at? Recently, Papa John's pledged to hire 10,000 more employees. Pay attention to what the large chains are offering their delivery drivers as well.
2. Compensation & other benefits.
Before you advertise the position, you need to establish the compensation and benefits. If you don't have delivery drivers, you can start with a clean slate. If you already have drivers on staff, consider that any changes you make to your compensation will likely need to be extended to those employees as well.
Mike Fredrickson, the Director of Operations with Papa Murphy's Canada, designed their driver compensation to compete with the local job market.
"We offer an hourly wage, a delivery fee, and the tips for each delivery. The third parties don't pay a wage, so that differentiates us a bit." - Mike Fredrickson, Director of Operations with Papa Murphy's Canada
Ideas to Consider:
What are your competitors paying?
Will the driver be providing their own vehicle? If so, will you or the driver be paying to insure it for commercial deliveries?
Are you permitted to pay a tipped wage in your jurisdiction? What is it, and what are the regulations around it?
Are tips shared with other employees? How will this be calculated?
What non-monetary incentives could attract employees?

Could you afford to offer a free medium pizza at the end of each shift to drivers?
Movie tickets, ski passes, and gym memberships could all be used as incentives to attract and retain employees.
Some pizza owners have arrangements that their employees don't pay cover charges at local nightclubs.

What are some ways you could offset the cost of gasoline when the price spikes?



3. Design a compelling ad and application process.
Make it easy to apply. While wading through a vast number of applications isn't much fun, the more people who apply, the better your chances of finding the right fit for your team.
Make a list of what you expect from the driver. If you expect that their car is clean before beginning a shift, you should review that with the applicant. If you need them to work until a certain time each night, be sure that they are able to meet that expectation.
While you will definitely want to meet the person to see how they represent your brand, having them send an email with their resume attached makes applying easy. Or ask them to come by in person and drop off a resume.
4. Advertise the job.
Don't assume you know where candidates are looking for jobs. Ask your staff for places they've looked for jobs in the past, and start there. Chances are, they've looked for jobs more recently than you have.
A few websites to consider posting to:
Kijiji

(Canada)
Local Job Boards
Your restaurant's social media
Michael Stadnicki, the owner of Taco Lulu's in Chicago, uses Facebook Jobs, and pays to boost the listing. "The opportunity as a business owner that you can take advantage of is being able to go in and search that prospective employee's profile. You can kind of see what kind of person they are," he told me in 30 Days to More Profitable Delivery.
Also, ask your current employees if they know anyone looking for work. Design a referral program that rewards employees who refer a successful candidate.
Don't overlook your own website and social media. Your next employee could be one of your existing customers. Some restaurant owners staple a "we're hiring" flyer to their boxes or delivery bags.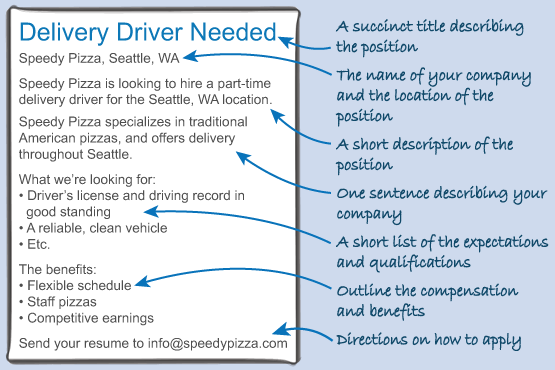 5. Interview and be ready to hire.
In How to Improve Your Customer Experience by Shifting Focus, Arjun Sen suggested interviewing candidates in an environment similar to the one they will be working in. In this case, consider interviewing the candidate in your store, in a standing position:
"If you're hiring somebody whose job would include standing all day, interview the person standing. Standing energy and sitting energy are totally different. For every individual role, find the person with that energy and see how they perform in that state."
Look for the qualities you value in your current team, and the qualities that you feel would compliment those of your existing employees. Ensure that the candidate's availability matches the needs of your business, and remember that your drivers will be representing your brand at peoples' homes.
Retention
Keeping good drivers is just as important as hiring them, if not more so. The longer a driver is with your company, the more they understand your brand and processes. Training a new driver takes time and money, and until they learn the job well, customer service can suffer.
1. Treat your team well.
Treat your staff with respect, and remember that they are people, not just labor hours. Many employees want to work for employers that value them. Feeling undervalued is one of the top reasons employees leave a company.
2. Keep your drivers safe.
Follow best practices for driver safety, and pay attention when drivers complain about feeling unsafe in certain neighborhoods or when delivering to certain customers. Don't encourage speeding, or unsafe driving habits (like texting and driving). Many delivery restaurants require check-ins from drivers if they haven't heard from them in a certain period of time.
Keeping your drivers safe is especially important right now during the pandemic. While your customers may not be requesting contactless delivery, you may want to consider it as a way to keep your team from getting sick. Also encourage your drivers to wear masks, and require them to wash their hands or sanitize before and after each delivery.
From a training standpoint, we teach drivers that if they pull up to an address, and something's off; the house is dark, or it looks like an abandoned house. Call the customer, don't just go up to the door. But don't go up to a house if they can't get a hold of the customer, and they don't feel good, come back to the store.
Don't go to an abandoned house because what we've read is that most pizza delivery driver robberies occur, somebody will call in a delivery to a location that they know is abandoned, nobody lives there, and they'll wait for the driver to come to the door and then they'll come around from the side of the house and rob the driver.
-Gabe Connell, HotBox Pizza [Webinar] How to Hire, Train & Retain Great Pizzeria Employees
3. Always keep training.
There's always room for improvement and learning new skills. Work with your drivers to improve their customer service. You can also have your drivers train each other, to learn from their colleagues, and improve your business.
Teach your drivers how to handle jobs around the restaurant, like answering phones, folding boxes, and prepping deliveries. This way, when deliveries are slow, you keep them working instead of sending them home.
---
Posted on Thu, Jul 30, 2020 @ 07:07 AM.
Updated on August 20, 2021 @ 1:43 PM PST.
---