We've all heard success and horror stories about the gig economy. It's great for those looking for a little extra money, and it's hard on the taxi industry. Third party delivery has been wreaking havoc on the traditional delivery market. But most importantly, the gig economy is affecting the labour market—especially for pizzerias looking to hire drivers.
Vern's Pizza in Saskatchewan has been having difficulty hiring in-house drivers. "It's absolutely harder to hire drivers now," Grant Cole, their Franchise Manager told us. "There's the appeal of working for many restaurants at once, because they get more orders."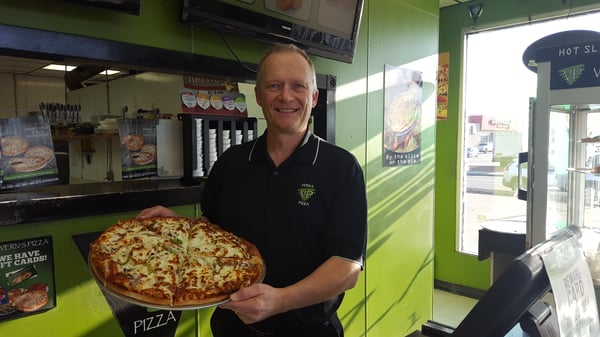 In Canada, Skip the Dishes, UberEats and DoorDash drivers receive a flat fee, and tips for each delivery. The draw is that drivers are able to choose their schedule, and get paid on a weekly basis. For a driver, the more deliveries they make at a time, the more money they earn. Drivers are able to sign up and drive for multiple apps at once, meaning that if it's slow on Skip the Dishes, they can pick up deliveries for UberEats, DoorDash, or whichever food delivery app is popular in their city.
Many Canadian pizza chains are being forced to be creative, and increase incentives in order to compete.
When Papa Murphy's Canada started offering delivery at their British Columbia, Manitoba, and Alberta locations six months ago, they too ran into a few hiring issues. "It's difficult to find drivers," Mike Fredrickson told us. He's their Director of Operations, and works closely with franchisees.
"They work for Uber and Skip the Dishes in Alberta. A lot of our franchisees are tapping into family, and posting on Indeed, and Craigslist to find drivers," he said. In order to attract delivery drivers, they've had to offer more incentives than their competition. "We offer an hourly wage, a delivery fee, and the tips for each delivery. The third parties don't pay a wage, so that differentiates us a bit."
As the delivery market settles over the next while, we will see what long term effects the gig economy has on delivery drivers and pizzerias.
---
Posted on Thu, Dec 05, 2019 @ 07:12 AM.
Updated on April 6, 2021 @ 8:51 PM PST.
---