How much are credit card chargebacks costing you each month? $500? $1,000? If you're anything like the average restaurant in the U.S., it's probably even more. Chargebacks are unfortunately common in the restaurant industry, but the good news is that they're on the decline. In 2021, the chargeback-to-transaction ratio decreased by 21.6% from the previous year. However, chargebacks are still a genuine problem for pizzerias, so you must know how to fight a credit card chargeback and win.
The Different Types of Chargebacks
While all chargebacks are bad for business, they're not all the same. There are three types of chargebacks, and the type you are facing may change how you respond to them.
3 Types of Card Chargebacks:
Merchant Errors - When the food or service does not meet the customer's expectations for one reason or another, they request a refund through the bank rather than talking to restaurant management.
Friendly Fraud - When customers either don't remember/recognize a charge or are unaware that a loved one used their card to pay for the meal.
Criminal Fraud - When a customer uses a fraudulent card to pay for a meal or restaurant staff unknowingly applies a larger tip than the approved.
Before we get to how you can respond to these chargebacks, you should know that not all chargeback requests need to be fought. Successfully fighting off a chargeback requires you to jump through many hoops and provide various forms of proof that you're not at fault. Often, this can be more trouble than it's worth. But if you do decide that you want to go ahead and dispute the chargeback, then here's how you can do that.
How to Dispute a Chargeback
The chargeback process begins long before the claim ever gets into your hands. The customer will have already filed the initial refund request to the bank, which will trigger the bank investigation. During this early stage of the process, the bank will likely reach out to you and request proof of the charge. Once this step is done, you're free to start the rebuttal process.



During the initial investigation, it's common for the bank to remove the disputed funds from your account. But don't panic, this isn't the bank closing the case, and the funds can still be returned to you after a successful dispute.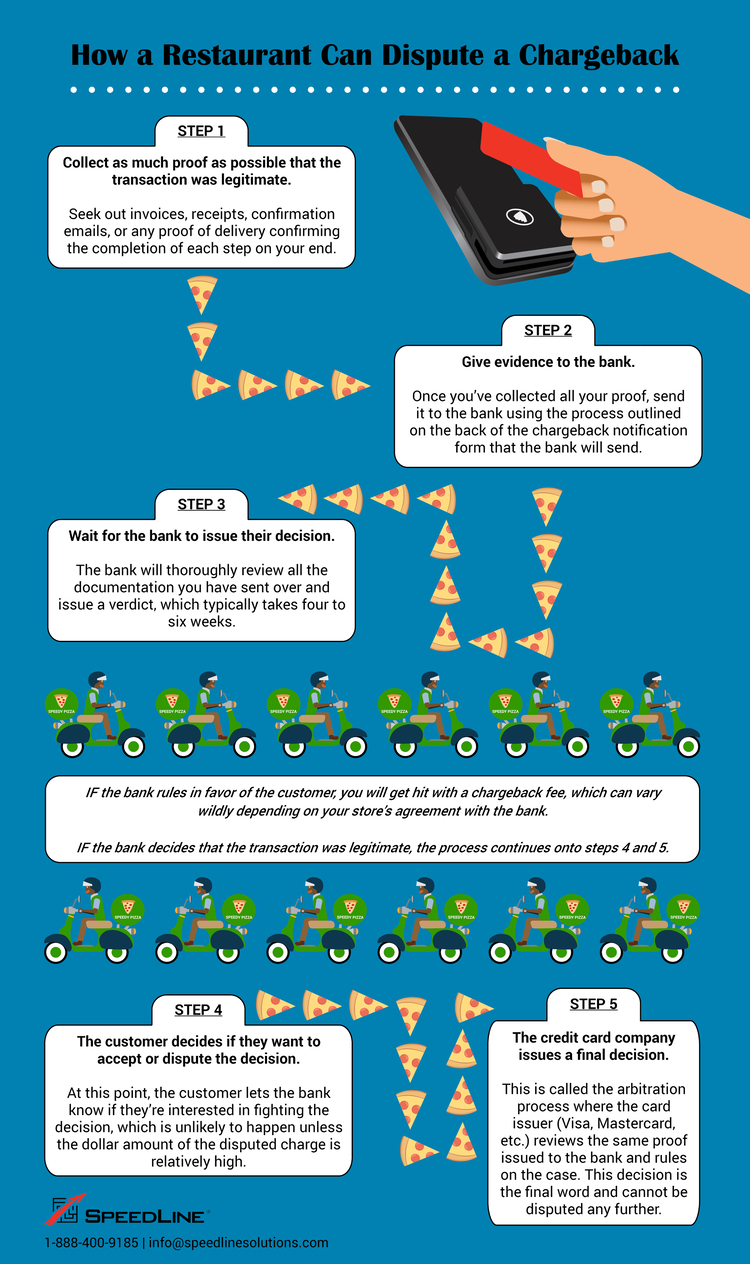 The entirety of this process, from start to finish, usually takes 60 to 90 days to reach a final resolution. To increase your chances of winning the dispute, ensure your staff and point-of-sale system regularly track as much customer information as possible and don't delay your response to the chargeback request. Every step of the process limits how long you can take before the bank steps in and automatically rules in favor of the customer. So a quick response time and thorough customer/order tracking are your best tools during a chargeback process.
Ideally, you never even have to go through this process, though. But to significantly reduce the number of chargebacks you have to deal with, you'll need the following tools and strategies.
How to Reduce the Number of Chargebacks Against You
There are several ways that you can help to bring your chargeback-to-transaction ratio well below 0.5% and save yourself thousands of dollars in the process.
1. Limit what credit cards you accept
Certain credit card providers have different chargeback-to-transaction ratios than others. Although American Express saw nearly double its number of chargebacks in 2021, it remains the lowest among the major four providers, at just 0.79%. Meanwhile, Discover is the worst for chargebacks, with a rate of 3.24% (over twice the percentage of the next highest card issuer). So it can be beneficial to refuse to accept payments with certain cards like Discover.
2. Include photos and descriptions of menu items
Having plenty of product photos and detailed item descriptions can help set customer expectations for what they are ordering and prevent those pesky merchant error chargebacks where customers aren't satisfied with their order.
3. Make sure your business name is easily recognizable on bank statements
If customers don't recognize the business name on their credit card statement, they're far more likely to dispute the charge. Having a statement name that closely matches your restaurant name will hopefully eliminate any chance of confusion when the customer looks at their statement.
4. Get customer signatures upon payment or product pickup whenever possible
Customers are far less likely to try and contest a charge if they know they had to provide their signature during the ordering process because they realize that this will make it much harder for them to win the case.
5. Upgrade to the latest EMV readers and payment technology
To remain PCI compliant, which is necessary if you want to avoid the hefty costs of data breaches, you'll need to meet a strict set of payment security standards. Part of this includes having the latest EMV readers accept all of your card-present transactions. In addition to EMV readers, many other forms of advanced payment technologies can help prevent criminal fraud and merchant error chargebacks.
To learn about other ways to reduce your restaurant's chargebacks, check out our free guide below.
---
Posted on Wed, Jun 29, 2022 @ 08:06 AM.
Updated on June 29, 2022 @ 3:30 PM PST.
---