How much thought do you put into writing menu copy? Do you have a distinct approach to the layout and menu descriptions? Or do you wing it, listing the ingredients after the name of each selection?
A great menu conveys the personality of your brand, and appeals to the imaginations of your guests. Hit the right note, and you'll reap the rewards in increased sales.
Menu descriptions are part art and part science. Menu engineer Gregg Rapp has spent decades in the trenches studying all aspects of menus. Based on interviews with Rapp, Menu Cover Depot lays out a methodology and a set of best practices for menu descriptions. You don't have to be a professional writer to follow his advice. In fact, he advises against hiring outside help to write your menu. Take the opportunity to upgrade your menu—and build more sales.
Great menu copy brings your brand to life. Does your concept have a hard edge? Is it a family fun zone? Are you passionate about local ingredients or artisan techniques? Sustainable farming and green living? Menu descriptions that reflect your brand will make people feel your passion.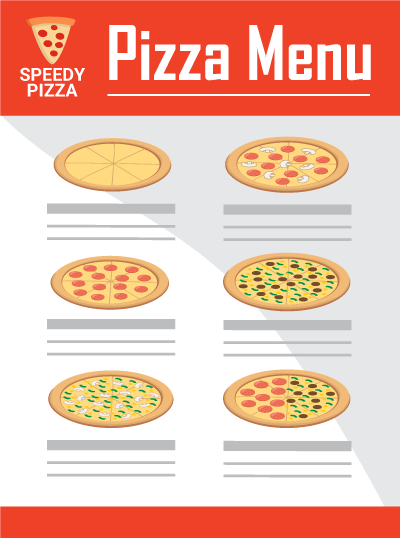 Pizza Menus
If you sell pizza, what makes your pies (or the experience of ordering from you, or dining in your restaurants) stand out? What can they get only from you?
When you stack up one appetizing menu item after another, guests will come back again to try something new.
And chances are, they'll add on an appealing appetizer, salad, or dessert today as well.
Would it surprise you to learn that the average customer spends just 90 seconds looking at your menu? That's right. You only have one and a half minutes to present all that you have to offer to your guests. Is your menu confusing? Your guests may not even make it through your menu descriptions—and certainly won't have time to select multiple items. Is it bland? They may spend even less time—and will be much less likely to add on extras.
So take the time up front to craft a menu with personality. Write descriptions that have your guests salivating. The net gain for the business? Larger orders, more frequent visits, and more referrals.
Create "flavorful" descriptions. Build on trends like fresh, local, farm-to-fork eating. Frame your brand backstory. Learn how to write menu copy that sells in this Menu Cover Depot feature: How to Write Powerful Menu Descriptions That Increase Profits.
---
Posted on Wed, Oct 19, 2016 @ 07:10 AM.
Updated on May 3, 2022 @ 10:40 PM PST.
---