In the past few years, third-party delivery sites like UberEats, DoorDash, Postmates, or GrubHub have exploded. Forbes reported in July 2020, that 63% of young adults use third-party delivery apps. That's a large percentage of the market.
But if your restaurant is tapping into that market, and taking advantage of these third-party delivery apps, you're probably well accustomed to the downsides as well. On top of high fees, lack of control over your product, and lack of customer information, is the problem of getting the orders from their system into yours in order to fulfill them.
Avoid Manually Re-Entering Orders
Whether you accept orders from one third-party delivery app or several, it's critical that you have orders go directly from the third party into your point of sale system, and from there to your kitchen. If you don't, and you're relying on staff to manually re-enter orders from multiple sources (emails, faxes, tablets, etc.), then you are dramatically increasing your labor costs and chances of making mistakes that will alienate your customers.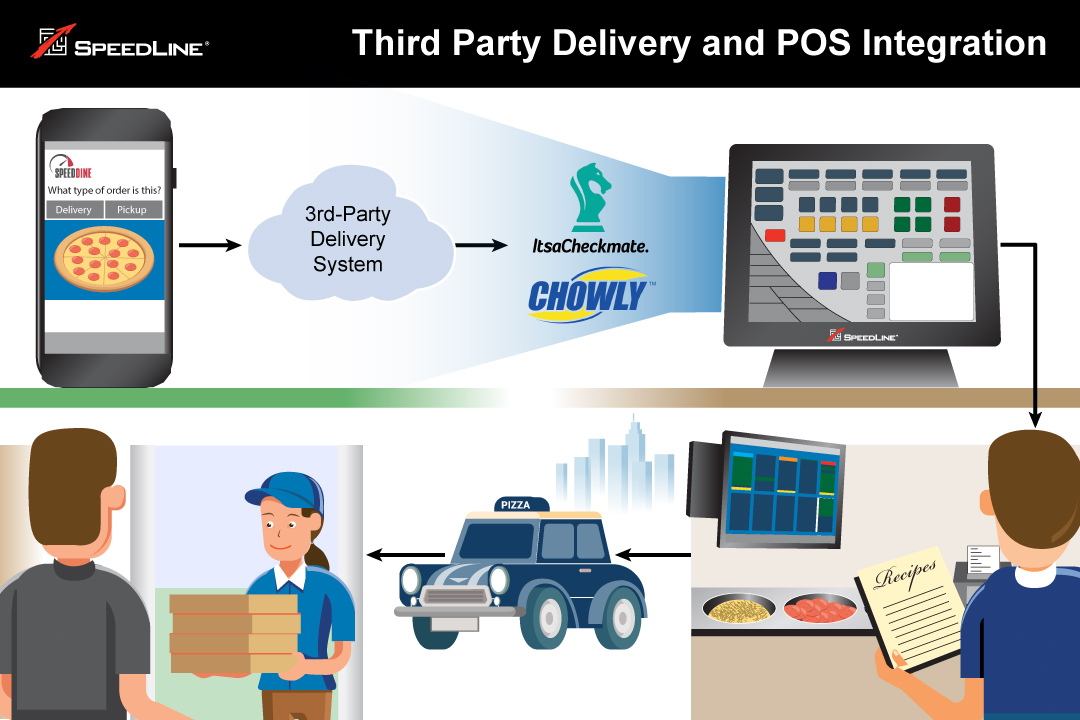 Use an Integration Service
Your best bet to avoid manually re-entering orders is to use an integration service that automatically funnels orders from t third-party delivery apps into your point of sale.


Chowly and ItsaCheckmate both deliver orders from third-party sites directly to the SpeedLine POS system. Orders slide into the production schedule, so nothing is missed or delayed. Customers get their deliveries faster, and labor costs drop.
Integration services work by intercepting the order and changing it into a format that the point of sale system can read. These orders are then treated the same as regular orders and sent through to the correct kitchen printers or display.
"The waters get really muddy when you're accepting orders from UberEats, GrubHub, and Caviar. SpeedLine is basically able to allow you to tender all of those transactions into each individual third party... then at the end of the week or month you are able to make sure that GrubHub and all these other companies are sending you the right amount of money for the transactions that have taken place. That's been a real important function in SpeedLine." - Michael Stadnicki, Taco Lulu's
Once the order is ready, you can complete the transaction in your system as you normally would with any other order, and just like that, it's ready for the driver to pick up. This is extremely important because it ensures all of your orders are accounted for in your point of sale system. At the end of the day, your managers will know how much was sold through third-party delivery apps and how much each third party owes you. You can later reconcile that with the amount received.
Having a system in place to manage your orders coming in through third-party delivery apps is crucial to your restaurant's ability to use them profitably. For more ideas, download More Profitable Delivery: A 30-Day Plan.
---
Posted on Thu, Mar 24, 2016 @ 07:03 AM.
Updated on November 4, 2021 @ 11:35 PM PST.
---