Organizing the back of house can be a roller coaster for many pizzerias. Busy Friday nights, lunch rushes, and condensed dinner times can be the true test of the restaurant's efficiency in the kitchen. How orders flow through the kitchen is a huge part of the challenge.
There are two popular methods for sending orders from your POS system to the kitchen: kitchen printers and kitchen display systems.
Kitchen Printers
You might use kitchen printers to print kitchen make tickets from your point of sale. Tickets are passed along the makeline as each order item is completed. And at the end of the make line, the ticket can be checked for accuracy before the order is completed.
The biggest attraction to this method is that printers are inexpensive and generally hold up well in the kitchen. The learning curve for restaurant owners and staff is minimal, since kitchen printers are widely used.
Many restaurants also include the ingredients of menu items on make tickets to help with portion control. You can read about how it works in this article.
Their biggest pitfalls in a pizza kitchen are the potential for lost tickets, and the lack of information to track efficiency. Lost tickets mean delays, forgotten order items, and orders getting missed entirely. If changes are made to an order after the ticket is printed, those changes may not be properly communicated to the kitchen staff. And, of course, printed tickets tell you nothing about production times.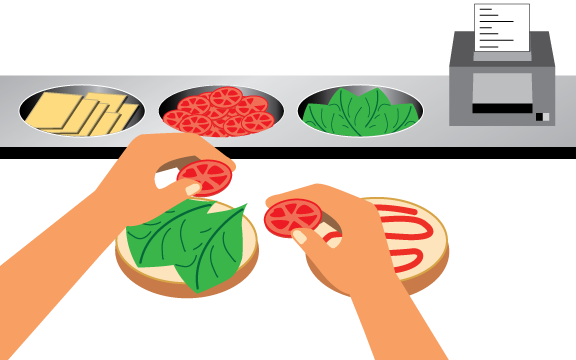 Kitchen Display Systems
Kitchen display systems (KDS) are designed to organize operations in the back of house, and replace kitchen printers. When an order is placed at the integrated point of sale, the KDS routes the items on the order to the kitchen. If your kitchen has multiple prep stations, each station will have a monitor and bump bar, or a touchscreen display. Items from the order are routed to the station where they should be prepared, and then once ready, that item is "bumped" off the screen.
To make the system user-friendly, most kitchen display systems allow you to set rules for highlighting items and order details, and define fonts and formatting. Also make sure you select a KDS that allows you to customize the routing, including setting up delay timers that ensure the items in an order are hot and ready when you need them, either for delivery or table service.
Some of the benefits to your business:
Reduce costs of consumables such as paper, ink and printers
Increase speed of orders to the kitchen
Eliminate the need to print and hang or call orders
Coordinate cook times to ensure items for order are ready together
Track kitchen performance to improve quality, accuracy, and speed
A KDS ensures that the right station in the makeline sees the right order items at the right time. No orders are missed, and the workflow can help kitchen staff work more efficiently.
I have some friends in the industry and they were like, "You have to do it, and we'll support you. Call me when you're pulling your hair out. Come up to our stores."

And I absolutely hated it the first couple of weeks, and I don't think it was just because it was [the kitchen] displays. I was doing it with displays, which was new. Also in a new store with new employees. So, I had a lot going on. But it's happening at our other stores. I'm not waiting. In the past, I would always say, "Oh, man, that's going to cost us $1000 for this, another $1000 for these monitors and this service fee. And blah, blah blah, blah blah. How could we justify that?"

That's going to pay for itself in efficiency. Pizza's out the door very, very fast. We are killing delivery times and pickup times at the new store that I never thought capable at my other stores, and it's a no-brainer for me.

- Greg Thomas, owner of Mama Roni's Pizza in Doing More with Less: Dealing with a Labor Shortage
Add reporting for a better understanding of production times and potential problems in your workflow.
---
Posted on Thu, May 03, 2018 @ 09:05 AM.
Updated on July 12, 2021 @ 7:38 PM PST.
---