A restaurant should be a living organism, constantly growing and changing, and that requires a steady flow of feedback from your customers. Getting this feedback is often easier said than done, especially if you don't know the right tactics to use or questions to ask. That's why we've put together this guide on how you can gather effective customer feedback that will help you to improve your restaurant.
Include a Link on Receipts
No matter whether it's for delivery, takeout, or dine-in, every order is going to come with a receipt. This makes the receipt an easy way to communicate with every customer. Use the receipt to your advantage by including a small blurb at the bottom asking the customer to visit a specific URL and fill out the short questionnaire.
Instruct your employees to call attention to this part of the receipt by circling it with a pen, or pointing it out when handing the customer their receipt. And you can encourage your employees to do this by creating a competition where the employee who gets the most customers to fill out the survey (measured via employee IDs on the receipts) wins some type of reward each month.
Send Out Emails
If a customer has ever placed an online order or joined your loyalty program, then chances are that you have their email in your database. This allows you to use email messages to convince them to submit feedback.
You can either take a similar tactic to the receipts and just include an embedded link at the bottom of the order confirmation email, or you can send out a separate email a few hours or days after the order was placed to ask them if they would kindly fill out a questionnaire.
Set Up a POS Reminder
It is much harder to ignore a request for feedback when it is made in person rather than through an email or text message. That's why you might want to have a prompt in your POS that reminds your employees to ask customers if they would like to take a quick satisfaction survey. This will likely result in a much higher response rate, as long as it is kept fairly short and simple.
If you have a customer-facing display, then you can also include a slide containing information on how they can leave their feedback. A&W is just one of the countless restaurants that have implemented this technique with their kiosk tablets and web-based app.



You can input customer comments directly into your SpeedLine POS on the "Customer" screen, by clicking on the "Options" tab and finding the "Comments" box. Then, run a report in Store Manager to easily examine and share these comments with store employees.
Create Online Review Site Accounts
With 93% of consumers regularly looking up reviews of restaurants, it makes online review sites the perfect place to gather customer feedback. The only catch here is that you can't inquire about a specific part of your business. You'll just have to comb through the reviews left about your restaurant and distill any insights from this.
Make the most out of this option by creating an account on these major restaurant review sites:
Host a Focus Group
If you're considering adding a new product or service, or simply want to find out what the pain points are for your restaurant from a consumer point of view, then you can choose to run a focus group. This involves collecting a handful of customers (6 or 7 people ideally), sitting them down in a controlled environment, and gathering their thoughts on whatever topic you're seeking more in-depth information about.
When it comes to selecting the people to be in your focus group, there are a couple of different ways to go about it. The first option is to advertise to your customers through in-store signage, social media, email blasts, etc., and give them a form to be able to sign up to join a focus group. You're going to want customers who order your food regularly, otherwise they won't have the familiarity with your brand to provide thoughtful insights. The second option is to use a food or hospitality industry research firm, which often run focus groups as one of their services.
Use Secret Shoppers
If you don't want to let customer feedback slowly trickle in through the previously mentioned techniques, then you can choose to manufacture some with the help of secret shoppers. These are typically used by department stores to see if employees are stealing or providing quality customer service, but restaurants can also use them as well.
You can use the family and friends method, which involves getting a friend, family member, or employee from a different store to visit a restaurant and place an order. They'll need to take vigilant mental notes regarding every aspect of their experience and then write out detailed notes afterward. But if you want more professional and detailed feedback, then there's always the option to hire a professional secret shopper service to send someone to your restaurant. Either way, it'll help provide some insight into what your customers experience each and every day.
Offer Rewards for Customers Who Leave Reviews
To increase the amount of helpful feedback you receive from customers, you should be offering them some type of reward. When there's the possibility to win a gift certificate or other reward, your customers are far more likely to take the 3-4 minutes to fill out your online survey or leave a review.
But make sure the reward matches the amount of effort required from the customer. So if you have a short 3-question survey asking a customer to rate their order speed, accuracy, and quality, on a scale from 1 to 10, then offering a coupon for 50% off an appetizer is likely enough reward. For a more lengthy questionnaire, offer a bigger reward, or at least a draw entry for a bigger reward, like a $50 gift card to your restaurant.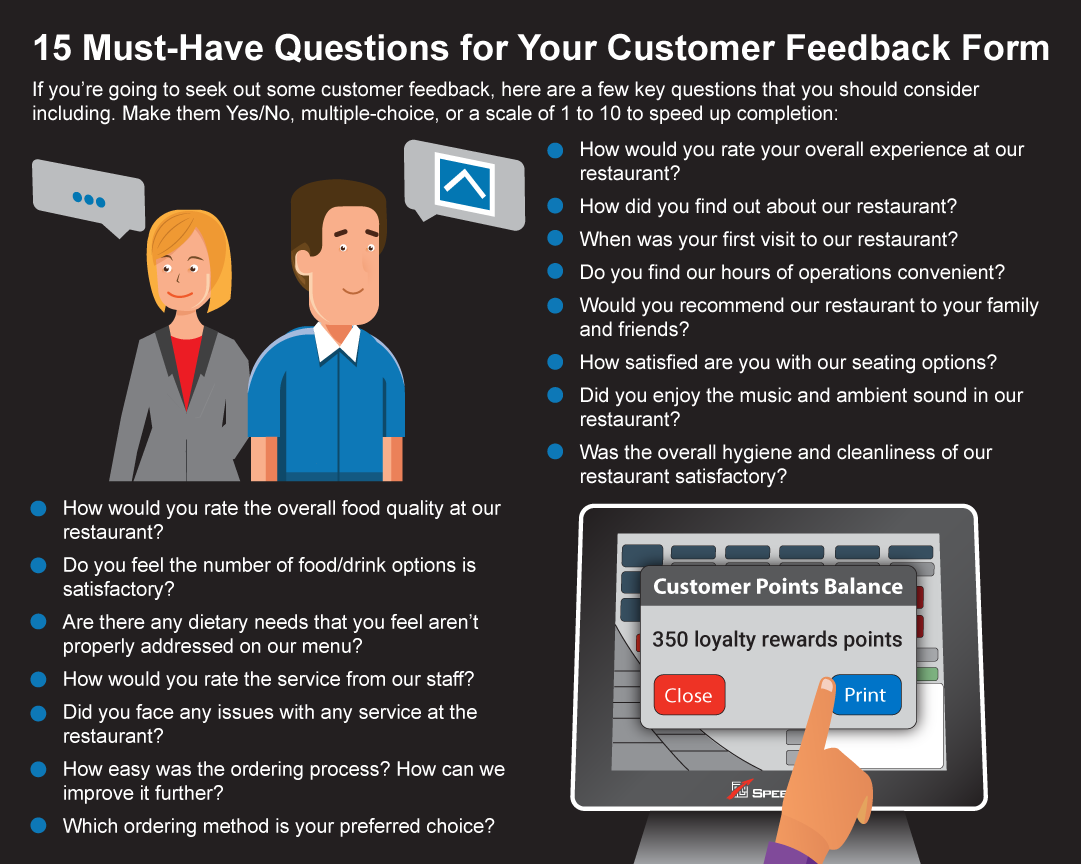 ---
Posted on Tue, Jun 22, 2021 @ 08:06 AM.
Updated on July 12, 2021 @ 9:24 PM PST.
---