A team that makes pizza together, stays together, at least at Primo Pizza and Catering. Even the owner himself, Tom Dioguardi, has had a foot in the business for nearly three decades. Tom fondly remembers how he became involved with Primo Pizza and Catering.
"I started working here in 1992 and I bought it in 2010," he says. "I started as a cook making pizzas and eventually took over as a manager."
Their humble restaurant is sandwiched in-between a Chinese restaurant and dry cleaners in a strip mall just off of Highway 14 in Illinois, where it still currently resides. And as Tom explains, much of the original staff can still be found inside of the kitchen.
"There are guys that have been working here for 20+ years and we all just kind of bust our butts in order to make good money and put out a good product. We've been doing this all together for so long and have a good system going on."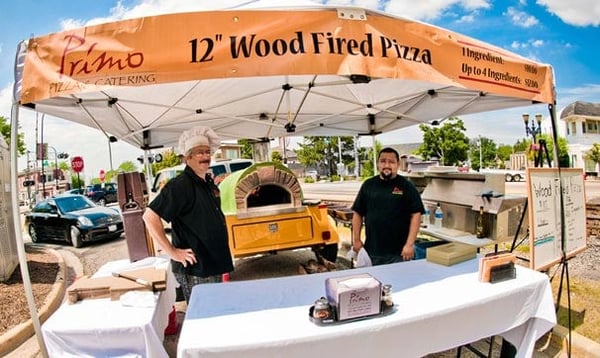 But that doesn't mean everything is the same. Primo Pizza and Catering has continued to innovate in the ways that matter, such as their POS system. "Before SpeedLine, [our system] totally sucked," says Tom. "Before SpeedLine, I think we had just a pen and a piece of paper. We had a little register that I don't even think worked as a calculator. We just opened it up and put the money in. Back in the day, pretty much everyone paid cash."
In order to adapt to the increasingly digital world, Primo Pizza and Catering decided to upgrade to the SpeedLine POS system 20 years ago. And this isn't the only change that Tom has in mind for the restaurant.
"A spot finally opened up next to us when the cleaners recently left, so I'm toying with the idea of expanding and creating a dining room next door," says Tom.
He has also shown some interest in online ordering in order to improve his already thriving delivery and pickup business model. With or without this change, Tom and the rest of the Primo Pizza and Catering family are determined to get through this pandemic stronger than ever and become a dominant force in the Illinois pizza industry.
Read the other 20-year customer stories and subscribe to our blog today to get invaluable industry information delivered right to your inbox.
---
Posted on Fri, Nov 13, 2020 @ 08:11 AM.
Updated on June 22, 2022 @ 8:14 PM PST.
---