Delivery has become a mainstay amongst consumers nowadays, especially in the aftermath of COVID. For pizzerias, this is especially true, since pizza delivery accounted for $14 billion in the U.S. alone last year. But not all deliveries are made equal.
Some restaurants go above and beyond to offer delivery experiences that stand head and shoulders above others in their area. The better your delivery quality, the happier your customers will be, and the more likely they will return. So use these tips to give your customers a complete experience that they are sure to remember.
Offer Make-Your-Own Dinner Kits
As good as your food is, there's just no substitute for the experience of a home-cooked meal. But by offering make-your-own dinner kits, you can provide the best of both worlds. There are two different ways to make these kits. The first option is a take-and-bake method, which involves creating frozen, partially cooked versions of your pizza that customers can purchase, take back to their home, and pop in the oven.
The other option is to put together a pizza kit that is a bit more customizable. These kits should have fully prepared dough that is packaged with the proper serving size of your pizza sauce, cheese, and whatever portioned meats or vegetables are required.
Regardless of which method you choose, you should think about offering a make-your-own dinner kit for your two or three best-selling pizza types. With these kits, it's no longer just ordering in pizza, it's a "build it your way" pizza night for the entire family.
Provide Picnic Packs
There's nothing worse than a customer getting their food, and then realizing that they don't have any napkins, plates, or the proper condiments. This is especially common when making deliveries to commercial buildings where customers often don't have access to these things.
Provide customers with everything they need to enjoy your food by asking if they require a "picnic pack." These packs should include disposable plates, utensils, napkins, and small condiment packages (salt, pepper, ketchup, etc). Make asking about these picnic packs a regular step in your order-taking process.
Send Out Automated Delivery Status Updates
Without proper communication regarding delivery times, customers can easily be taken by surprise when the food arrives. Getting a knock at the door when you're in the bathroom or not dressed is a really fast way to ruin the delivery experience, and is one of the top seven dealbreakers for customers. But you can help prevent this from happening by having automated delivery status updates sent out to customers, letting them know when the order leaves the store, and giving an accurate ETA.
With a visual dispatch system like LiveMaps, the ETA is calculated based on the mapped delivery route, and even takes traffic conditions into account. This allows you to keep the customer in the loop regarding when they can expect their food to arrive.
Have a Limited Delivery Menu
The fact is, not all of your food is going to travel well. There are certain dishes that will lose quality if they are packed up and transported more than 5-10 minutes away. Some great examples of this include steak, fried items, and breaded items.
Avoid delivering disappointing food by paring down your regular menu into a separate delivery menu that only includes items that you know will travel well. This might be 70% of your menu or less. As well as ensuring good food quality, paring down the menu also allows you to limit the variety of delivery packaging you need to stock.
Upgrade Your Packaging
Speaking of delivery packaging, does your packaging need upgrading?. You may need to switch to extra-thick packaging to handle high-moisture items, use cooler bags for drinks and cold treats, and find containers that are easy to label, so the customer doesn't have to open them to know what's inside.
"We've had hot bags forever. Now our drivers have little coolers so they can put their drinks, ice cream, and everything in there. That's been a nice little perk for the customer." - Bill Siwicki, Pizza Works
Failing to have branded packaging is a major packaging mistake, and is just as bad as having basic, cheap delivery materials. So you'll want to put your restaurant name and logo on as many pieces of your delivery packaging as possible.
Add a Free Dessert or Food Sample With Each Order
One of the easiest ways to improve someone's mood is to give them free food. You obviously can't go around giving away entire meals for free, but you can definitely toss in a free dessert or small food sample with each delivery order. It won't impact your profit margins much to include a small piece of cheesecake, a cookie, or a couple of breadsticks free of charge, but it will turn an ordinary delivery into an extraordinary food experience.
If you use upgraded packaging, offer freebies, use a limited menu, send out regular order ETA updates, and provide customers with utensils and condiments, you can help transform your existing delivery system into one that greatly outperforms your competitors. To help you get started on this path to a better delivery system, here is a delivery checklist to implement.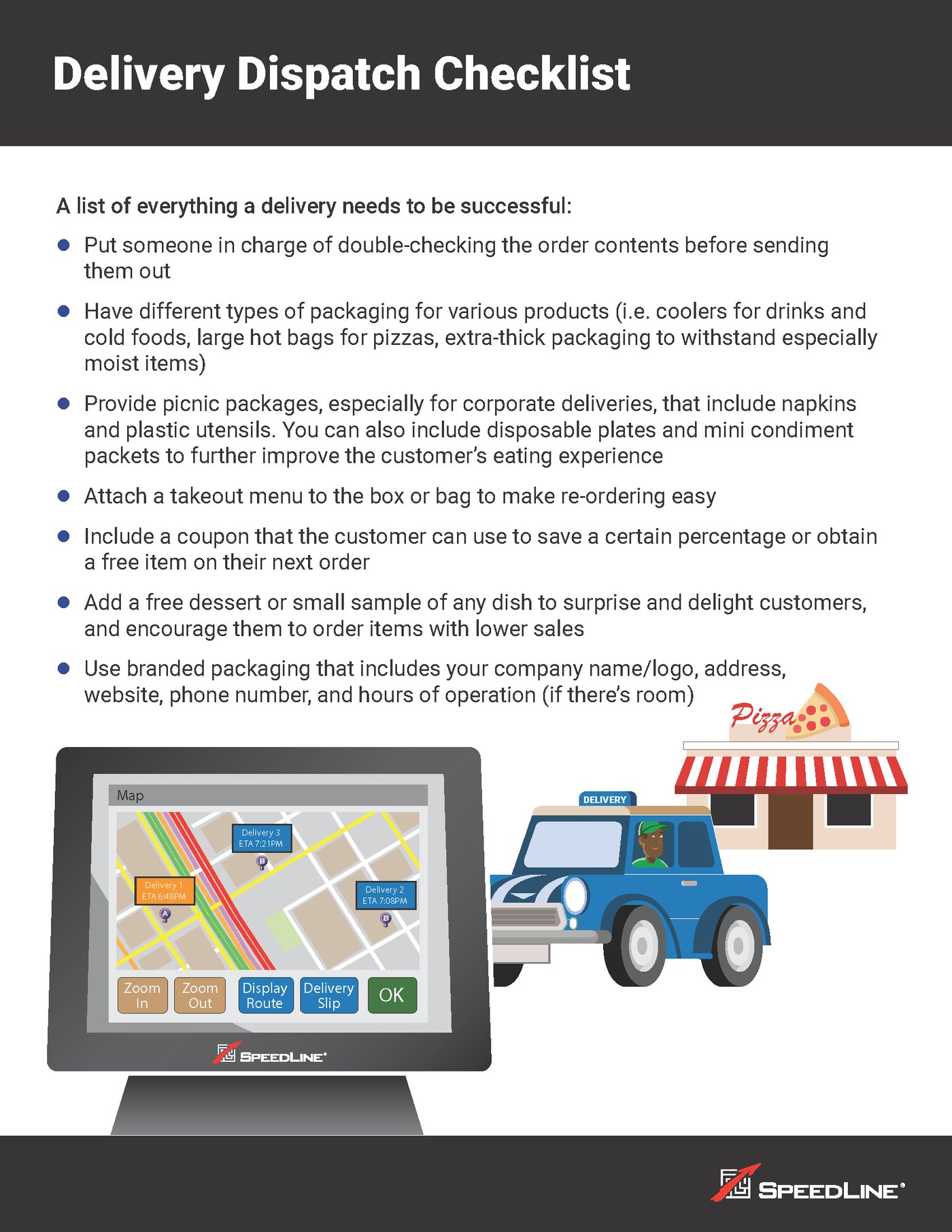 ---
Posted on Fri, Aug 13, 2021 @ 08:08 AM.
Updated on August 25, 2021 @ 9:26 PM PST.
---