Picture this: it's 6pm at your restaurant on a Friday night and the delivery orders are streaming in. Your countertop is covered in a mess of wires and tablets, with each one linked to a different third-party delivery service. Your staff are struggling to keep up as they manually enter orders into your POS system. Orders are being missed, wrong addresses are being typed in, and the kitchen is getting confused.
If you're like most restaurant owners, you've either experienced this exact situation or tried to stay away from third-party delivery altogether. The good news is that point-of-sales integration that can help you gain the advantages of third-party delivery while eliminating many of these headaches.
With POS integration, orders can be automatically transmitted to your POS without the need for manual order entry or what we call "tablet hell." Below, we'll walk through three key tips for maximizing the benefits of POS integration.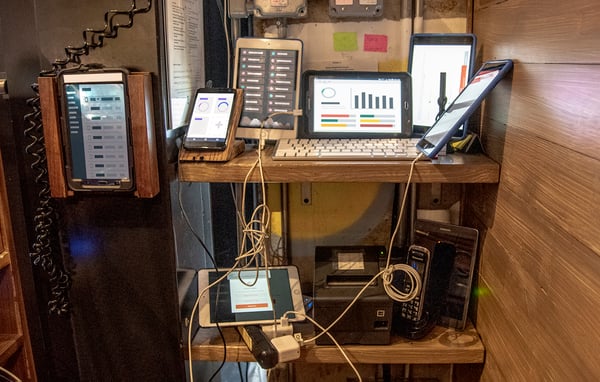 Keep it simple.
Your restaurant sells pizza, so you know how many different ingredients people like to add and subtract from their pizza—with garlic sauce, without anchovies, with sausage, gluten-free crust, and so on. With so many customizations, it can feel like a mess of modifiers for your staff to enter into the POS.
Certain integrators offer a solution called menu mapping to simplify the process of matching items in the POS with items listed on your menu as it appears on third-party platforms.
As a pizza restaurant, you're probably used to offering maximum customizations to your customers. However, as customers become more and more accustomed to ordering from your restaurant's online menu, they're looking for convenience. Convenience can mean not getting off the couch to order, but it also means having a simple menu to select from. We've seen significantly higher order volumes from restaurants with pre-designed items (even at pizza shops). This doesn't mean you need to get rid of your "Create Your Own" pizza, but make sure customers also have pre-made options such as Meat Lovers, Veggie, and others.
The key is to think like a digital customer, rather than an in-store customer. Think about how your menu looks to someone as they scroll down the page, often times on their 5-inch phone screen. Make it easy for them to decide. Then price your items to reflect profitability, and only offer items that will travel well–you don't want to hand your customer a soggy dish!
Work with multiple aggregators.
This might sound like a contradiction, since we just said to keep it simple, but that's not actually the case here. You might be surprised at how minimal the lift is to add additional delivery platforms when you're using a POS integration solution.
With our customers, we've seen that those who moved from using one delivery service to two experienced an 80% increase in average monthly order volume. Those who moved from two to three experienced a 50% increase. This is because each delivery service comes with their own unique customer segment.
Yes, adding more platforms may mean more commission fees, but as long as your menu is simple and constructed for profitability, this means more dollars to your bottom line (not just the top line). If you own multiple locations, be sure to look at both national and regional delivery platforms in order to take advantage of opportunities at both levels.
Focus on relationships.
Working with a third-party delivery platform doesn't mean taking away the personal relationships you've built with customers. Adding a personalized thank you note or offering incentives is an effective way to cap off a positive interaction with your customers and continue building relationships with them. Just slip your note or coupon into the customer's order before it's delivered and see how it increases the likelihood of future interaction.
The bottom line.
Managing third-party delivery platforms can be stressful, but it doesn't have to be. By taking the steps mentioned above, you can start gaining greater benefit from POS integration.
---
Posted on Thu, Jul 11, 2019 @ 07:07 AM.
Updated on October 25, 2022 @ 5:06 PM PST.
---