Canadian pizza royalty: SpeedLine user Diana Cline is an international award-winning pizzaiolo and successful Winnipeg, Manitoba, restaurant operator.
Diana made a name for herself as a two-time winner of the title of Canada's Top Pizza Chef (an achievement that earned her the moniker "Canada's Pizza Queen" in the media). Her growing reputation earned her a cover story in PMQ Magazine, stints as a competitor and judge at the International Pizza Olympics (and coach of the Canadian Pizza Team), and a feature on the Food Network's You Gotta Eat Here. She also served as a director of the Canadian Restaurant and Food services Association.
Diana is a regular columnist in Canadian Pizza magazine, a popular guest speaker, and a consultant to independent pizzerias. On top of that, she is a busy mom to two boys.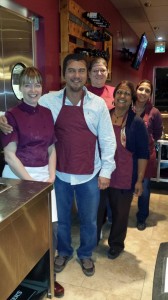 A long time SpeedLine user—first at Diana's Gourmet Pizza, and now with her new concept, Diana's Cucina & Lounge—Diana is a seasoned vet, and a delight to meet. Lucky for us, we've spent lots of time with her at the International Pizza Expo over the years, so it's no surprise she was nominated several times as our user of the month.
An interview with Diana Cline, Diana's Cucina & Lounge:
What's your favorite item on your menu?
We actually have a few new items that I'm really enjoying. As far as pizza, I've been enjoying our new feature "Sweet & Spicy Chicken and Pineapple" pizza, or the Spicy Taco, or when I'm really hungry I go with a "Diana Supreme," only I change the regular beef to hot & spicy beef, so it has a little kick. These pizzas have been my three most favourite (lately).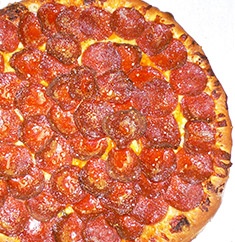 And what's most popular with your customers?
The most popular item is still the "Ultimate Pepperoni Pizza" that won "Best Pizza for Canada" in 2007.
What do you think sets you apart from your competition?
We make our dough from scratch, on-site. And we make several types of dough, including a gluten-free pizza dough. That, and one of our founding partners just happens to be an International award winning pizza chef. :-)
What's your favorite feature of SpeedLine and why?
That one is tough. I like pulling reports and seeing my sales item mix, I like seeing who my best customers are, and even though I still sometimes feel like I'm just a novice at SpeedLine, thankfully Support is always there to help!
Want to read more about Diana's journey in the pizza industry? Read her profile in the Women in Pizza series.
---
Posted on Mon, Dec 22, 2014 @ 13:12 PM.
Updated on March 13, 2020 @ 10:41 PM PST.
Posted by Tricia Hoy



| Author's website
---

---