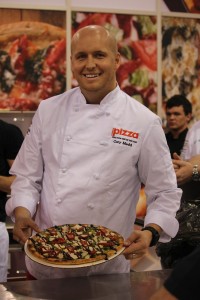 Winner of Canada's Chef of the Year in 2008 and Canada's Best Pizza in 2012, Two Guys and a Pizza Place owner, Cory Medd, knows a thing or two about pizza.
In 2002, Cory and a friend dove head first into the restaurant business, purchasing a belly-up pizzeria on a whim. A year and half later, when his friend went on to film school, Cory bought out his share. With almost no experience in the industry, Cory relied on gut instinct, an acute business sense, drive, and eventually a SpeedLine point of sale system. Two Guys and a Pizza Place has been celebrating success ever since.
Cory believes high attention to detail is what makes him so successful, and today he shares a bit about Two Guys and a Pizza Place and what makes it the place to eat in their town.
An interview with Cory Medd, Two Guys and a Pizza Place:
How long have you been in business, and how many locations do you own/operate?
We opened in 2002. In January of 2013, we moved to a new location - a much bigger building where we added a dining room.
What's your favorite item on your menu? And what's your most popular?
Personally, my mood always changes with pizza! We have over 40 pizzas, and they all have a spot in my heart. Our pulled pork pizza is awesome! We have a signature rub, signature BBQ sauce, and everything is made in-house. The Roadhouse is our number 1 selling pizza: ranch, chicken, bacon, mozza, red peppers, and cheddar. It's also the pizza that won Canada's Best Pizza in 2012.
Name 3 things that make you different from your competition:
Service
Service is very important. We have educated employees from constant training and re-training. Most of my staff have been with me for a long time, which is unique to this industry. My leaders have been with me for a long time: Gavin = 12 years / Trent = 10 years / Hudson = 8 years / Chris = 9 years, and a few others for 6-8 years. They are pizza all-stars!
(I'm sure most restaurants say "service" makes them different ... but my team really do know the answers!)
Unique Selection
We are very creative when it comes to pizza. We change the menu every 2-3 years, usually eliminating pizzas that aren't selling, and adding new imaginative pizzas. I constantly research trends in the culinary world. I eat pizza lots! I am always trying new flavor combinations.
Also, our new location with the small dining room has over 80 craft beers... the largest selection in the city.

Reputation & Legacy
I don't know what else to call it but that. - our reputation in Lethbridge is very strong. We are known for our great quality product and excellent service. And the city is enjoying our new dining room!
Most of our customers are acquired through "word-of-mouth," and we couldn't be happier about that.
We have received lots of publicity recently, and I hope we are making the city proud.
We filmed for You Gotta Eat Here!, and that will air in Season 4 this spring.
We won the "Business Excellence" award from the Chamber of Commerce in 2014.
We have won Canada's Best Pizza twice, from Canadian Pizza Magazine.
We love giving back to the community as well, through charity events, donations, prizes, or as part of the MealShare program.
Lethbridge has been a great place to own a pizza restaurant, and I love being a part of the food scene here.
What are your favorite SpeedLine features, and why?
Dispatch
We handle a lot of deliveries, so organizing deliveries and drivers is very important for our business. It makes routing easier. It helps with pre-orders (deferred orders), and we have a lot of those.
Cash-outs
Before SpeedLine, we did everything on paper. It was very time-consuming, and there were likely mistakes made that cost me money. Now, cash-outs are quick, organized, and every dollar is accounted for.
Reports
We look through many reports - daily, weekly, monthly, and yearly. We can motivate staff by posting the reports. We can make menu decisions based on sales. We do our food and liquor orders based on these reports.
Want to be the next SpeedLine User of the Month? Send us an email telling us what makes you unique, and how SpeedLine fits in your restaurant.
---
Posted on Thu, Jan 29, 2015 @ 09:01 AM.
Updated on May 27, 2020 @ 7:10 PM PST.
Posted by Tricia Hoy



| Author's website
---

---