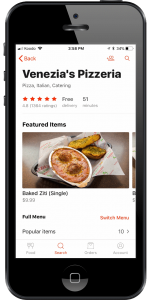 A year and a half ago, Domenick Montanile, owner of Venezia's New York Style Pizza, signed up with Chowly after reading about the integration with his SpeedLine POS in a POS Quick Tips newsletter. Third-party online ordering was gaining popularity with Venezia's customers, but causing big operational challenges in the restaurants.
Venezia's, like many other restaurant companies, was experiencing two main frustrations with the third-party online ordering sites:
For each third-party online ordering site or app, Venezia's had to manage a separate tablet to receive orders. The tablets were not connected with the stores' POS systems, so staff had to enter the incoming orders into the POS

manually

.

The extra time spent checking the tablets and re entering orders was driving up labor costs.

Mistakes happened in the order re-entry.

Venezia's found themselves comping multiple orders a month due to wrong orders, wrong addresses, and delivery delays.
Chowly Inc, a Chicago-based tech company with a service that bridges the gap between third-party online ordering sites and the point of sale, offered an instant solution. The Chowly app grabs the orders coming in from any number of third-party sites, and delivers them directly to the POS.
It only took five days to get Venezia's up and running with Chowly in their five Phoenix area locations, and Montanile's managers were "jumping up and down" with excitement. Checking the emails and various tablets supplied by three third party sites—DoorDash, Eat24, and GrubHub— had been time consuming for managers and employees, taking them away from other tasks.
Many restaurants have been experiencing similar issues to Venezia's as the popularity (and number) of third-party ordering sites continues to grow.
Direct to the POS
Chowly can send orders straight to the SpeedLine POS from more than 100 third-party online ordering and restaurant aggregator sites, such as UberEats, Eat24, and Grubhub.
We spoke with Alex Cranfill, an account executive with the company, about how Chowly's partnership has benefitted current and prospective SpeedLine clients. "We provide an immediate solution to a growing concern for businesses, and can have that solution implemented in a matter of hours. With a streamlined process, restaurants can convert bottlenecks into gains in overall production and efficiency, a real slam dunk when working on tight margins."
Interested in learning more about the Chowly integration with SpeedLine? Request more information. >>
---
Posted on Thu, Jan 25, 2018 @ 08:01 AM.
Updated on May 13, 2021 @ 2:11 PM PST.
---