When your customers want to order for delivery, go out to eat, or pick up take out, but don't know where from, they turn to their constant companion: search engines.
Ensuring your restaurant appears in their search results is key to securing new business, and it's not something that happens by accident. There's a method to increase your restaurant's visibility on search engines, and it's called Search Engine Marketing (SEM).
Your Website & Your Online Ordering Site
Before you worry about anything else on this page, you need to ensure you have a quality website that is optimized for search engines. You have a few options here:
Build your own website
You can design your own website using CMS platforms like squarespace.com, WordPress, or Wix. If you go this route, take care to spend time learning the fundamentals of technical Search Engine Optimization (SEO), and don't rely on plugins to do all the work. What Google and other search engines are looking for changes, and it's important to keep your website up-to-date
Use a local agency.
You can also hire a digital marketing agency in your area to build your website, and manage your online presence for you. This will save you time, and they should have the in-depth knowledge needed to keep your restaurant ranking on search engines. All the same, if you choose to go with this route, take the time to educate yourself on the basics so that you can ensure your website is performing well.
A few restaurant and pizza-specific tips:
If you have an online ordering site, ensure the design matches that of your home page and other website pages. Your customers shouldn't notice that they are leaving your site to go to an online ordering site. You should also discuss with your online ordering provider to ensure your online ordering site appears on a subdomain of your website domain. That means, if your website URL is "www.mypizzaplace.com", then your online ordering site URL should be "order.mypizzplace.com".
If you don't have an online ordering site, and don't plan to add one, then you should list your full menu on a website page. Many restaurants will use a PDF of their in-house menu, but this is difficult for Google to read, and in turn, to rank your website for the keywords within the PDF. If someone in your area searches the words "pepperoni pizza," and that's on your menu, you want to show up in the results. So, you need your menu on a webpage.
If you have multiple locations, have a page dedicated to each location listing its hours and contact information. All your locations should be on one website, not separate websites. This applies both to franchises and corporately owned locations. Google uses these pages to identify separate locations, but will not associate different websites are one brand. So, to get both the benefits of multiple locations appearing in Google and Apple Maps, and of one unified brand presence, this is your best option.
Local Search Marketing
We've covered this topic before when discussing Google, but ensuring you turn up in local searches online is extremely important.
When a person searches on Google for something, Google knows where they are because of their IP Address. An IP Address is essentially a physical address for an internet connection, whether wifi at work or at home, or data on a phone or tablet. Google uses this information to determine whether results are pertinent to the search. If you search for a restaurant serving pizza and pasta, and all the results are from restaurants in Italy but you're in the United States, those results aren't useful. Instead, using the searcher's IP address, Google will list pizza and pasta restaurants within their city or state. You want to appear in these results because these searchers are your potential customers.
This is also how you get listed on Google Maps, or as a result in voice searches (more on that in this article):
First, create a Google My Business listing. We talked about how to do that in Get Noticed on Google: Tips for Using My Business. Essentially, this is the portal where you can tell Google your hours of operation, delivery radius, contact information, your online ordering website, your reservations website, and your address. You can also make your listing more appealing with images of your food, and posts about specials. With this information, Google creates your listing for Google Maps, and Google search results.
Google isn't the only search engine, nor the only maps provider that your customers depend on. In addition to Google Maps, create business listings on Apple Maps for iOS users, and Bing Places and MapQuest for Android users.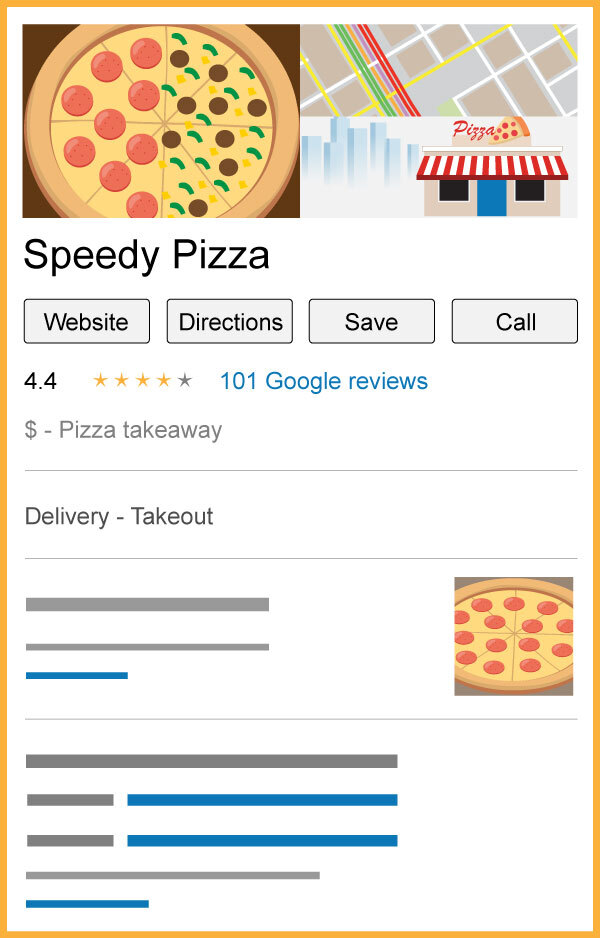 Building Links
Before you hire a new employee, you check their references, right? And depending on who their references are, and how many they provide, you get a general idea of how reliable this candidate may be. Google does the same thing with your website, by checking with other websites to see if they link to you. If a website of questionable character links to your website, their reputation may hurt yours. If a website with an outstanding reputation links to yours, they'll help you be seen as more dependable by Google. These reputations are referred to as Domain Authority.
To increase your website's domain authority, you want to have as many reputable websites as possible linking back to your website. For a pizzeria, here are a few methods to encourage local websites to link to you:
Reviews Matter
Another thing that Google factors in local search rankings is customer reviews. They look at two things: the total number of reviews, and the review rating. More reviews, with higher ratings, is seen as better and will help you rank higher.
Read Responding to Online Reviews of Your Pizzeria and Respond to Negative Reviews Like a Pro for ways to encourage good reviews and ways to minimize the damage of negative reviews.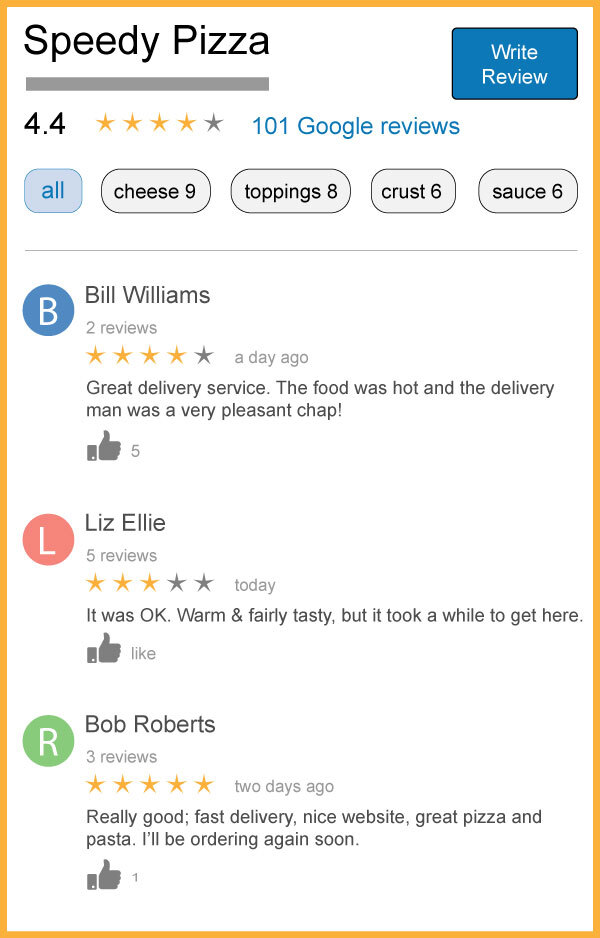 Pay-Per-Click Advertising
A sure-fire way to ensure your pizzeria shows up in search results, is to pay for advertising with search engines. Google, through Google Ads, offers pay-per-click (PPC) advertising, where you bid against other businesses to have your ads shown for certain search terms, also called keywords. You only pay for the placement when a searcher clicks on your ad.
There are many tutorials online for using Google Ads, but a few more pizzeria-specific suggestions:
Be very deliberate when setting your budget. Some keywords will have very a high cost-per-click, which may be higher than your average order value. Calculate how much you are willing to spend on marketing for a single order, and use that when calculating your budget.
You may be competing against large brands like Dominos and Pizza Hut with teams dedicated to online advertising, but they don't know your local market like you do. When possible, bid on colloquial search terms and place names. While the number of searches may be lower, you have a better chance of having your ad clicked on without going over your budget.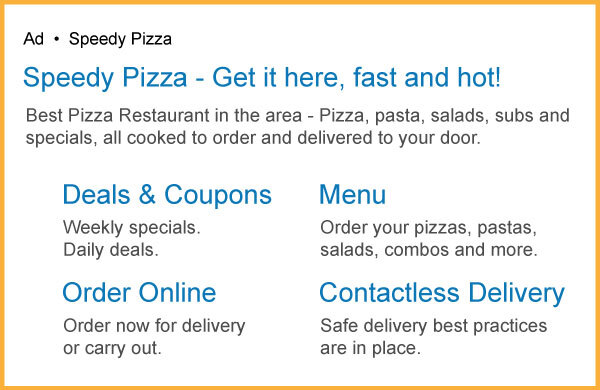 You don't need to be an expert to get your restaurant ranking on Google, you just need to get started. With some effort, your pizzeria will be filled with people who found you online.
---
Posted on Wed, Nov 18, 2020 @ 07:11 AM.
Updated on August 26, 2021 @ 2:08 PM PST.
---