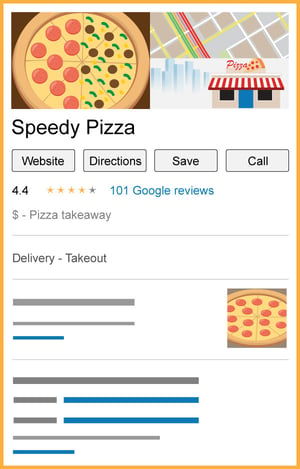 Ever tried searching your business name? Besides a basic listing, what info appears? If there's not much, you're missing an opportunity to draw more customers to your store. A detailed business profile on Google can make your business easier to find, let hungry diners know what sets you apart, and give searchers additional information—like reviews, hours, and website links. It's an essential part of a digital marketing strategy for both large and small businesses. And the best part: it's free!
With more than half of Google searches conducted on mobile devices, Google now places more emphasis on displaying results based on the user's location. Local search results are listed near the top of the search results, right under any paid ads, or in a sidebar with hours, so getting a placement there gives your business high visibility.
Google My Business: One Key to Ranking in Local Results
To rank in the local results, keep this in mind: The more data you give Google, the more likely you are to rank high in the results. So fill in your My Business (formerly Google Places) profile with as much information as possible, including photos.
Here are a few tips for getting the best results from Google My Business:
Ensure the address for your business exactly matches that used by the postal service, including suite or unit number and full 9-digit zip. Spacing and formatting should match too.
For the "I deliver goods" question, answer yes and then add a service area. This is particularly important for delivery restaurants, which can serve a wide area. Add nearby towns you service, or enter a radius that reflects your delivery area.
Get your My Business listing verified. This can take a couple of weeks, and usually involves entering the PIN on a postcard mailed to your business address.
Include photos. Professional quality pays off here: if you aren't a pro or a keen amateur, consider hiring one to take some exterior, interior and food shots. You can even add a virtual tour!

Get reviews

. More reviews help move your business up the listings. A lot of good reviews, with responses signals to Google that your business is a real trusted business. Read about responding to online reviews here.
---
Posted on Wed, Feb 08, 2017 @ 09:02 AM.
Updated on January 11, 2021 @ 7:24 PM PST.
---