The SpeedLine installation and training team has the unique opportunity to visit pizzerias all over North America—and just one perk is the great food! From chain franchises to local mom and pop joints, they will never turn down a slice. I asked our installers to share with me some of their favorite spots to indulge, and why. The list was far too long to mention them all, but here's a peek at five faves: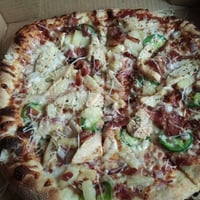 The Bridge Pizza, Missoula MT. The "Maclay" was an easy choice for favorite gourmet pizza. With crispy chicken, red onion, Gorgonzola, celery and buffalo sauce on a BBQ base, my mouth is watering just typing it. While the pizza is to die for, Bridge Pizza also boasts a fantastic location right off the river in beautiful Missoula. Open 7 days a week with a different special every day, Bridge Pizza is a must-have when any of our installers are in town.
D'agostino's, Chicago area. Known locally as the "best thin crust pizza in Wrigleyville," this five-unit chain has been family-owned, family-operated, and family-friendly since 1968. Installation Supervisor, Chris, never misses an opportunity to stop into one of their locations when he is in the area—for both the pizza and their free shaved ice!
Cottage Inn Pizza, Michigan and Ohio. The Spicy Mediterranean is installer Paul's go-to when he's in the area. Hot pepper rings, feta cheese, and fresh gourmet cheese with Italian seasoning and olive oil make this pie one to try! And with over 40 locations in Michigan and Ohio, Cottage Inn is an easy place to find when you're hungry.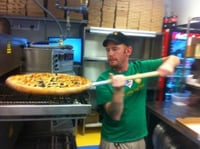 Peace Love and Pizza. With five locations in Georgia, Peace Love and Pizza have been SpeedLine users for more than 5 years, and an installer favorite from day one. The pizza's fantastic at all the locations, but the unique décor in their newest location also makes it a lot of fun.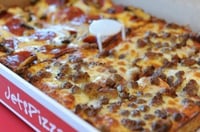 Jet's Pizza. It's a good thing Jet's is expanding from its Michigan roots, because their signature square deep-dish was a unanimous choice by the SpeedLine installers. While their topping selections were all over the map, they all agreed that Jet's is a favorite stop.
For this team, pizza is a lifestyle, and the installers at SpeedLine have plenty of stories to share about the unique (and sometimes weird!) pizzas they sample nearly every day.
What makes your pizzeria a local favorite?
---
Posted on Mon, Sep 22, 2014 @ 08:09 AM.
Updated on April 30, 2020 @ 6:23 PM PST.
Posted by Tricia Hoy



| Author's website
---

---