The Canadian tech industry continues to grow steadily, with BC seeing the third-highest growth rate in the country. And during a pandemic when so many people lost their jobs, it's one of the few industries that was almost entirely unaffected.
This makes working for a tech company a very promising option for a lot of people. But it's not enough to work at just any tech company. Pick one with a workplace culture where you can thrive and grow. A place that is equal parts your workplace and home.
Here at SpeedLine Solutions, we've taken significant steps to modernize the workplace culture in the tech industry and provide an environment where you can actually look forward to going to work each day.
Big Family in a Small Company
One of the biggest changes we've made is finding ways to make massive waves in the tech world without requiring a large army to do so. Instead, we've maintained a smaller company size, currently around 100 people, which has provided many distinctive benefits. The biggest of which is probably that it allows our employees to get to know one another in a way that just isn't possible with larger companies.
Think about the teams at Google or Amazon. Do you think someone can walk down the hallway at these massive tech corporations and know the name of even half of the people they pass? That's the difference at SpeedLine.
We make a point of providing plenty of social get-togethers (done in a COVID-compliant manner, of course) and other opportunities for all of our staff to gather and chat in an informal setting. Most recently, this has taken the form of digital trivia events and other online functions hosted by one of our many workplace committees. We also make a company-wide organizational chart and staff photos available to all employees to help everyone identify anyone at the company. During onboarding, new employees are given a complete tour and have formal meetings with each department head to better understand all aspects of the business.
Keeping Everyone in the Loop
When you're part of a company, you want to know what is going on within that company, especially at the higher levels. The idea of a "need to know basis" doesn't exist here at SpeedLine. Instead, we pride ourselves on maintaining an open line of communication that runs through the entire company.
Through initiatives like company-wide meetings and regular one-on-one meetings, where managers sit down with each of their employees and discuss their performance updates or concerns within their role, we create a free-flowing pipeline of information. With everyone on the same page about the company's upcoming developments and advancements, it creates a unified front and minimizes unnecessary friction amongst departments.
Rewarding Determination in Others
When someone goes above and beyond, it's encouraging when their efforts are recognized. At SpeedLine, we believe in rewarding others for their hard work, which is why we have not just one, but two employee recognition programs in place.
Outstanding Employee Program: This initiative has existed for over 15 years now and allows employees to submit coworkers' names to nominate them for their hard work in the past year. This program is run twice a year and the winner receives a framed certificate, a $150 gift card, and a detailed summary and photo shared on our website and in our company lunchroom.
MVP Program: This is a peer recognition program that allows coworkers to nominate one another for a chance to win a prize draw. On a quarterly basis, lucky winners receive gift cards.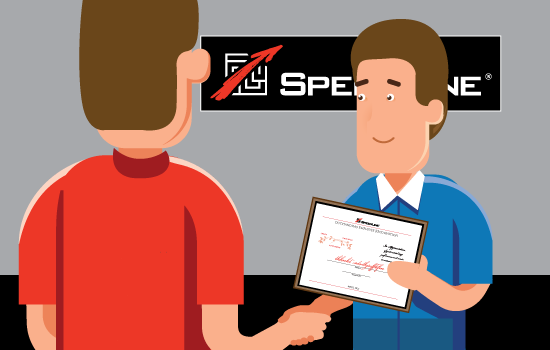 Position Flexibility
During this pandemic, a lot of people have been forced to work from home, but are expected to return to the office after it is all over. However, SpeedLine has offered remote work flexibility for many years now, which is something that many employees want. After all, think of all the time you can save if you don't have to commute 40 or 50 minutes to work every day. Not to mention all of the stress associated with a daily commute.
We pride ourselves on offering many positions that allow for remote work and flexible hours.



12% of employees in the Abbotsford and Mission area have a daily commute of 1 hour or longer. Working locally puts more free time back into your day.
Join Our Team!
We've worked hard to create an environment where someone interested in helping restaurant operators build their businesses using the most advanced pizza and delivery point of sale system in the industry can really thrive. So, whether you are a customer service specialist, or sales-oriented individual, a software developer, or an administrator, there's a place for you here at SpeedLine.
Check out our open positions to see if you're a good fit for any of our current opportunities. It's time to love where you work!
---
Posted on Mon, May 17, 2021 @ 08:05 AM.
Updated on June 22, 2022 @ 8:09 PM PST.
---