Many restaurants have struggled during this pandemic, but one area of operations that has not slowed down is deliveries. In fact, the global food delivery market is expected to see a growth of nearly 4% in 2020.
To help make your deliveries more effective, you need to know what the competition is doing and what seems to be working for them. But don't just keep up with the competition. Instead, get ahead of them by implementing these handy food delivery trends.
1. Mobile Ordering Goes Beyond Smartphones
With digital ordering accounting for almost $27 billion in sales each year, it's not something you can afford to ignore. But having the systems in place to handle smartphone orders is no longer enough to cover the digital ordering market. This is because several other types of digital and mobile ordering are becoming increasingly popular.
Smartwatches
Approximately 22.6 million smartwatches were sold in the U.S. in 2020, which makes it a golden opportunity for your restaurant. Invest the time and tech needed to create a smartwatch app and you'll unlock a new method of ordering that is even easier than using a smartphone.
Virtual Assistants
Virtual assistants are becoming very popular, which is why you need to jump on this chance while the market is still largely untapped. Only a handful of pizza companies have even attempted to roll out a virtual assistant to take orders. The biggest examples are Pizza Hut, Domino's, and Papa John's, which all have services compatible with Amazon Alexa and Google Home.
Having an AI system take voice orders and send them to your POS system will save time and also ensure higher levels of accuracy. It also makes it easier for customers to put in their delivery orders while they are on the go.
In-Vehicle Ordering
Speaking of being on the go, some pizza chains are now allowing customers to put in their orders while behind the wheel. This is possible by combining an in-vehicle ordering system with the vehicle's touchscreen display. It displays a menu that the customer can safely navigate while driving. They can time their delivery order to have it arrive at their home at the same time they do.
While this trend is still very much in its infancy, it has a lot of potential. It is especially valuable in cities like New York, Vancouver, Los Angeles, and Seattle, where there's a lot of traffic. This will allow customers to enjoy fresh pizza as soon as they get home.
2. Unmanned Delivery
"Hiring delivery drivers, as anyone can find out, is pretty tough." - Bill Siwicki, owner of Pizza Works
Any restaurant owner or manager will know that hiring new delivery drivers can get quite messy. It involves finding someone reliable, with a good vehicle, and the ability to pay the proper insurance. But what if you could avoid this entire issue?
Thanks to new unmanned delivery methods, this is now a possibility. This trend is appearing in a few key forms.
Drones
Will you see the sky blacken with thousands of drones delivering food orders and other packages soon? Not likely. But in places like Brazil and Singapore, companies are working to find ways of using drones to get their food into the hands of customers. This also includes major pizza chains like Domino's, who recently did a successful drone delivery in the Netherlands.
Delivery Robots
But not every location is suitable for drones. That's why a lot of companies are hoping to make delivery robots the future of restaurant delivery.
Unlike drones, these ground robots have very few restrictions on where they can and cannot travel. That's why companies like Kiwibot and Starship are using delivery robots to complete orders.
Self-Driving Vehicles
Self-driving vehicles tend to be used to transport people rather than food or packages. But, there are a few companies that are exploring this use of self-driving vehicles. So far, the leaders in this race seem to be the REV in the U.S. and Yandex in Russia.
3. In-Depth Delivery Reporting
Some of the most popular reports for restaurants include labor reports, inventory reports, and sales reports. But it is becoming far more common for managers to run separate delivery reports as well.
With access to in-depth delivery reporting, you will be able to see more than just how many of your sales came from deliveries. Here are some of the things that in-depth delivery reports may be able to show you:
Which areas experience a higher number of late deliveries
A heat-map of which neighborhoods order the most deliveries
Whether the fees or boundaries of a delivery zone should be adjusted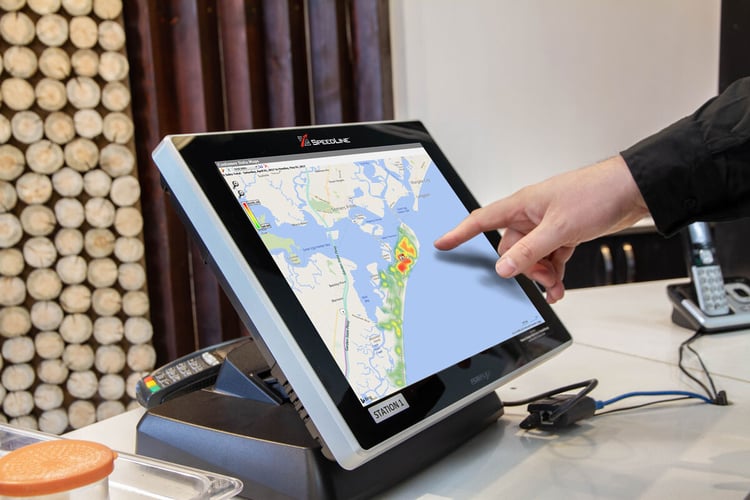 4. Better Online Delivery Integration With POS Systems
The days of re-entering third-party orders are rapidly disappearing. Instead, modern POS systems can take these orders and automatically transmit them to the kitchen.
By upgrading to a system that does this, you can save upwards of $100,000 in only a few years. Plus, you also get rid of re-entry mistakes, which can be quite costly
"There are three places an issue can occur during an order: when the order is entered, when it's made, or when it's delivered. Integrated online ordering eliminates a full third of the problems." - Dominic Barraco, owner of Zazzo's Pizza
5. Wider Range of Delivery Payment Options
As customers continue to move away from paying for things with cash, you need to offer a wide range of payment options. This is especially important for deliveries. Many restaurants tend to limit the payment methods they provide. This is because they worry that new methods will need extra technology and driver training.
But if you want to be on the right side of history, then you need to jump on the mobile payment bandwagon right now. Start by offering the following payment options for deliveries:
Cash
Debit Card
Credit Card (Visa, MasterCard, American Express, and Discover)
Mobile near-field communication (NFC) Pay (Apple Pay, Samsung Pay, and Google Pay)
Taking cash, debit cards, and credit cards is pretty standard, but accepting payments is far less common. But you can get all these payment options by switching to SpeedLine Pay.
6. Eco-Friendly Delivery
To help save the environment, a lot of restaurants are now offering more eco-friendly delivery options. Here are two major changes you can make to position your company as a more eco-friendly brand.
Sustainable Packaging
Switching to food packaging made of sustainable materials is not only better for the environment, but is also better for your bottom line. This is because over one-third of customers are willing to pay more for food if it means that it will be delivered in sustainable packaging. So do your restaurant and the environment a favor by switching over to using eco-friendly packaging. This includes polyethylene terephthalate, polystyrene, or styrofoam containers for appetizers. And for the pizza products, switch to compostable plant-based pizza rounds
Green Transportation
If your delivery team is largely made up of teenagers driving 10-year-old used Honda Civics, then it's not going to be a very eco-friendly system. That's why you should reduce your carbon footprint and help attract environmentally-minded customers. You can do this by switching to a bike messenger system or purchasing some hybrid or electric company vehicles for drivers to use.
Innovate Your Delivery System Today
You never want to give customers a reason to order from your competitors. That's why you need to use emerging delivery trends that are shaping the future of the entire pizza industry.
Whether you are a single location or an entire chain, there are certain things that you will need to do. This includes using more payment options, improving your reporting capabilities, and better integrating your system. These changes will allow your delivery service to remain on top. Even as the industry continues to adapt, you'll be able to maintain good sales and stability.
Make your first step in the right direction by downloading this delivery management ebook today.
---
Posted on Wed, Sep 23, 2020 @ 08:09 AM.
Updated on June 3, 2021 @ 2:01 PM PST.
---