They say a picture is worth a thousand words, so why wouldn't you include pictures in your menu or on your website? You can (and should) go into great detail describing your dishes and ingredients, but when someone can actually see the food for themselves, it is much more effective. But you want to make sure that those thousand words are saying the right thing, which means hiring a food photographer who is going to make your food come to life.
If you want to get a food photographer that is worth the steep price they often charge, then here's what you'll need to look for.
A Cuisine-Specific Portfolio
In addition to tasting very different, any two cuisines will often utilize a very different color palette as well. While Italian cuisine includes a lot of greens and reds, cuisines from other areas tend to be much darker or more neutral in color. A photographer might have taken thousands of professional-looking photos of food, but if most of those were of Mexican cuisine and you're running a pizzeria, that experience won't be nearly as effective.
Instead, you'll want to go with someone who has plenty of experience working with the cuisine that you offer so that they'll know how to best accentuate the colors and textures of your dishes.
Background Props
There's a lot more that goes into food photography than just plopping a plate of food on a table, snapping a picture, and throwing a filter on it. That might be good enough for a customer's Instagram, but it doesn't cut it when the images are going to be used on your website, menu, and other promotional materials. That's why you'll need to use various food photography props to really make the dishes look appetizing and stand out in the images.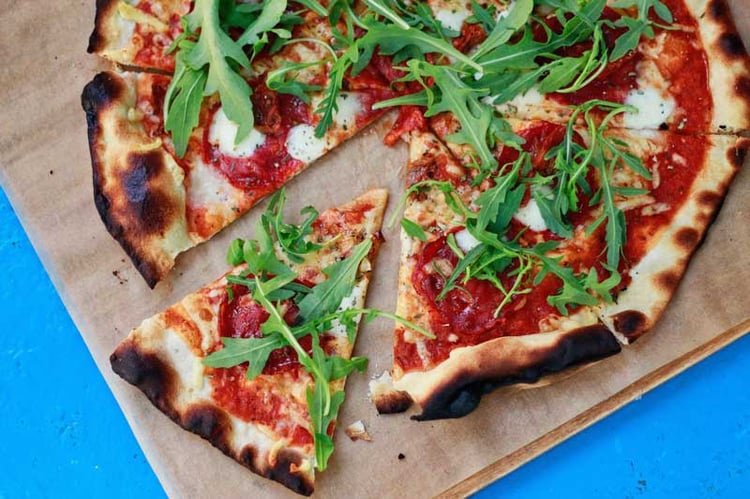 Here are some of the most common food photography props used by professionals:
Wooden Cutting Boards
Ceramic and Matte Finished Plates
Glass Bottles and Mason Jars
Linen Napkins and Backdrops
Clear Thin-Walled Drink Glasses
The ideal photographer will have most or all of these props on-hand and readily available to use. Even if you already have some of these things in the restaurant, such as wooden cutting boards, it's still often a good idea to have a photographer bring their own props, since they are often less used and look more aesthetically pleasing on camera.
Cutlery is just one example of why photographers often bring their own props. Many food photographers prefer to use cutlery that has a dull finish so that it doesn't reflect the light and take away from the food.
High-Quality Camera and Lighting Equipment
Much like a chef is only as good as the tools he has to work with, a photographer needs some great camera and lighting equipment in order to take truly spectacular photos. You can't expect someone with an iPhone to come into your restaurant and capture website-worthy images of your food. This will require them to have a high-quality digital single-lens reflex (DSLR) or mirrorless camera.
The right photographer should also have some good lighting accessories, including a light stand, reflectors, and a diffuser. This will make a huge difference in how appealing your food looks and will make it possible for the photographer to edit the images more easily later.



Using an unmodified flash in food photography results in harsh shadows being cast over the food, washing out a lot of the finer details of the dish.
A Portfolio Website
A serious professional photographer will have a website with lots of examples of their work. No website? Look elsewhere.
Where to Look for a Food Photographer
Now that you know what you should be looking for in a food photographer, it's time to go over how you can find them. Here are the best places to find a local food photographer:
Google
When you want to find pretty much anything, the first place that most people turn to is Google. Try typing in one of the following phrases and see what results show up:
Food photographer near me
Food photographer in [insert city name]
Best photographer in [insert city name]
Then, look through the results and try to find someone who meets the criteria mentioned above. Are there Google reviews? That can give an indication of how long someone has been in the business, and how good they are.
The best way to do this is just search on Google pizzas, for instance, and then you look through pizzas, and you see one that looks catchy to the eye, and you click on it, and just see who basically took that photo. And you can do a little bit of research.

So that's how I did it. I was looking through pizza images, and I saw something I liked. Certain angle, the way the pizza looked. And I clicked on it, and then I clicked, and there was actually a blog from a photographer. And it took me right to his website. As simple as that, and then I was like, "Oh, this is the guy." And he was from Pittsburgh.

- Domenick Colandrea, King's Pizza Pronto in Building Your Brand Experience: Online Ordering
Instagram
If you're looking for a professional photographer, what better place to look than the largest photo-based social media platform in the world? When browsing through Instagram, there are a couple of different strategies that you can use.
The first option is to use the search function and type something along the lines of "food photographer [insert city name]". A long list of profiles will show up and all you have to do is click one of them to instantly check out a snapshot of their past work.
The second option is to search via hashtags. This option is going to provide slightly different results, not all of which will be as useful. This tactic is also going to require a bit more knowledge on your part because it will require knowing what hashtags to search for.
Certain hashtags are popular in some areas, meaning a lot of posts will show up in the search results, but might be rarely used in other areas. Many cities also tend to use their airport code rather than the full name of the city in Instagram posts, so instead of doing one hashtag search, you might have to do several. Once you scroll through the results and find a picture you really like, click on it and see if that person does any other food photography. This can be a great way to find a less well-known but still very talented food photographer that charges much less for their services.
Cherrydeck
Another great option is the professional photographer site Cherrydeck, which allows you to search through a large database of high-quality photographers in specific cities. What's even better is that you can break down these listings by the type of photography services they provide. That way, you won't have to wade through dozens of portrait photographers in order to find a single food photographer.
Other Restaurants
Although the restaurant industry is extremely competitive, it is also filled with individuals who are usually happy to help one another. If you know of another local restaurant with really great photos on their site, then you might want to reach out and ask them which photographer they used. There's a decent chance that they will provide you with the information you need to contact the photographer and get your own beautiful photos taken.
Armed with the knowledge of what to look for in a food photographer and where to find them, you should be able to commission stunning photos to plaster on your website, menu, and marketing materials.
---
Posted on Wed, Apr 28, 2021 @ 08:04 AM.
Updated on September 24, 2021 @ 9:49 PM PST.
---