Are you ready to up your Insta-game? The social media platform is known for its food pictures, and the craze has people taking pictures of their meals all around the world. It's an excellent way for you to connect with your customers, and show off your menu. We've put together some tips to help you with your restaurant's Instagram account:
Tip #1: Be Findable on Instagram
Being active on Instagram serves no purpose if your customers aren't there with you. Ensure your account is easy for your customers to find. Ask customers to follow your account when they come in. Offer delivery? Use box toppers or add your Instagram handle to the box design. Have dine-in? Encourage customers to tag you in their posts by including your Instagram in your menu design.
Just like you want to make your website Google-friendly, you need to ensure your profile is search-friendly within Instagram. Pick a username that matches your restaurant name. If your first pick is not available, add something to your name that makes sense, like your city. Your description should include keywords that you think your customers will search for, like your city and type of restaurant.
Woodstock's Pizza has one account for each of their locations in California. The account for their location in Chico, for example, is @woodstockschico, while their Davis location has the handle of @woodstocksdavis. If you type in their restaurant's name and the city you can find them immediately.
Tip #2: Take the Right Picture (or Video)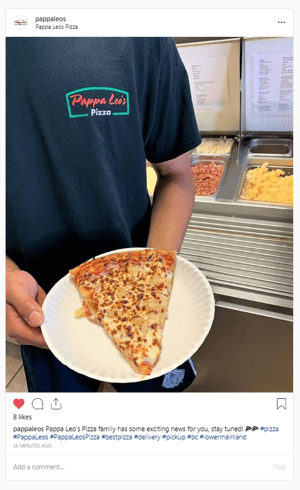 With the increased popularity of food photography, the internet is full of tips and tricks to get the perfect shot. Expert Photography has an in-depth article on the topic of pizza photography, but there's no need to get fancy (unless you want to)—natural light and your smartphone camera will go a long way.
You can also find more taking phone pictures of your menu in 8 Tips to Create Delicious Images for Online Ordering.
Instagram is a great way to keep your customers up-to-date with your business. Share your specials, store hours, and events. Have a happy hour special? Let your followers know! Show off your food, show off your staff, and really show off your restaurant. Not all of your pictures should be of your dishes—you'll want to include pictures, write-ups and videos that show what's going on in your restaurant. That could be behind-the-scenes videos of the kitchen, your involvement in local events, pictures of your staff, and pictures of your customers (with their permission of course).
Recently, Pappa Leo's, a British Columbia-based chain, posted a teaser about a pending announcement. This captures the attention of their audience, and gets them coming back for more.
Tip #3: Get Involved in Your Online Community
Social media is about being social. Follow your customers back, and engage with them on their posts. The more effort you put in, the better your results will be.
User Generated Content
A popular practice for Instagram is User Generated Content, or UGC. This is the pictures your customers post of your food or restaurant on their own social media profiles. Look for photos you are tagged in, and private message the poster to ask for permission to repost it to your own page. Another place to look is for photos that are geo-tagged at your restaurant.
Tyler Anderson, of Casual Fridays, suggests training your staff to encourage customers to tag your restaurant. In his talk at the Online Pizza Summit 2020, he gave the example of a restaurant that trained their servers to offer to take a picture whenever a customer pulled out their phone. After taking the picture, the server would hand the phone back, and suggest the customer tag the restaurant in it. They would also let the customer know that sometimes they shared the posts the restaurant was tagged in.
Ironborn Pizza is very cognizant of how their pizza looks coming out of the kitchen. They want their pizzas to match the expectations they've set in their own posts, and for the pizzas to always look picture-perfect in case a customer wants to take a photo and post it to social media.
Customer Engagement
Don't just encourage customers to share your restaurant without thanking them. Scott Sandler, the owner of Pizza Head in St. Louis comments on or like every single post that his restaurant is tagged in. It's important to acknowledge your customers, and thank them for sharing about your pizzeria.
Influencers
You may have Instagram-influencers and food bloggers within your city as well. We wrote about how to get to know them in the article Grabbing the Media's Attention: How to get press coverage for your pizzeria. Search them out, and get access to their audience by partnering with them. Some bloggers and influencers charge a fair amount for posts, while others charge less. Go through and evaluate how relevant their audience is to you before you agree to pay for posts. If their followers are located on the other side of the country, a few posts won't draw them into your restaurants.
Frank Kabatas, owner of East Village Pizza in New York, shared during the 2020 Online Pizza Summit that he holds monthly influencer events, where he invites Instagram influencers to his restaurant. He speaks with them personally, and suggests menu items that he is currently promoting. He prepares each pizza himself, as he wants it shown online, but gives the influencers free-reign to post what they please.
You can learn more about working with influencers in this article.
Growing Your Audience
Use and follow hashtags relevant to your city and business concept. For instance, if you're restaurant has a location in downtown Chicago, use #downtownchicago, and #chicagopizza. This will put your posts in front of not only your followers, but also people following those hashtags. By selecting hashtags relevant to your location, you're posts will be seen by people in your area.
You can also tag local media, popular accounts that often repost food images, and other accounts. This will ensure your post shows up in their notifications, and isn't missed.
Tip #4: Be Consistent
Whatever you do on Instagram, make sure it's consistent and on-brand. Just like your website, your Instagram is an online representation of your business. It could be someone's first encounter with your restaurant, so make sure it matches your branding.
If you own a franchise, and your corporate office doesn't have a social media presence, bring it up with them and discuss a strategy. Chances are they will have a few branding suggestions and will be willing to help.
Social media is a great way to connect with your customers, and draw them into your restaurant.

Follow @SpeedLine_POS on Instagram
---
Posted on Wed, Jun 26, 2019 @ 06:06 AM.
Updated on June 3, 2021 @ 9:47 PM PST.
---