Do you use upselling or suggestive selling in your business? Only sometimes? Does it depend on who takes the order? Your POS can help you develop a more systematic upselling approach to increase average ticket totals. Say you average 30 orders a day, and on-screen upselling prompts increase the average ticket total by even $1. That's $30 more per day, or over $10,000 per year! Clearly upselling customers can pay off.
When we surveyed pizzerias across North America, over half of them reported that ticket averages increased by 10% to 20% from cross-selling and upselling.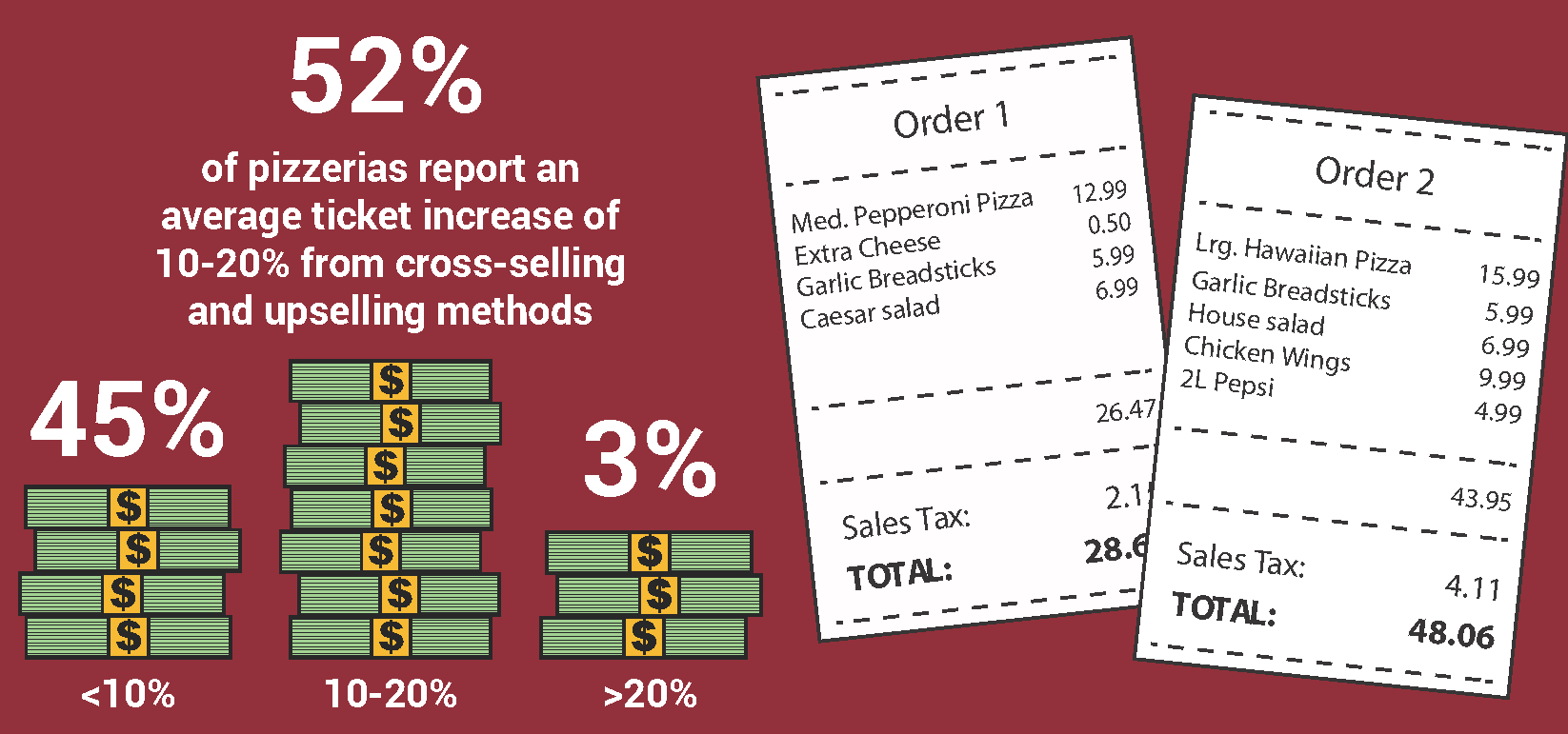 Prepare for Suggestive Selling
What menu items do you want to promote? Sit down and make a list. There are a variety of reasons why you might consider a menu item for an upselling program. Give special consideration to:
High margin items—the ones that make you the most money. Increasing ticket averages isn't effective if the increase is due to the sale of low-margin items. For example, when a customer orders a create-your-own pizza, try suggesting a higher-margin specialty.

New menu items—a great way to encourage your customers to try these.

Extra inventory—the stuff that's overflowing your freezer.

Easy add-ons and logical combinations. List the primary item, and then beside it, any logical add-ons.

Teach your staff to sell.

Take the time to train your staff to recognize upselling opportunities and take advantage. T.J Shier with SMART Restaurant Group suggests training staff to answer a question like "What's the special of the day?" with "Item A and Item B are our specials,

which one can I get you?

"
Consider Pricing
Does your pricing structure make upgrades (for example, to a large beverage or pizza) an easy sell? Can you tweak your prices to make the upsell more appealing? How much is too much? In this Pizza Marketplace article, Black Book author Kamron Karington suggests that if you try to upsell customers by more than 25% of their original order, your strategy may backfire.
Write Your Upselling Script
Write down the key phrases that you want your service staff to use. The key to making more money through suggestive selling is to say the right things at the right times—consistently, on every order.
Instead of asking a yes or no question, such as "Can I get you a salad with that?", Roger Beaudouin with Restaurant Rock Stars suggests providing three options, thereby increasing the chances that the customer says yes. To rephrase the question above, he suggests training staff to ask "Would you like our southwestern salad, or fresh cut fries?" By being detailed, your staff are enticing customers to try the add-on.
Added toppings: "Extra cheese on that?"

Suggested a sides: "Would you like our southwestern salad, or fresh cut fries with that?"

Upsizing: "Make that a large Coke for 99 cents more?" or, "Make that a large pizza for $3 more? You get five more slices."

Suggested pairings: "Tomatoes go great with our goat cheese."

General upsell at the end of an order: "What else can I get you?"
SpeedLine makes these upsells easy by showing prompts during the order-taking process. But while prompts act as a handy reminder to order-takers, good training, coaching, and offering incentives like upselling contests with attractive prizes will ensure the prompts aren't ignored.


SpeedLine customer? See step-by-step instructions for adding upselling prompts to your menu in this online tutorial.
Train your staff to see suggestive selling as good customer service, and to use the prompts as reminders, but embellish them whenever possible with their own comments: "What dessert can I get you today? The key lime pie is my personal fav—it's tangy, but creamy."
Meal Deals
SpeedLine's Directed Order Entry tools make it easy to walk order takers through a value meal order without making mistakes, and they can incorporate suggestive selling prompts for upsizing and more. Customer orders a burger? A prompt asks if they want to make it a meal.
---
Posted on Wed, Jan 16, 2019 @ 08:01 AM.
Updated on July 12, 2021 @ 9:31 PM PST.
---