Gift cards outperform other marketing tools for most businesses. Unlike coupons or discounts, they are prepaid and don't require a large investment for the business. That makes them very attractive for both large chains and independent restaurants.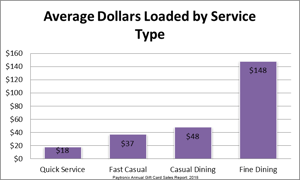 Gift card programs offer many benefits, including:
introducing your restaurant to new customers,
over half of consumers using a gift card will visit more than once to deplete their card, providing additional upsell opportunities, and
two out of three consumers spend nearly 40 percent more than the gift card value.
Choose the right gift card provider.
Examine your restaurant and find a gift card provider that matches your needs. We spoke with Michelle Tempesta, head of Marketing at Paytronix, and she shared some considerations:
"Find a gift and loyalty provider that provides value outside of just the gift cards. Partner with a company that specializes in gift cards, and the reporting, security, and sales channels that go along with them."
Tempesta explains that restaurants with multiple locations should also look for gift card providers that are able to move funds from the location a card was purchased at to the one it was redeemed at. For example, a customer purchases your gift card from location A, and then redeems the gift card at location B a few weeks later. The gift card provider should be able to move the money from the purchasing location to corporate, and then release the funds to the store it was redeemed at, or move the money from the purchase location directly to the redeemed location.
This is especially important for franchisees and large chains, where accounting for each location is completely separate.
As for security, Tempesta suggests: "Look for a gift card provider that uses registration codes, similar to a PIN, and non-sequential numbers for the cards. Sequential card numbers allow thieves to guess at card numbers until they get one right.
Finally, ensure your gift card provider is integrated with your POS system. Your staff should be able to check the balance on gift cards at the POS.
Replenish your gift cards.
If you use the same provider for your gift cards and loyalty programs, you may be able to keep the customer data on the same account. This is important for high volume, low cheque concepts like pizza shops that sell by the slice. Your most frequent customers can take advantage of using a preloaded card in place of cash.
How it works is customers can set up their card to auto-replenish funds when their balance reaches a certain amount. For instance, if the balance on the card drops to $10, the system would automatically reload the card to $40, and charge their credit card for that $40. These cards can easily be added to an app for customer convenience.
Sell your gift cards.
Strategies for selling your gift cards will depend on the size of your program. If you are a large chain with multiple locations, you will want to have a larger distribution chain for your gift cards, where a single location may be able to run smaller campaigns.
Ensure your gift cards are displayed clearly in your restaurant.
The simplest way to market your gift cards is to display them prominently for you customers to see. Train cashiers to point out cards displayed at the cash.
Run a marketing campaign promoting your gift cards.
Send out box toppers, flyers, and hang signs in your store promoting your gift cards. Let your customers know that you offer gift cards. Consider treating the buyer to a special bonus, like a $5 gift card they can use themselves when they purchase a card worth over a certain amount. Consider a staff sales contest that runs in conjunction with the campaign.
Make your website gift card friendly.
Offer your gift cards for sale on your website—they make great last minute e-gifts. And make sure your online ordering program allows your customers to redeem their gift cards online too.
Partner with a provider to offer your gift cards for sale in third-party stores.
Sell your gift cards at local warehouse and grocery stores by partnering with distributors.
Don't wait for the holidays.
Gift card sales begin to increase mid-November, and continue upwards until December 25th, so consider timing your gift card promotions around that time. Thinking of setting up a new gift card program? While most gift cards may be sold in the run-up to the holiday season, setting up a new gift card program can take some time, so to be prepared, and to take advantage of birthdays and other gifting occasions, start now.
Gift cards are an excellent marketing strategy to introduce your restaurant to new customers, and increase sales when implemented correctly.
---
Posted on Wed, Jun 05, 2019 @ 07:06 AM.
Updated on June 3, 2020 @ 10:58 PM PST.
---