If you've had a point of sale system for a while, entering orders is probably second nature. That doesn't mean that you're aware of all the ways the system can help make order entry faster and easier to learn. Below we explore 9 key features to look for in your POS.
1. Conversational ordering
If your point of sale has conversational ordering, it means you can enter menu items, quantities, sizes, and modifiers like toppings and crusts into the POS in any order. There's no need to translate "I'd like two large stuffed all-meat pizzas with extra cheese," into a specific sequence of button touches, because you can select the quantity, crust, specialty, and modifier in the same order the customer gave them to you.
2. Topping indicators
Some POS systems can indicate which toppings are included on a pizza with red dots or other markers. For example, if you touch the Hawaiian pizza button, indicators appear on the ham, pineapple, mozzarella, and pizza sauce buttons. This makes answering customer's questions about what's on a pizza really easy, even for new staff.
3. Easy portioning into halves, thirds, or quarters
A pizza-specific POS lets you customize toppings on each fraction or portion with buttons like "first half" and "second half."
4. Menu panel defaults
Menu panel defaults save button touches. Many pizzerias and sandwich shops offer menu items that customers can customize to their liking with chosen toppings and sauces. Your POS can make ordering these items faster, by setting a default "base" item for a menu screen. There's no need to touch an item button during ordering, as it is assumed any toppings you touch are to go on the base item, often a cheese pizza with pizza sauce. If you also set a base quantity of 1, you won't need a "1" quantity button, as a quantity of 1 will be assumed for anything on the screen, unless you touch a different number.
5. Quick comments
Your POS may call these button presets something different, but whatever you call them, they save time and boost customer service.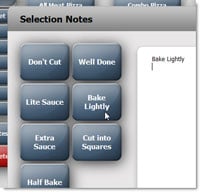 Keep drivers and kitchen staff informed, and make sure your customers get exactly what they want, by entering notes about an item, or the entire ticket. Pre-set buttons can add common notes like "don't cut" or "bake lightly" with one touch.
6. Easy restarts
Sometimes customers change their minds. If this happens while entering a menu selection, your POS should have an easy one-touch way to cancel the current selection, remove it if it's already been added to the ticket, or even clear everything off the ticket and start from scratch.
7. Fast last order recall
You can serve your regulars quickly by recalling previous orders in the POS. The customer profile should make it easy to see the most recent order, or a list of all previous orders. Impress customers by asking if they'd like what they had last time. You recall the order, and voila—instant satisfaction.
8. Fast payment
Quick order payment at the counter, speeds up the transaction. Using a Lane 3000 PINPad allows you to accept tap credit card payments.
9. Question button
A question button is the order taker's friend.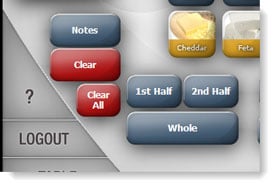 Let order takers give customers accurate allergen, ingredient, and calorie information without asking other staff, or help your bartenders out with drink recipes. Just touch the question mark on the swoop, and then touch a menu button to pop up any notes entered in the menu.
---
Posted on Thu, Apr 16, 2020 @ 08:04 AM.
Updated on January 27, 2022 @ 10:56 PM PST.
---