With the holiday season already upon us, bringing in business is a top priority for every restaurant operator. In many areas, business can be slower this time of year; wallets are tighter, and consumers are planning meals at home to save a buck or two.
Plans lined up for the holiday season? Here are some last-minute tactics to step it up.
Getting customers to walk through your door is no easy task. But sometimes, it's the simpler things that are the most effective. Here are a few quick-hit marketing tactics that you can use this season that won't break the bank, and can drive profits:
Ramp up your curb appeal.
If you're in a position to take advantage of increased holiday foot traffic, making sure your restaurant looks inviting is important. Shoppers are in a hurry, and likely to make quick decisions on what to eat. Check your lighting and signage, and make sure your staff put out the welcome mat with a warm greeting to all guests as soon as they walk in. After a rushed shopping experience, you can count on those walking past needing a warm drink and a well-earned sit-down.
Lure them with a blackboard.
It might seem hard to believe, but few tactics are more effective in luring passers-by than an old-fashioned blackboard. Appeal to shoppers by advertising mouth-watering treats offered only this season (mulled wine, hot cider, mince pies?). Some restaurants use tongue-in-cheek poetics to encourage laughter—and sales.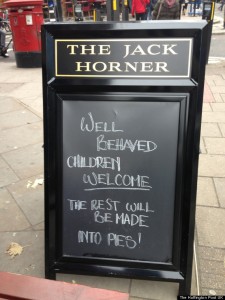 Get social.
Social media is an essential tool for communicating with guests. Consider adding a holiday-themed logo to show your holiday spirit.
Run a contest.
Engage your social media followers with a recipe or cooking contest. Consider adding the winning entry to your menu for a limited time.
Provide helpful information.
Don't just use social media to advertise. 'Tis a stressful season for many, so add some value to your posts that may alleviate some of that for your guests. Unique gift ideas or a how-to video on how to cook the perfect holiday turkey could encourage shares, and "Likes" on your Facebook page.
Run a charitable campaign.
Consider hosting a food bank bin, and offer your guests a free drink or half-price appy when they donate a non-perishable food item. Use your social media channels to talk about your campaign and encourage your guests to spread the word.
Promote a holiday special.
Holiday shoppers are hungry for a great meal and a deal. If you're preparing a special holiday menu, or running a limited-time offer, let current and potential guests know. This is also a good opportunity to remind people of your holiday hours.
Promote gift cards.
This is high season for gift cards sales. Promote them with prominent signage near the point of sale, and offer them on your website. An integrated gift card program works seamlessly at the point of sale and online.
While you're planning, consider that the New Year is just around the corner too—when consumers tend to spend less and stay at home more than at any other time of year. What are you planning to beat the "January-Blahs"?
---
Posted on Mon, Dec 01, 2014 @ 10:12 AM.
Updated on October 12, 2020 @ 7:46 PM PST.
---