Coupons were a Coca Cola invention in the late 1880s. Their handwritten tickets were valid in exchange for one free glass of Coca-Cola, which at the time had a value of 5¢. These tickets were sent to homes across the United States, and approximately 8.5 million of them had been redeemed by 1913.
In the past century, coupons have become one of the most popular marketing tactics in any industry. While some argue that coupon use can devalue your product, many quick service and delivery restaurants find them invaluable as incentive to attract new guests and win back lapsed customers.
1. Set a Goal
Coupons are a tool. Before you begin, you need to determine what your marketing goals are, and if coupons are a good fit. Your goal should be measurable, preferably sales- or revenue-based, but may also target things like customer satisfaction and awareness. A measurable goal will help you evaluate and improve your coupon campaigns.
2. Determine the Cost
Next, determine the cost of your campaign. Consider possible distribution methods, the size of the discount you are willing to offer, and other potential costs. Once you've determined the cost, find your break-even point. How many coupons need to be used to make it worth the expense?
3. Decide on a Coupon Distribution Method
How do you plan to distribute your coupons? This can have a big impact on costs, and technology offers you a lot of choices:
Email
Do you have an existing newsletter list? Permission to email your customers? If so, email is one of the more cost-effective ways to distribute a coupon.
And if you have barcode readers in the store, dynamic barcodes can ensure each coupon is only used once. Many email providers like MailChimp will allow you to embed dynamic barcodes into an email.
Social Media
A lot of companies now post promotions on social media, requiring customers to share, like, or comment on a post in order to receive a promotion or be entered into a contest. This accomplishes two goals: 1) it increases brand awareness, and 2) it encourages followers to purchase your products in store.
For your restaurant, consider offering coupons online, but limit the number of people who can redeem them. For example, offer a discount to the first 100 people to show you the post. Include a barcode or coupon ID for easy tracking.
Newspapers & Magazines
Distribute your coupon in a local newspaper or magazine as a cut-out. These coupons are easy to track, as you have the physical copy of each coupon brought in, and the distribution number is limited to the number of editions of the newspaper printed. Many local papers offer preferred advertising pricing for local businesses, so make sure to check with them.
Direct Mail
Direct mail is the tried and true method of distributing coupons. There are a few different ways to go about distributing coupons through direct mail:
Unaddressed. Work with your local postal service to have them delivered; most offer direct mail services. The other option is to work with your local newspaper to have them delivered as inserts. USPS and Canada Post both provide direct mail services based on neighborhoods and ZIP codes, which is convenient if you are targeting a specific area. (Tip: SpeedLine LiveMaps heat maps make it easy to visualize sales trends in the areas you deliver to.)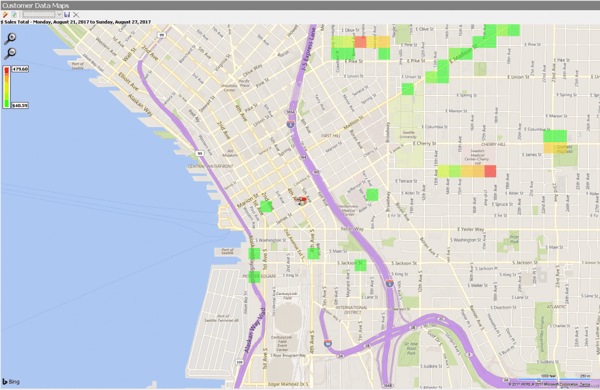 Addressed. If you have an existing list of customer addresses (which you should have if you deliver), consider pulling a mailing list from your reports. A Lazy Customer report in SpeedLine POS, for instance, shows lapsed customers within a specific time period.
Remember that when you send your coupon out is just as important as how. For the best response rate, send your coupons out on a Wednesday or Thursday of a pay week. If you are not regularly sending out coupons, consider sending them around holidays and big sporting events.
4. Design Your Coupon
When designing your coupon, determine how much of a discount and what kind of a discount you are going to offer. From there, you can hire a graphic designer to ensure it has a strong and clear message that will bring in customers. Make sure the coupon design matches your brand image as well.
Some direct mail services, newspapers, magazines, will design the coupon for you. Consider this when determining the cost of your coupon.
5. Enter Your Coupon into Your POS
Always start by making notes about your coupon. What is included and excluded? What is the discounted amount, and what is the current cost of all the items?
SpeedLine has an advanced coupon engine that handles even the most complex offers. You can enter the coupon in Menu Designer and specify name, ID code, and distribution method. You can also specify effective dates for an offer, detail the order requirements needed to qualify, and decide how the discount will be calculated.
Once you have entered the coupon in the POS, remember to train your staff on how it is to be applied. If your employees are not aware of new coupons and promotions and how to apply them, customer service may suffer.
6. Evaluate Your Coupon Campaign
An often forgotten step in coupon campaigns is evaluating their performance. Your POS really helps here: easily track how many coupons were redeemed, who redeemed them, and what distribution method was used.
You can learn a great deal from you customers from your campaign. Did your coupon have options? If so, what menu items did your customers buy the most? Did you distribute your coupons to more than one neighborhood? Which neighborhood redeemed the most? If you used more than one distribution method, which one was most effective?
Compare your results with the goals you initially set. Were they achieved? Did you break even, or make money?
Finally, determine whether it would be beneficial to run a similar promotion in the future.
---
Posted on Thu, Aug 24, 2017 @ 10:08 AM.
Updated on July 12, 2021 @ 9:36 PM PST.
---