Restaurant Menus E-book
Creating a restaurant menu is a lot like playing a sport. Anyone can do it, but it takes a certain level of expertise to do it well. That's why we've created this eBook filled with all of the best tips and insights so that you can more easily create and manage a menu that will best serve your restaurant.
In this free guide, you'll discover:
What good menu text looks like
How to organize a menu for efficiency
How to take the most mouthwatering menu images
Ideal length for a menu
How to avoid issues when making menu changes
Advantages of using dynamic menu pricing
How to automate aspects of your menu for better operational efficiency
Advantages of switching to a QR menu
And much more!
For more information, call toll-free: 1-888-400-9185.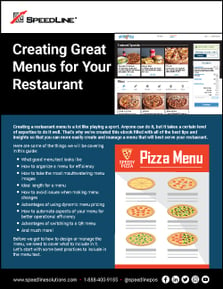 Download the guide