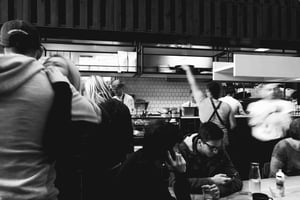 Intelligent Labor Planning
How do you balance the requirements of great service with the need to control costs and spend your labor dollars wisely? A SpeedLine POS provides the info you need to schedule the right amount of staff for every shift.
Use SpeedLine's intelligent labor planning to:
Save hours of management time
Why spend hours generating a labor schedule when you can do it in minutes? SpeedLine's convenient scheduler lets you build a weekly schedule efficiently and accurately—and easily copy a schedule week to week.
Schedule efficiently and save on labor
SpeedLine's advanced scheduling system recommends ideal labor targets based on a comprehensive sales forecast. It easily accounts for lunch and dinner separately and forecasts by order type, so you can schedule the right staff to handle the workload.
Avoid labor violations
SpeedLine allows you to set employee restrictions, ensuring that you don't inadvertently schedule your staff in violation of local labor code.
Improve job satisfaction and avoid missed shifts
Crew members care about their work schedules almost as much as their paychecks. A SpeedLine POS can easily track or adjust staff availability and days off and it's easy to export your data
for fast, accurate payroll.
Plan for profit with intelligent labor planning from SpeedLine.
---
Call for information: 1-888-400-9185, or download the guide now »