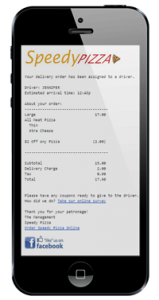 Instant, personalized communication is quickly becoming a customer expectation. If you deliver, chances are you could increase customer satisfaction and loyalty, and spend less time on customer call-backs, by adding delivery confirmation emails.
A delivery confirmation email from the POS system is an automatic notification to customers at the time of dispatch that their order is on the way, and more important, when they can expect it.
Delivery confirmation emails can include specific information regarding order arrival times, order details and special offers:
If you use a compatible online mapping tool such as SpeedLine LiveMaps, the message will contain an accurate order ETA based on current traffic.
The email details the items ordered and total due.
You can also add links: to a bounce-back offer, your online ordering site, a survey, or your social media page.
Brand your email and add impact with images such as logos, and HTML formatting.
You may have found that customers can be reluctant to provide their email addresses over the phone. But most people are happy to provide an email for order confirmation. And every online order includes an email address. You can use the opportunity to request an email "for order confirmation and deals," and quickly build your database for email marketing.


---
Posted on Mon, Aug 17, 2015 @ 08:08 AM.
Updated on May 18, 2020 @ 4:03 PM PST.



| Author's website
---

---