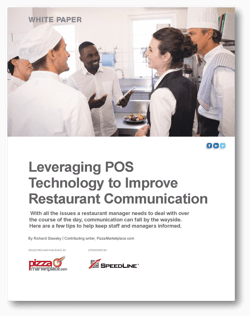 Good communication is important among employees in a restaurant, but most restaurants aren't taking advantage of all of their tools for effective communication.
This week, Pizza Marketplace published a whitepaper examining best practices for communication in restaurants and how the point of sale system can help.
"A successful restaurant consists of a vast number of moving parts that must work together to ensure a smooth operation. And much like the butterfly effect, where a butterfly flapping its wings in Tokyo sets off a chain of events that results in a rainstorm in New York, what occurs during one shift in a restaurant may have effects that permeate the entire organization.
Key to managing those effects, and ensuring that they result in primarily positive outcomes, is effective communication. Having all members of the organization on the same page when it comes to policies, procedures, and ongoing issues can help minor occurrences from becoming a Manhattan thunderstorm.
As a focal point that most staff interact with regularly, the restaurant's point of sale system can be the key to enhancing communication within the store.
Effective communication can enhance employee productivity and boost the bottom line. On the other hand, a study by technology provider ClearCompany found that 86 percent of employees and executives it surveyed blamed ineffective communication for workplace failures."
---
Posted on Thu, Apr 18, 2019 @ 09:04 AM.
Updated on June 15, 2020 @ 8:44 PM PST.

Posted by
Elizabeth Kelly
As the Marketing Specialist for SpeedLine Solutions Inc., Elizabeth is the Managing Editor for On Point: The Restaurant Technology Blog. Have an idea for an article? Send her a message!



| Author's website
---

---