Meal deals are popular with restaurant operators and customers alike, for some good reasons:
They let you group high-margin items to increase profit.
Customer perceive them as high value, so they are attractive to bargain-seekers—even without a significant discount attached.
They're convenient and easy for customers to order, so they improve customer service while increasing order size.
Combo Deal Ordering Made Easy
But to get full value from your combo or value meals, your POS system must support fast, efficient deal ordering, with specific prompts for choices, upsizing, and added modifiers.
If your POS system is not designed to guide order entry for meal deal promotions, order takers may miss offering an upsize, a crust choice, dipping sauce, or automatic application of the deal when the customer has ordered included items (a big customer service win).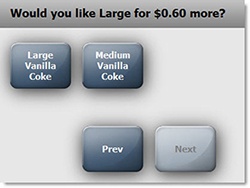 The advanced Guided Order Entry tools in SpeedLine point of sale, for instance, let you script custom value meal prompts for maximum profit—even when the phones are busy and staff are unfamiliar with the menu. Your deal is correctly priced automatically, with no need to stop and get out the calculator, and as an added benefit, you can also track sales of your meal deals in reports as if they were single items.
With SpeedLine, it's even possible to set an expiration date for a value meal, so you can offer limited time or seasonal specials, and the deal will disappear from the menu on the date you choose.
Do you offer meal deals? Download this quick read: Selling Value, Raising Sales: 5 Keys to Crafting a Successful Value Meal.
---
Posted on Thu, Jan 28, 2016 @ 07:01 AM.
Updated on May 18, 2020 @ 4:56 PM PST.

Posted by
Lisa Siddons
Writes guides, online help, and training content for SpeedLine POS users. An avid hiker and dancer, Lisa also enjoys learning new and exciting things.



| Author's website
---

---