It's been a few years since your customers cracked open a phone book to find your number. Today, your customers are searching online, using popular search engines like Google, Bing, and Yahoo—or review sites like Yelp and Trip Advisor. Remember: successful online marketing is about more than social media.
Making sure your customers find you when they search for local restaurants (whether or not you have a an online ordering site) is critical. Google My Business provides a number of tools for local businesses to help you show up first in the search results for your area.
Here's a quick primer on setting up Google My Business, including new options specifically for restaurants!
Google My Business
Google is the most popular search engine in North America, and Google My Business helps you take control of the search results. It was designed to prioritize local stores, restaurants, and companies and help people find nearby businesses.
If you haven't already, start by verifying your business. Google will likely ask your address and contact information, then send a postcard in the mail (old-fashioned snail mail, not email), containing a passcode. Once you have received the code, log back into Google My Business and submit the code. This proves that you are in fact located at the address you are claiming.
That's when the fun starts.
Complete your business profile by adding your hours of operation, business category, website URL, phone number, and photos. The more you add, the better—but make sure the information matches your website to avoid confusing your customers. The categories can be quite specific, allowing you to choose from Pizza Delivery, Pizza Restaurant, Family Restaurant, and more.


When you set your hours of operation you can also set special hours for holidays or other events. Closed on Christmas Day? Find the date in the calendar and adjust the hours.
Make Sure Your Business is on the Map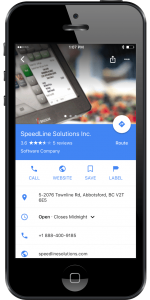 While Google has probably already added your business location to Google Maps, claiming your location and adding a complete profile will help your customers find you. As part of Google My Business, Google will add your information to their maps the same as a search result.
Make sure you select your category properly when you set up Google My Business, as that's where Google pulls the information for the Explore feature in their search app. When customers explore nearby pizzerias, you want to be the first to show up!
Remember, a lot of people still use the default Maps applications on their phone, so make sure your business information is up to date on all of them. In addition to Google Maps, check Apple Maps for iOS users, and Bing Places and MapQuest for Android users.
New for Restaurants: Menu, Ordering, & Reservations Links
Google's end goal is to make things easier for people and businesses alike. Recently, they added new features specifically for restaurants.
On your listing, they offer a place to link directly to your menu, online ordering and reservations pages. New customers can start a web order right from the Google search results!
You may find that some third party booking and online ordering site links already exist on your listing. These links were added by the third party providers and cannot be removed using Google My Business.
Google My Business has continued to add new functionality since it was first released. Check back often to keep information up to date, add new photos (new content helps your search results), and take advantage of new features as they are introduced.
---
Posted on Wed, Aug 30, 2017 @ 08:08 AM.
Updated on October 12, 2020 @ 8:33 PM PST.
---