The ability to visualize exactly what is going on can be a critical aid to improving efficiency. A visual dispatch system helps expediters see delivery orders, quoted times, zones, distances, and traffic all at once in a map view they can easily understand at a glance.
On the POS screen, a dedicated expediter touchscreen display, or a big-screen TV on the wall, this rich visual display can keep drivers, dispatchers, and the whole kitchen up to speed.
Is your staff equipped to expedite deliveries?
Mapping and visual dispatch
With visual dispatch software such as LiveMaps, your drivers or dedicated expeditor can quickly group and assign tickets based on delivery location and quoted times. In addition, a visual dispatch system should show live traffic and the shortest round trip route—and send turn-by-turn directions to the driver's phone for hands-free navigation.
With LiveMaps, customizable pushpin labels can show on-way deliveries with the ETA and order amount. If an order has been in the kitchen a while, and not sent out for delivery, visual alerts will inform anyone looking at the delivery map display.
More accurate ETAs
For more efficient delivery, make sure you have the most up-to-date road information. This includes traffic and updated maps. By calculating ETAs based on live traffic, your ETAs will be more accurate, and take detours and rush hour into account. And accurate ETAs mean happier customers.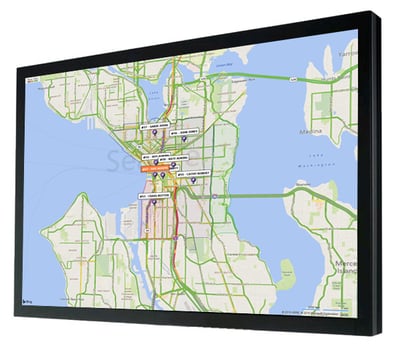 With a live digital wall map, keep an eye on deliveries from anywhere in the kitchen.
Delivery zones
Draw delivery zones on the map, so dispatchers and drivers can easily see the correct zone for the order. Set up different fees, limited-delivery rules, and hours for each zone if you like. On your interactive dispatch screen or digital wall display, visible delivery zones help drivers and expediters make good decisions about grouping orders.
A visual dispatch system will increase efficiency in your delivery operations, saving your business time and money.
---
Posted on Wed, Sep 19, 2018 @ 08:09 AM.
Updated on August 10, 2020 @ 7:31 PM PST.

Posted by
Elizabeth Kelly
As the Marketing Specialist for SpeedLine Solutions Inc., Elizabeth is the Managing Editor for On Point: The Restaurant Technology Blog. Have an idea for an article? Send her a message!



| Author's website
---

---