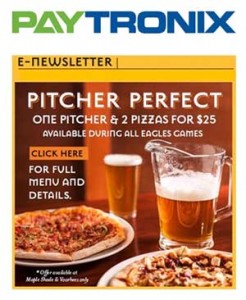 Already today, I've received 12 different email offers from various restaurants and retailers trying to entice me to spend money with them. I also received a stack of catalogs and physical coupons in the mail. Total coupon count for this very regular weekday? 17 (so far).
How many of those coupons will I use? Exactly zero.
As marketing becomes increasingly aggressive, and people are inundated with offers, relevance becomes exceedingly important. To keep your campaigns relevant, you need to be able to rely on your data to measure impact.
Do you have a way to report on the ROI for your last promotional campaign quickly and accurately?
Can you track resulting lifts in spend or additional guest visits?
Was your campaign effective in changing guest behavior?
In a world where data is king, can you point to those numbers and say, "Yes, this worked and we should do it again!"? Or are you simply casting an offer out into the pond and hoping that the fish will bite?
At Paytronix, we see restauranteurs who fall into the cycle of endless promotions, coupons, and "just-gotta-get-'em-in-the-door" strategies all the time. It's an easy mistake to make. You've been hired to run marketing for your brand. You need to get customers to come in more frequently. Coupons and discounts seem like an easy way to get more guests to visit in a highly competitive market and if you send out enough offers, eventually one will appeal to that customer and get them in the door…. right?
There's no denying that a well-designed and effective guest engagement program can have a real impact on your business. Using a platform that gives you access to all of the information you'll need to make informed decisions is the first step towards customer engagement glory.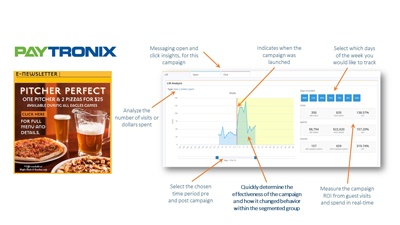 By taking advantage of the integrated solution between SpeedLine point of sale and Paytronix, you'll have access to your data in real time in our newly updated Campaign Center.
No more importing and exporting spreadsheets. Use our Lift Analyzer tool and reporting dashboards to measure the impact of your campaigns and make informed decisions on how best to engage with your guests. You'll have real data in real time that's really easy to understand. Then you'll be free to spend more time figuring out how to trigger increased spend and visits from tricky, non-coupon-using customers like myself.
---
Posted on Mon, Dec 21, 2015 @ 07:12 AM.
Updated on May 18, 2020 @ 6:31 PM PST.



| Author's website
---

---